All cryptocurrencies dumped to yearly lows in mid-December, Ethereum among them. Some have made a slight recovery but others have taken off at a far greater pace.
ETH Market Cap Doubles in Three Weeks
On December 15 Ethereum was smashed to an 18 month low of just above $83 according to Coinmarketcap. Its market capitalization was $8.6 billion, the lowest it has been since May of the previous year. Things were that bad that ETH lost its second place to Ripple's XRP token for several weeks.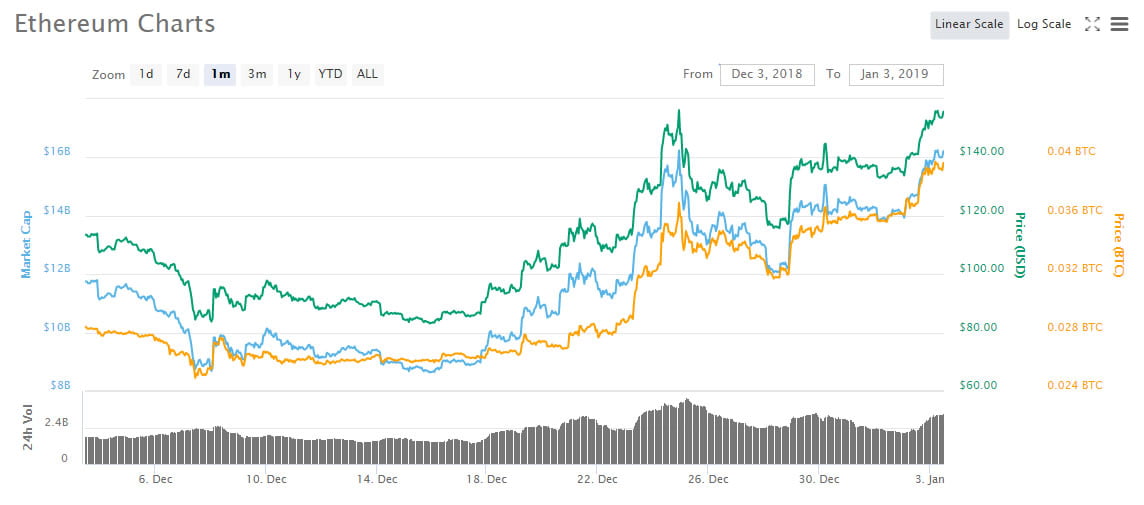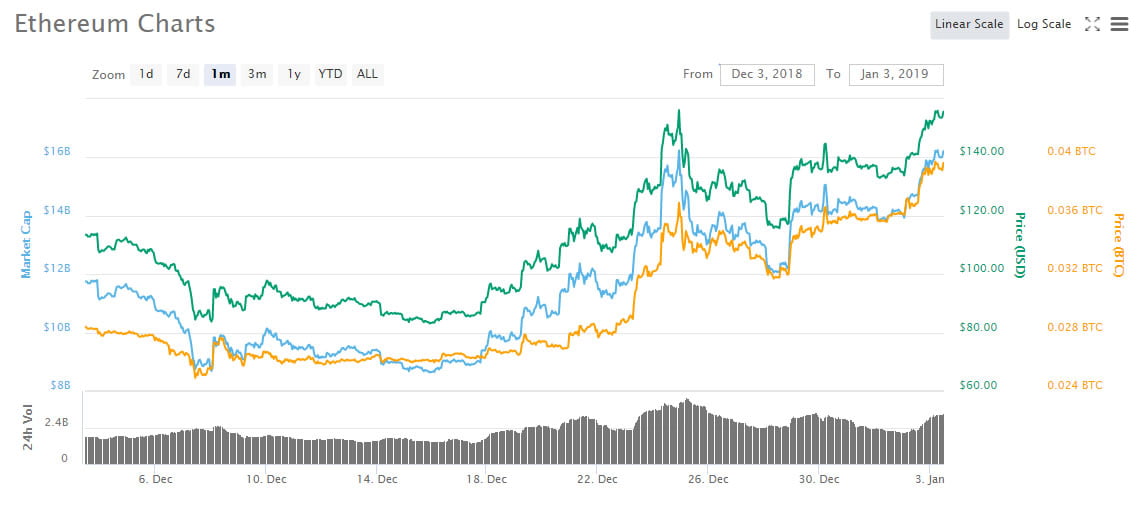 Since the bleakest day of the year for crypto things have gone better for Ethereum as it has made a recovery of over 85% to its current levels. This surge in price has taken ETH to $155 in just 18 days and enabled it to retake second position from XRP yesterday. At the time of writing Ethereum has increased that gap to over $1 billion in market capitalization over XRP. Since the low ETH market cap has almost doubled to $16.2 billion where it currently stands.
Constantinople Driving Recovery
The long awaited Ethereum hard fork is due around January 16. It will result in a new forked blockchain which contains all of the Ethereum Improvement Proposals (EIPs) of which five are being adopted. Developers are assuming that it will not be a contentious hard fork and that miners will automatically switch to the new improved one at block height 7,080,000.
One of the major upgrades will be on Ethereum performance as it is already facing a lot of competition from other platforms such as EOS, NEO and NEM which are already faster. The Ethereum Virtual Machine (EVM) will be improved under EIP 145 which alters bitwise shifting instructions to use less Gas. A new smart contract code verification improvement comes under EIP 1052 which makes them more efficient and cost effective.
Introducing off chain transactions, similar to Bitcoin's lightning network, comes under EIP 1014 which can greatly improve the performance and throughput of Ethereum. The fourth major upgrade is EIP 1234 which reduces the block reward and delays the difficulty bomb. Block time should stay at around 15 seconds however.
To prevent a repeat of the split from Ethereum Classic (the original Ethereum) the difficulty bomb was introduced in 2015 to make mining exponentially more difficult over time in preparation for a later switch to Proof of Stake consensus with Casper, and to force miners to work on updated forks, not old ones. Constantinople introduces a further delay to the difficulty bomb giving miners more time. Finally EIP 1283 provides net metering to reduce Gas usage on the network.
Major crypto exchanges such as Binance have already announced support for the hard fork. A Constantinople tracker with in depth detail on all EIPs can be found on Github.
Image from Shutterstock