The crypto market has fallen off hard over the past few days. Ethereum, especially, has been hit hard. Since the highs at $177, the cryptocurrency has fallen as low as $150, sustaining a 15% drop.
Key technical and fundamental factors, however, suggest that ETH will soon mount a strong comeback.
#1: Ethereum Closed Above a Key Trendline
While Ethereum sustained a strong drop yesterday just as Bitcoin did, it managed to close above two key support levels, according to a popular crypto trader. 
ETH managing to do this, the trader wrote, corroborates the idea that it is in the midst of a long-term ascending triangle bottom (a bullish textbook chart pattern) that will result in an explosive move higher if broken to the upside.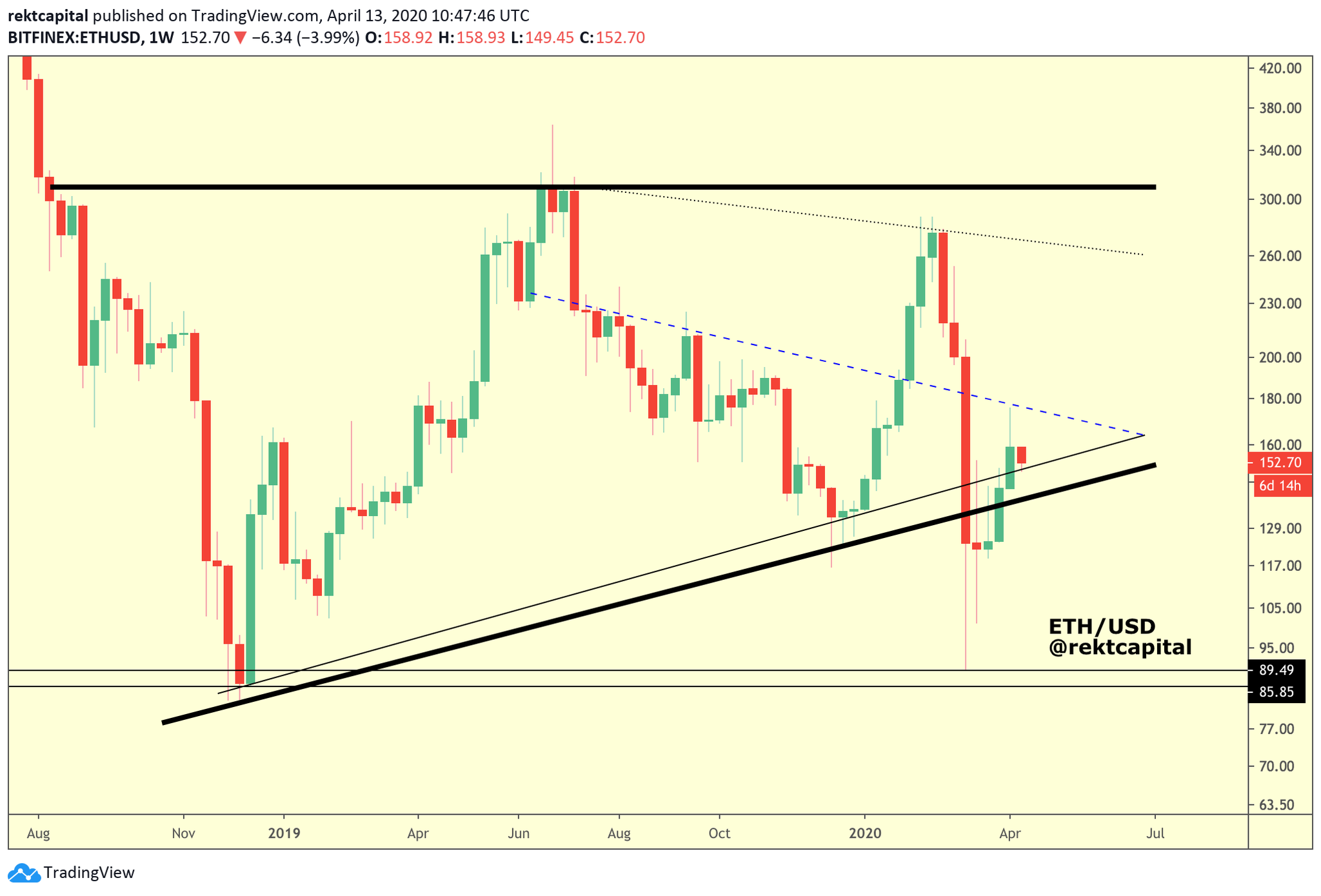 #2: Demand for ETH is Booming
Per previous reports from NewsBTC, data from leading crypto exchange Bitfinex indicates that there are so many traders longing Ethereum that 1.8% of the asset's total supply is "margin long on Bitfinex."
Corroborating this, fund manager Su Zhu observed a group of traders or single "whale" trader adding $40 million worth of Ethereum to their stack over a few hours.
Large $ETH buy wall on bfx here, 200k ether filled and another 50k remaining in the order book pic.twitter.com/gK701gg6ws

— Su Zhu (@zhusu) April 10, 2020
#3: Reddit is Dabbling in Ethereum
Reddit has purportedly launched a crypto initiative called "Community Points," which is a new points system that is based on Ethereum ERC-20 tokens.
This was discovered by a user named "MagoCrypto," who on Wednesday posted a video showing that on his Reddit app on his Android (Samsung), there was an integrated wallet with an Ethereum address, along with explanations of a digital coin/point system. A text from the Reddit feature Mago shared reads:
"Community points are fully controlled by the people who own them. They live on the Ethereum blockchain, which is the same technology as Bitcoin to guarantee property rights and control. Even Reddit cannot take them away."
These points, the video of the beta program indicates, are seemingly different than karma, the traditional point-system on Reddit.
Although Reddit has not yet publicly announced this feature, a spokeswoman for the social media forum giant said to industry outlet Decrypt that it is "working with one community to test a feature that represents a user's involvement in a community."
As reported by NewsBTC previously, Ryan Sean Adams, a crypto investor at Mythos Capital and writer of the "Bankless" newsletter, thinks this feature will be huge for Ethereum adoption:
"Reddit [is] rolling out a community tokens system on…Ethereum. Could this 100x DeFi users? Wouldn't take much."
Whatever the case, this move wasn't exactly unexpected: Reddit's co-founder Alexis Ohanian is a noted Bitcoin bull, while the forum has long been a home for members of the cryptocurrency community.
Photo by Sharon McCutcheon on Unsplash