After breaking out past $250 on June 1st, Ethereum saw a harsh rejection on June 2nd. The asset fell from over $250 to $225 in a matter of minutes, crushed as Bitcoin slipped by a similar amount on top exchanges.
Despite this strong drop, analysts assert that bulls still remain in control of the asset.
Ethereum Bulls Still in Control, Despite 10% Correction
In the wake of the correction, a prominent trader noted that Ethereum remains above crucial support levels. The chart indicates ETH is still trading above the eight-day moving average, along with the $225 horizontal resistance.
This is important as it shows that bulls remain on control. As the analyst remarked in reference to the chart:
"Ethereum Daily [chart] – Bulls have built a pretty nice chart without any real buying pressure."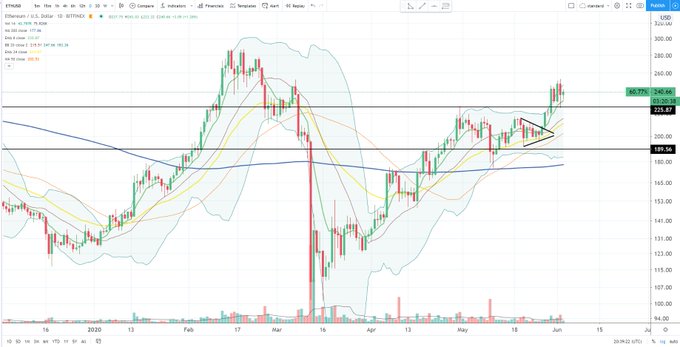 A commenter responding to the analyst asked if Bitfinex's Ethereum market has anything to do with this.
For those unaware, the past few months have seen the number of long ETH contracts Bitfinex traders hold skyrocket to over $300 million in U.S. value. This is an all-time high, far above what this metric was in January of this year or even at the peak of 2018's bull market.
It isn't clear how this trend has affected the Ethereum price, but it probably isn't bearish. That's for sure.
Not the Only Bull
The abovementioned analyst isn't the only bull in this environment.
Per previous reports from NewsBTC, one analyst suggested that Ethereum is on track to hit $300 by the end of June.
The analyst in question shared the chart below illustrating that ETH recently saw a textbook break out of a symmetrical triangle, showing the trend is still positive:
"As I don't believe this dip is the end of all crypto, I'm patiently waiting to long low $200 $ETH into $300 by the end of the month."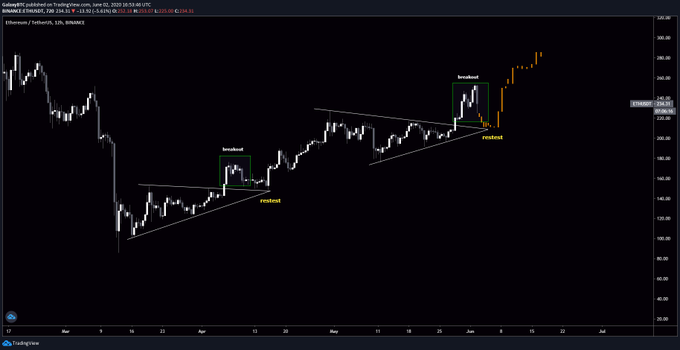 Another individual shared in the optimism, writing his own analysis:
"Things not looking that bad right now, would be nice if we could see a retest of the $220 level before we continue higher as we have not even validated it as support. Even with today's pretty harsh selloff, this structure is still remaining as bullish for now."
Featured Image from Shutterstock
Price tags: ethbtc, ethusd
Analyst: Ethereum Bulls Still In Control at $240, Even Without "Real" Buying