Ethereum (ETH) up 28.1 percent
Trading volumes surge ahead of Istanbul hard fork and Serenity
Serenity is supportive of prices. So far, Ethereum (ETH) is up 28.1 percent. Even so, there is room for further upsides once there is a close above the psychological $300 mark.
Ethereum Price Analysis
Fundamentals
Several factors are behind investors' confidence in Ethereum (ETH). Apart from liquidity, fundamentals are overly bullish. Because of expectations and belief of how prices will pan out in days ahead, ETH is literally on a roll. Week to date, prices surged 28.1 percent.
As a result, the asset is one of the top performers, trailing Bitcoin SV, which is back in the top ten after adding 73.2 percent in the last 24 hours. Perhaps in response, Coinbase saw a spike in Ethereum (ETH) related volumes. Combined, ETH trading volumes against supported fiat rose to over $1 billion, the highest since Dec 2017.
However, with developers working overtime to beat the tight deadline of Ethereum 2.0 and hard fork Istanbul set for Oct 19, the network is increasingly attractive for developers and projects keen on working from a secure platform with facilitating ecosystem. In turn, that will most likely further drive prices up, and that will also lead to more participation now that there is better awareness of what crypto and Ethereum (ETH) is.
Candlestick Arrangement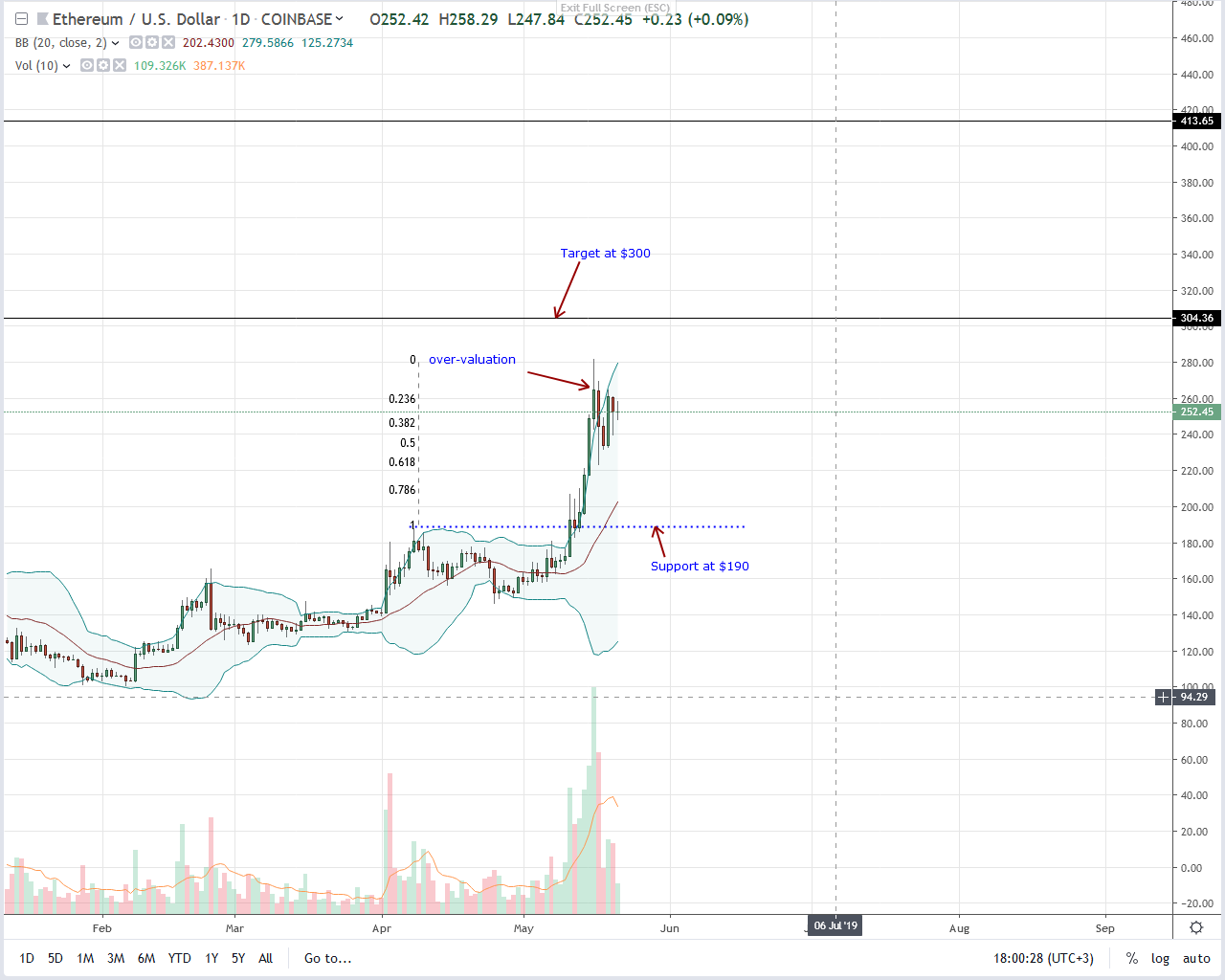 Up 2.2 percent in the last day, Ethereum (ETH) prices are stable, but there is room for further upsides thanks to supportive fundamentals as well as favorable candlestick arrangement. From the chart, caps are at $275.
Following the successful correction of May 16 prices and the strong comeback, odds are the retracement is a perfect opportunity for traders to buy on dips with targets as laid out in our last ETH/USD trade plan.
Notice that, buyers are in control in an effort versus result point of view and dictates from breakout rules. All the same, it all depends on how prices react in the next few days. If prices edge past $275, then ETH will likely expand to $300 and $400. On the flip side, any dip and close below the 61.8 percent Fibonacci retracement level of May high low could see ETH drop to within the $170 to $190 zone in a retest.
Technical Indicators
As a result, our anchor bar is May 16. It is wide-ranging with high transactional volumes—822k against 356k. Any break above or drop below $275 or $230 ought to be with high volumes exceeding the current average of 422k or 822k confirming bulls or temporarily invalidating our bull trend.
Chart courtesy of Trading View. Image Courtesy of Shutterstock