Crypto markets may end the year battered and bruised, down 50% from their 2019 highs, but decentralized finance continues to grow as another record has been hit this week. Ethereum investing is moving on to another level and there are no signs of bearish influences in that ecosystem.
Decentralized Finance on Ethereum
DeFi has continued to show growth this year despite the bears returning to cryptocurrency markets. The concept involves locking Ethereum into smart contracts to earn interest on decentralized lending markets. It is not as volatile as trading the asset directly and would suit those that prefer lower risk with their digital investments.
According to Defipulse.com the amount in dollar terms locked into decentralized finance hit a new all-time high yesterday of $685 million.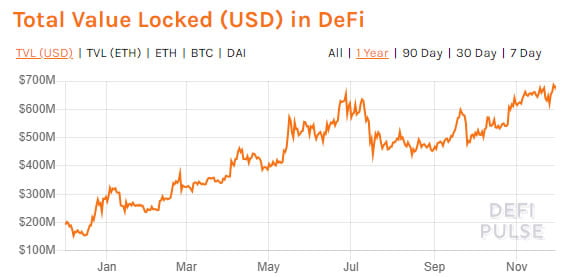 Crypto markets have pumped and dumped this year with total market capitalization falling back below $200 billion again this week. Most altcoins are still in free fall and have wiped out nearly all gains made in 2019 and the down trend is still very much intact.
Conversely, DeFi has grown by 150% this year and a continuation of this trend could see the amount locked in hit a billion dollars by mid-2020.
Ethereum is the largest asset contributing to this new world of decentralized finance. The amount of ETH locked up also hit a new high yesterday at 2.7 million ETH, or 2.5% of the entire supply. The total value in ETH locked in DeFi also made new ground at just under 4.5 million and November has seen levels surging despite a dump in token prices.
Trust is building in the embryonic ecosystem as the increased use is coming from new investors or existing ones funneling more money into their smart contracts. Former Bloomberg correspondent Camila Russo noted the milestones on her 'Defiant' blog;
"This increased activity is more significant as it happened as the cryptocurrency market slumped. It's a sign users of decentralized finance platforms are confident Ethereum's cryptocurrency ether will rebound as they're willing to continue using it as collateral for their loans and other trades."
She also noted that this new financial system is not correlated with the peaks and troughs of the crypto market cycles. Referring to DeFi as the 'new honey badger' Russo added that it doesn't care about crypto markets and coin prices.
ETH Price Update
With Istanbul approaching in just over a week's time, the Ethereum network is about to get an upgrade. This, the eighth hard fork, is a precursor to the long awaited migration to ETH 2.0, a new consensus model, and resolution of scaling issues that have long plagued the project.
At the moment Ethereum prices are still slumbering just above $150 and the asset is still despondently anchored to the movements of its big brother.
With a continued growth in the DeFi ecosystem and Serenity just around the corner, it is hoped that Ethereum can finally stand alone in the world of digital finance.
Image from Shutterstock