Ethereum (ETH) add 55 percent in the last week
Cryptopia folding explains exchanges should be after verticals, not listing and trading fees
According to Vijay Boyapati, exchanges are walking the wrong path of short-term profitability over future dominance better exemplified by Cryptopia decision to list as many as coins/tokens as possible before falling prey to hackers. Meanwhile, Ethereum (ETH) bulls are rampant, stepping on the gas pedal with targets at $300 and $400.
Ethereum Price Analysis
Fundamentals
By design, blockchain and related businesses should function in a decentralized manner. That is, all operations are transparent with the end user as makers.
However, that is not the case. The total crypto market valuation exceeds $130 billion, and aside from OTC players, the majority of crypto trading is from centralized crypto-to-crypto or crypto-to-fiat exchanges. Any form of coin or token deposit is a forfeiture of control–the epicenter of all problems.
Learning from Cryptopia which is folding as a result of a damaging hack, a critic is now after the general operating model of crypto exchanges. While acknowledging that they play an essential role, providing liquidity for digital assets, their decision for short-term profits will harm them in the future.
"Five years from now it will be widely recognized that the major financial players in the "cryptocurrency space" (mostly exchanges) made a strategic error in pursuing a horizontal business opportunity rather than a vertical one."
Adding that crypto-companies going for the vertical will, in the long-term, rake in big as industry leaders:
"In the next few years, I believe it will become obvious that those companies that pursued the long-term strategy of financialization atop Bitcoin will be the strongest (perhaps only) players left in the space. They will become the JP Morgans of the 21st century."
Candlestick Arrangement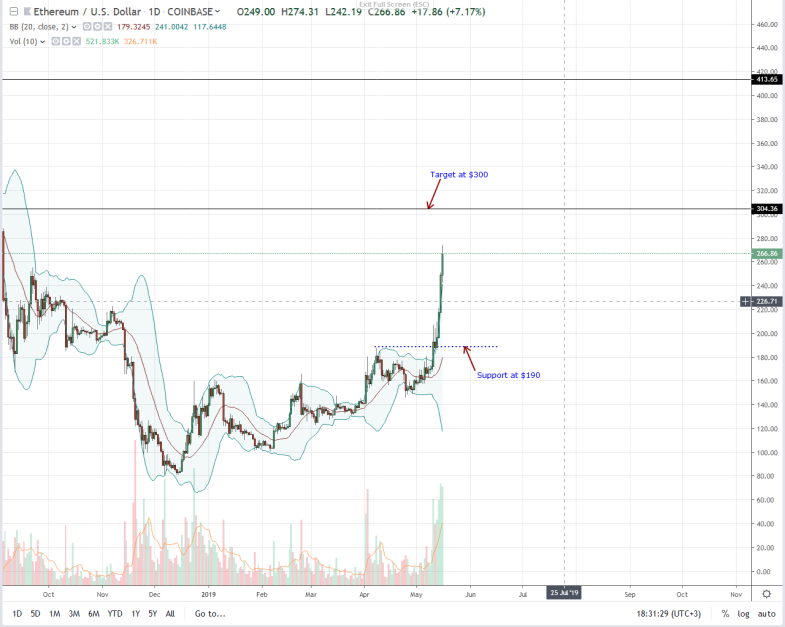 Up 13.5 percent and 55 percent in the last day and week, Ethereum (ETH) expansion means it is the top performer in the top 10 cryptocurrencies, tying with Stellar Lumens (XLM).
However, there's more. Because of gains seen during the New York (American) and Asian, our targets have been hit as bulls take charge, thrusting prices to new 2019 highs. In a classical bull breakout pattern, all pointers point to further upsides.
Fanning these streams of buyers are supportive fundamentals and favorable candlestick arrangement pumping ETH as momentum build up. As a result, every low above $190 will be another buying opportunity with targets at $300, $400 and $450 in line with our last ETH/USD trade plan.
Technical Indicator
Our reference bar is May-15 bull bar. The bar is wide-ranging with high-volumes—537k. Therefore, any drop reversing and signaling a correction below $190 must be at the back of similar or better participation. If not, buyers would still be in control from an effort versus result point of view.
Chart courtesy of Trading View.