Ethereum rallied so far and fast in 2017 that there was a point at which analysts were expecting the market capitalization of ETH to flip that of Bitcoin. Fittingly, this event was dubbed the "flippening."
But since the 2018 all-time high, the cryptocurrency has deflated massively. One Ethereum used to buy close around 0.15 BTC, but now it can buy only around 0.025 BTC — a more than 80% drop from the all-time high.
A growing number of analysts are coming to the conclusion, though, that it may be time for Ethereum to gain ground on Bitcoin once again. Whether the gains of 2017 and 2018 can be repeated, though, remains to be seen.
ETH Is Prepping for An Explosive Breakout
Ethereum is "coiling" for a breakout against Bitcoin, according to analyst Josh Olszewicz of Brave New Coin.
He explained that the Ichimoku Cloud is "leaning bull" for the first time since 2018, while the 50-day and 200-day moving averages tighten for a potential golden cross, supporting upside.
"ETH/BTC really coiling for a move leading into 2.0 phase 0 shenanigans. Cloud leans bull (not shown) for first time since mid-2018. golden cross poss soon," according to Olszewicz.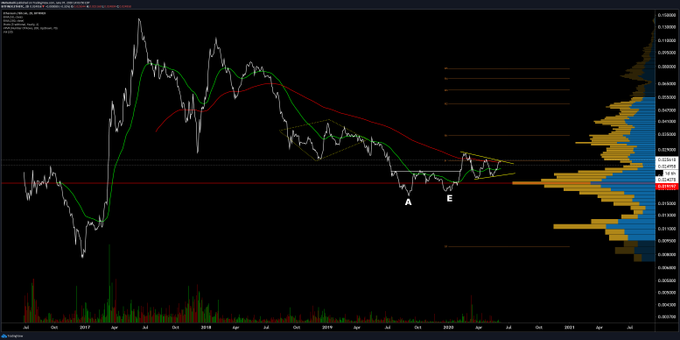 Olszewicz's optimism has been echoed to a T by Raoul Pal, chief executive of Real Vision.
He said after Ethereum's recent outperformance that it "looks like Ether will outperform Bitcoin at some point (no position yet)," referencing a crucial breakout taking place as also indicated in Olszewicz's chart.
Ethereum Is Also Bullish Against the U.S. Dollar
Notably, Olszewicz is also bullish on Ethereum's performance against the U.S. dollar, not just its performance against BTC.
As reported by NewsBTC, the shared the chart seen below around the time he published the abovementioned chart.
It shows that Ethereum has entered into the key Ichimoku Cloud resistance, seen shaded in red. Referencing how the asset is likely to rally to the other end of the resistance in a so-called "end-to-end move," Olszewicz remarked:
"One-week Ethereum chart. End to end to $750 triggers within the next few months probably."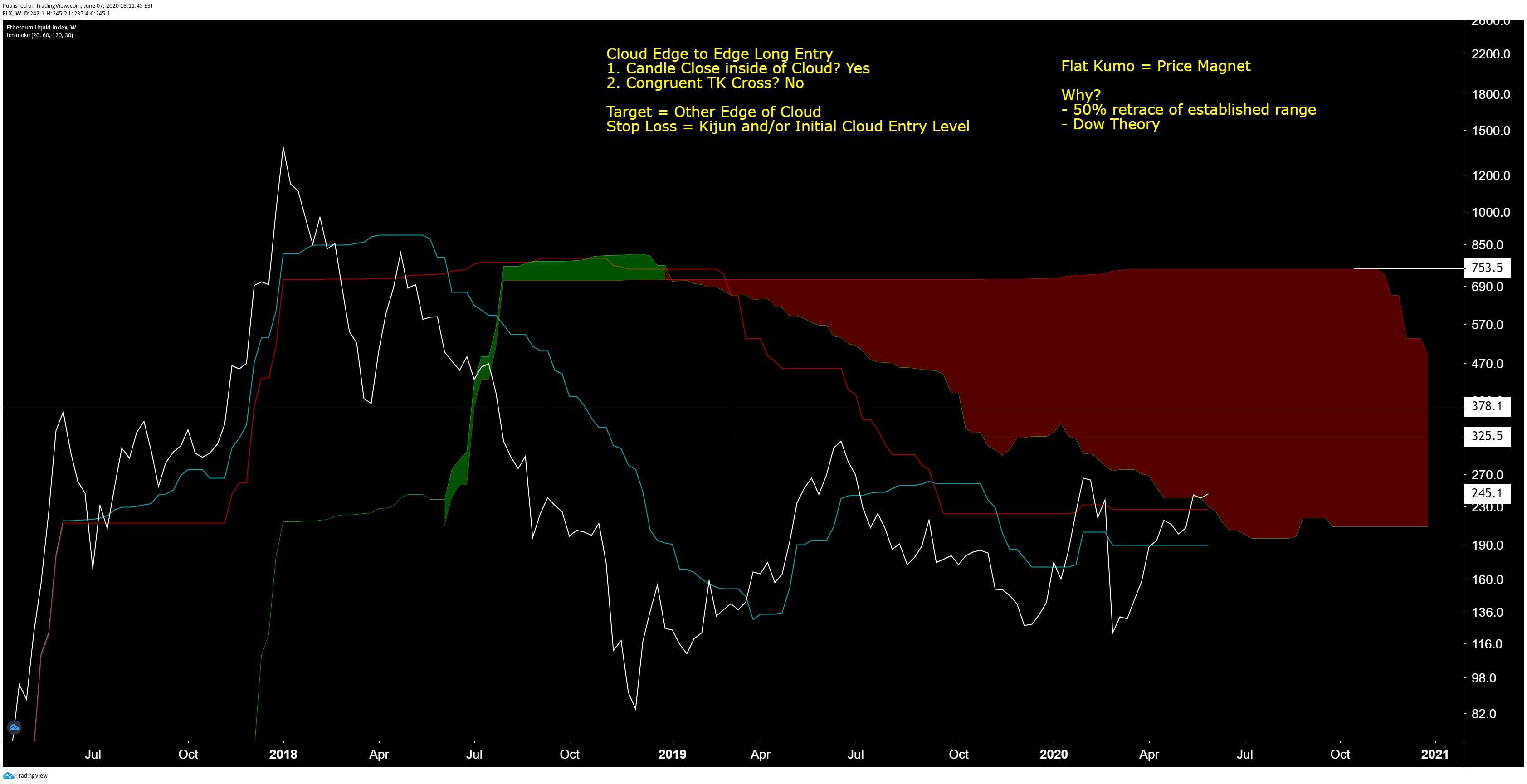 Market Catalysts Abound
Ethereum is likely to be buoyed by a number of market catalysts playing out at the moment.
For one, Ethereum-based decentralized finance has seen increasing adoption over the past few months, with an increasing number of retail users interacting with DeFi smart contracts and more money flooding into this space.
According to Ryan Selkis, chief executive of crypto researcher Messari, DeFi gives ETH a "higher ceiling" to rally towards n the long run. Whether this was in reference to Ethereum's performance against the dollar or against Bitcoin wasn't made clear.
After the BTC bull run, I'll start averaging into ETH again.

+ digital gold narrative will lead in this climate, but stablecoin progress / DeFi gives ETH a higher ceiling

+ near all time lows for the pair

+ let layer 1 wars settle down, ETH 2.0 beacon chain launch then buy pic.twitter.com/cPBPmsBVk3

— Ryan Selkis (@twobitidiot) May 16, 2020
Featured Image from Shutterstock
Price tags: ethusd, ethbtc
Ethereum Is "Coiling" for a Breakout as 2.0 Nears: Here's What Analysts Are Saying