While Bitcoin is stalling under the key $9,500-9,600 resistance level, Ethereum has rocketed higher.
The asset, according to TradingView.com, is up 10% over the past 24 hours. ETH is currently pushing $244, the highest price since early March.
For some context, Bitcoin is up a mere 1% in the past 24 hours. Also, a majority of altcoins have registered gains of around 2-4%.
This surge higher over the past 24 hours has had a large effect on the Ethereum derivatives market.
According to data shared by crypto derivatives tracker Skew.com, over $2 million worth of ETH short positions on BitMEX has been liquidated over the past two days. Also, the difference between ETH's price on BitMEX and Coinbase has trended positive, suggesting there is accumulation of Ethereum futures contracts by traders betting on more upside.
Analysts Are Betting on More Ethereum Upside
The recent price action has convinced analysts that more upside is in the works.
A crypto day trader recently shared the chart below with the comment "not exactly bearish." It shows that while ETH is not yet past a key zone of historical resistance, it has reclaimed a key trendline that supported the rally from the March lows.
Ethereum is also breaking past other key resistances from a technical perspective, according to the chart.
Adding to the bullish confluence, Mythos Capital founder Ryan Sean Adams indicated this week that the fundamentals of ETH have grown over the past few weeks.
The increase in transaction demand has increased transaction fees, which is suggestive of a higher Ethereum price, he explained.
Bitcoin Could Follow ETH 
Bitcoin has been lagging Ethereum.
The flagship cryptocurrency is up 1% in the past 24 hours while ETH is up 10% as aforementioned.
Some may see this as a sign of larger weakness in this nascent market, but some think that Ethereum's ability to outperform is a sign of an imminent rally in BTC's price.
Bitazu Capital's Mohit Sorout recently shared the chart below, indicating that Ethereum has recently breached a key resistance while Bitcoin hasn't.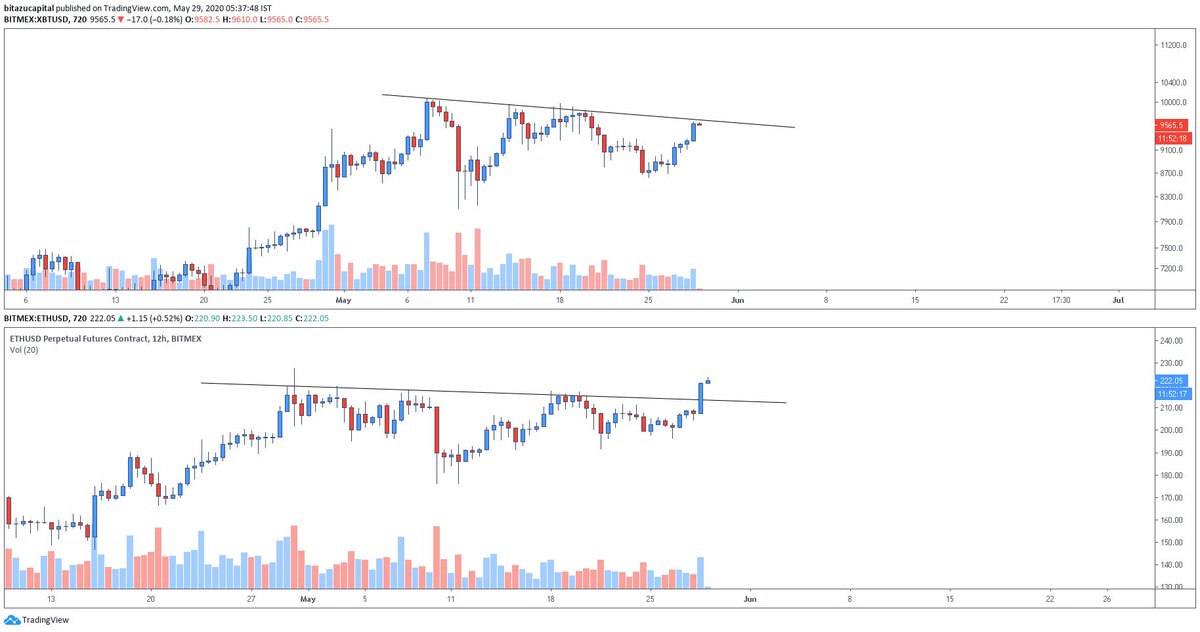 As ETH led BTC higher during February 2020's rally, there is a good likelihood that BTC is about to burst past the downtrend indicated in Sorout's chart too. Should this happen, BTC could rally to ~$10,100 in the coming days.
Featured Image from Shutterstock