Ethereum (ETH) falls, down 7.5 percent
SubZero freeze marks the end-of-June phase 0
ETH prices are falling back as price action strives for balance. Following the SubZero freeze notifying the community of Phase 0 amends, the community is expectant of a price recovery. At spot rates, ETH is under pressure and could consequently slide to $230 in days ahead.
Ethereum Price Analysis
Fundamentals
Good news for ETH holders and Ethereum as an ecosystem is that the network is ready to transition from proof-of-work to a staking consensus system. Controversial in some circles, the era of Ethereum 2.0 is ready to roll. It follows the SubZero freeze announcement marking the end-of-June Phase 0:
"This release marks the end-of-June phase 0 spec freeze ❄️. v0.8 is to serve as a stable target as implementers work toward multi-client testnets in addition to on-going efforts in formal verification, fuzzing, and audits."
Back in May, Justin Drake of the Ethereum Foundation, announced the freeze saying:
"I've been continuing to fine comb Phase Zero in preparation for the spec freeze which we're targeting for the 30th of June. We're still very much on track […] simplifications are coming through which is great, and the process of fine combing is also for finding final bugs."
In simple terms, this is the much-needed progress. It is the perfect trigger following concerns on whether Ethereum developers will follow through on their commitment and activate Ethereum 2.0 on time. Timely, this notification also comes at a time when on-chain transactions are swelling. On June 28, transactions surpassed the one million mark, the most it had in a year and roughly 349k short of Jan 4, 2018.
Candlestick Arrangement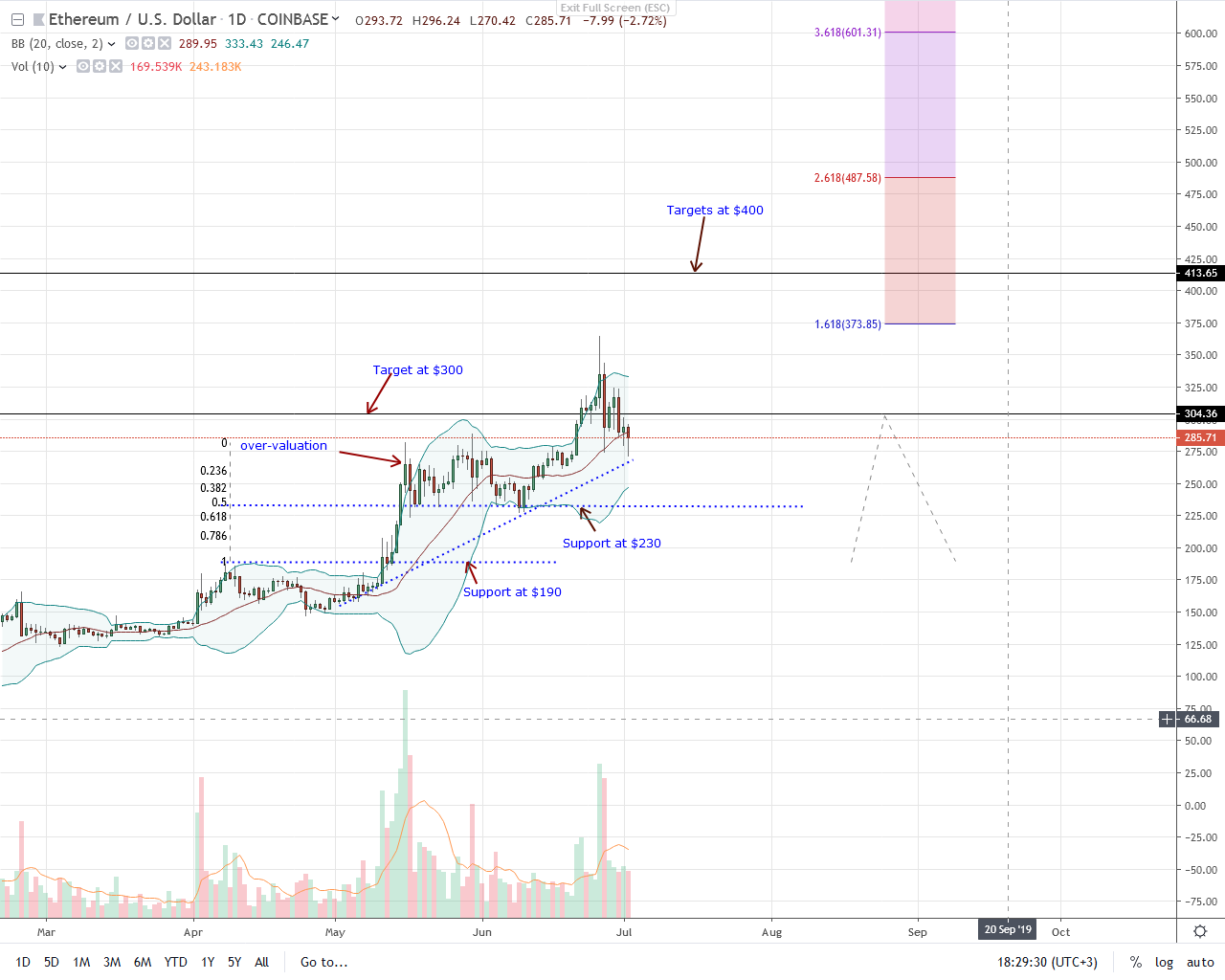 Syncing with BTC, ETH is equally under pressure. Even though buyers have a chance, odds are prices may drop to $230 or lower in a retest. If bears are superior and there is a slide to these support levels, the retest would be complete.
That would be yet another opportunity for traders to ramp up with targets at June 2019 peaks. At the moment, sellers are pressing lower. Led by a double bar bear reversal pattern following steep losses of June 27, every high should practically be a selling opportunity with a target of $230.
The level is of immense significance in this trade plan for a simple reason. It stabilizes bulls, and if there is a spike in trade volumes driving prices lower, the blow-off will catalyze bears aiming at $170.
Technical Indicators
Technically bullish, ETH is correcting. Accompanying the slide is decreasing volumes. Any revival driving ETH above $300 or dropping below $230 ought to be with high participation preferably exceeding 554k of June 26.
Chart courtesy of Trading View. Image Courtesy of Shutterstock