Matic Network, the Layer 2 scaling solution for Ethereum, revealed the results of their Counter Stake testnet stress testing.
Over an uninterrupted two month period, the team claims the network achieved speeds of up to 7,200 transactions per second (TPS). What's more, this occurred under decentralized conditions.
"During stress testing, 122 validators were active and running validator+sentry nodes. Thus, the network was truly decentralized, ensuring reliable results."
The blog post also stated that performance tweaks could result in even higher throughput upon mainnet launch.
Validator dashboard during testing. (Source: blog.matic.network)
This bodes well for Ethereum, which often draws criticism for its lack of scaling and low 15 TPS throughput.
And with further ETH 2.0 delays, Matic's achievements could go some way towards thwarting the competition.
Ethereum 2.0 May Not Roll Out Until 2021
Developers initially scheduled January 2020 for the ETH 2.0 launch, but delays to the rollout have drawn flak from investors who grow increasingly frustrated.
In a recent Reddit AMA, Ethereum Foundation Researcher, Justin Drake, gave a tentative date of January 3rd, 2021, for the Phase 0 rollout.
Drake said several critical functions still need finalizing, including a public testnet with at least three clients running, an incentivized "attack net," a bug bounty program, and differential fuzzing, which refers to bug testing.
He gave approximate times of 2-3 months for the completion of each critical function, going onto say Thanksgiving and Christmas holidays bring us to his estimated rollout at the start of 2021.
In a follow up to Drake's update, Ethereum Co-founder, Vitalik Buterin, said he wants a Phase 0 launch well before that date, even if it isn't ready.
"FWIW I personally quite disagree with this and I would favor launching phase 0 significantly before that date regardless of level of readiness 😀"

Source: reddit.com
In response, the crypto community blasted both the 2021 rollout date, as well as Buterin's comments. One user wrote:
"Ethereum will have a credibility issue if you can't launch phase 0 this year. There are tradeoffs for sure but I think the delay will cause more harm at this point."
Another made the point that Phase 0 is not even the full rollout, and struggled to understand why this stage required 3+ clients on board.
"But I think this whole concern over decentralization upon a phase 0 launch is completely overblown. Most people won't even migrate to ETH2 upon phase 0 launch. I know I won't. I'd want to see how things go with phase 0 first. Having different clients to choose from is the LEAST of my concerns."
"Launch it regardless of level of readiness"
That's what you want in a billion $ system

— ⓂⓡⓋ (@MrV_777) July 10, 2020
Matic Network is "Ethereum 2.0 Right Now"
As Buterin and the Ethereum community continue piling pressure on developers, Matic's recent achievements, in launching staking, and now concluding the Counter Stake testnet, provide some relief.
What's more, rumors are circulating that the full ETH 2.0 launch, that is, the completion of all three phases, is likely 3-5 years away.
With that, some have dubbed Matic as "Ethereum 2.0 right now." And with no other viable scaling solutions in sight, it's a title that holds.
Given recent price action, investors agree that Matic is capable of helping Ethereum overcome its performance constraints.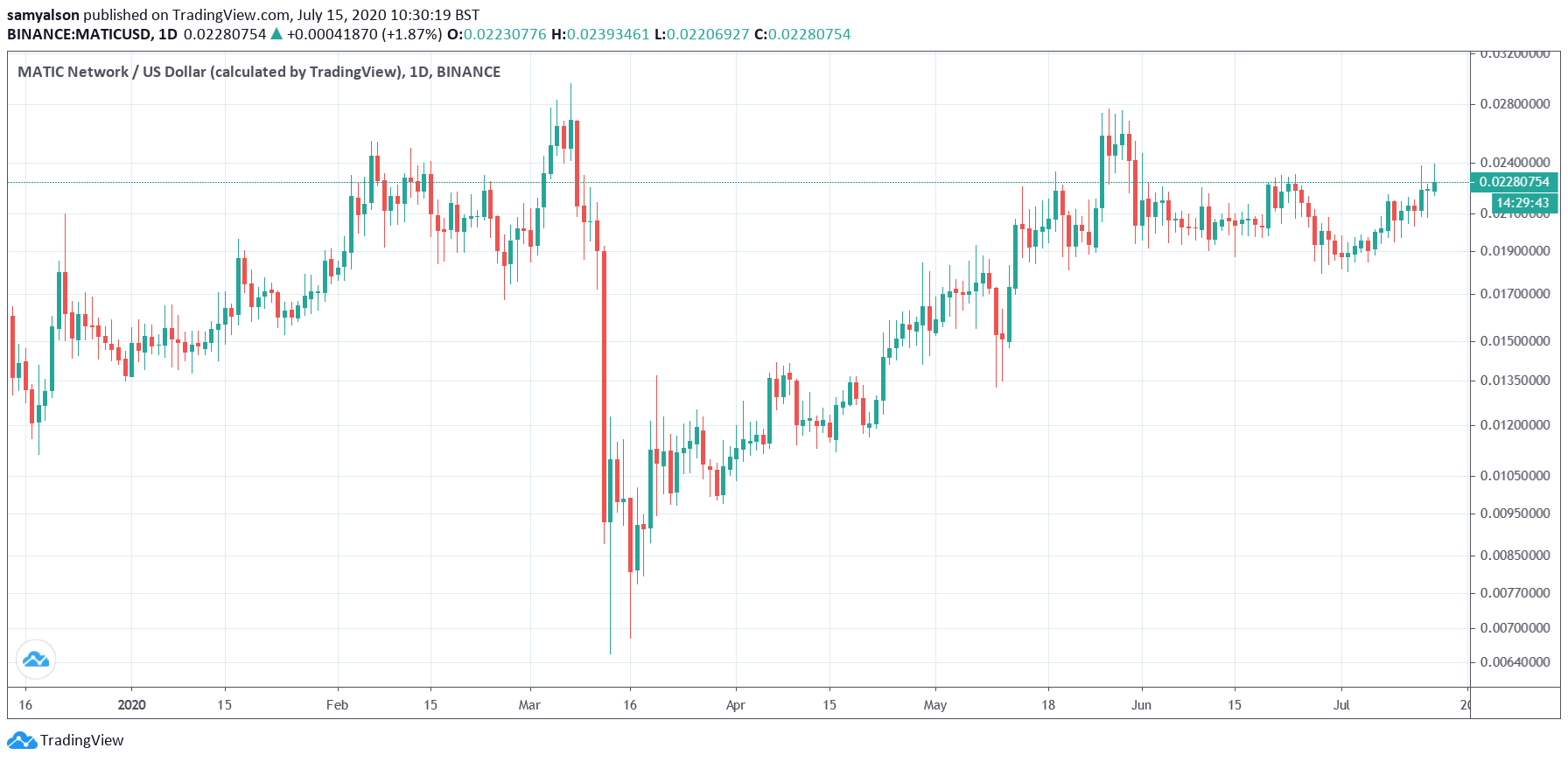 MATICUSD daily chart YTD. (Source: tradingview.com)
The Matic Price has been in an ascending channel since mid-March, topping out in late May at $0.02750. Currently, the price of Matic is $0.02281, a 250% increase since mid-March.