It has been a grim end to the week for Ethereum. The world's number two crypto asset has held up resiliently for most of this month while Bitcoin has been eroded. That resilience ended a few hours ago when ETH prices collapsed by 9 percent.
Ethereum Crashes 9%
Ethereum has spent the best part of this month holding ground between $180 and $190. Bitcoin meanwhile has been eroded down from its China induced FOMO pump back to pre-spike levels this time last month.
With good progress made on Istanbul, and the DeFi ecosystem continuing to show growth and expansion, there was hope that ETH could finally begin to decouple from its big brother. Those hopes were dashed a few hours ago when Ethereum plunged into the digital abyss behind Bitcoin.
According to Tradingview.com ETH prices fell from $175 to wick out at $155 before recovering to around $160 where it currently trades. The 9% dump has put prices back at long term support which held in October, September and back in early May.
The sad thing for Ethereum is that it is likely to continue following Bitcoin on its current downward trajectory. Next key levels down are $150 and $135 and there is little point looking in the other direction at the moment.
Effect on DeFi Markets
Since Ethereum is shaping up to dominate decentralized finance, how does this latest price collapse affect markets there? DeFi involves staking ETH with smart contracts into lending protocols such as MakerDAO in order to earn interest.
While ETH traders are being battered by bears, those involved in DeFi remain bullish. According to 'The Defiant' loans originated today were at the third highest in the past month, at almost 47,000 ETH ($7 million), with almost 197,000 ETH ($31 million) supplied as collateral.
"Those putting up ETH as collateral to back a loan on a day when it's down almost 10 percent are likely speculating the cryptocurrency will rebound."
Around 60% of loans were for Dai, which is often used to trade on leverage and buy more Ether. According to Defipulse.com the total value locked in ETH jumped to a record 4 million while the amount itself also hit a record 2.5 million.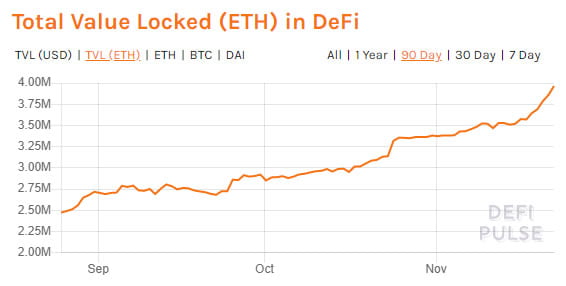 Naturally the USD value has declined along with the latest drop in Ethereum prices. But overall those involved in DeFi have been topping up loans which have become under collateralized with more ETH.
As DeFi expands the use of Ethereum in the ecosystem will grow which will, in the long term, limit the impact of these irrational panic selloffs by day traders mimicking Bitcoin's price action.
Additionally, a lower priced ETH makes it more attractive to buy back and lock into a DeFi platform, yielding greater returns in both interest and when the prices do finally rebound.
Image from Shutterstock