Ethereum (ETH) up 14.3 percent
EIPs 1702 and 2024 to be activated in the next network upgrade
During an impending Ethereum upgrade dubbed "Istanbul", there will be activation of two approved Ethereum Improvement Proposals (EIPs) in 2024 and 1702. These two will reduce costs while simultaneously easing future network upgrades. While at it, ETH is 14.3 percent higher from last week's close, trading at over $300.
Ethereum Price Analysis
Fundamentals
Ethereum's next hard fork, Istanbul, completes what wasn't possible in the last major upgrade, Constantinople. Executed in two phases, it set the ground for the Serenity.
The upgrade is a necessary enhancement affirming Ethereum's dominance in the smart contracting sphere. Presently, there is progress as far as Istanbul is concerned. By approving two Ethereum Improvement Proposals (EIPs) meant for activation in a tentative date in Oct 2019, it shows how vital these two EIPs are.
EIP 2024 introduces a pre-compile to the Ethereum's Virtual Machine for a new hash function, Blake2B. The hash function is in use by other blockchains and is faster than SHA-3. Often, pre-compiling in the EVM is an expensive operation attracting charges.
Meanwhile, EIP 1702 activation will allow smooth upgrading. The proposal was put forth by Wei Tang of Parity Technologies, introducing something known as Accounting Version, which is simply a new methodology for hard forking. In his explanation, Tang says:
"By allowing account versioning, we can execute different virtual machine for contracts created at different times. This allows breaking features to be implemented while making sure existing contracts work as expected."
Candlestick Arrangements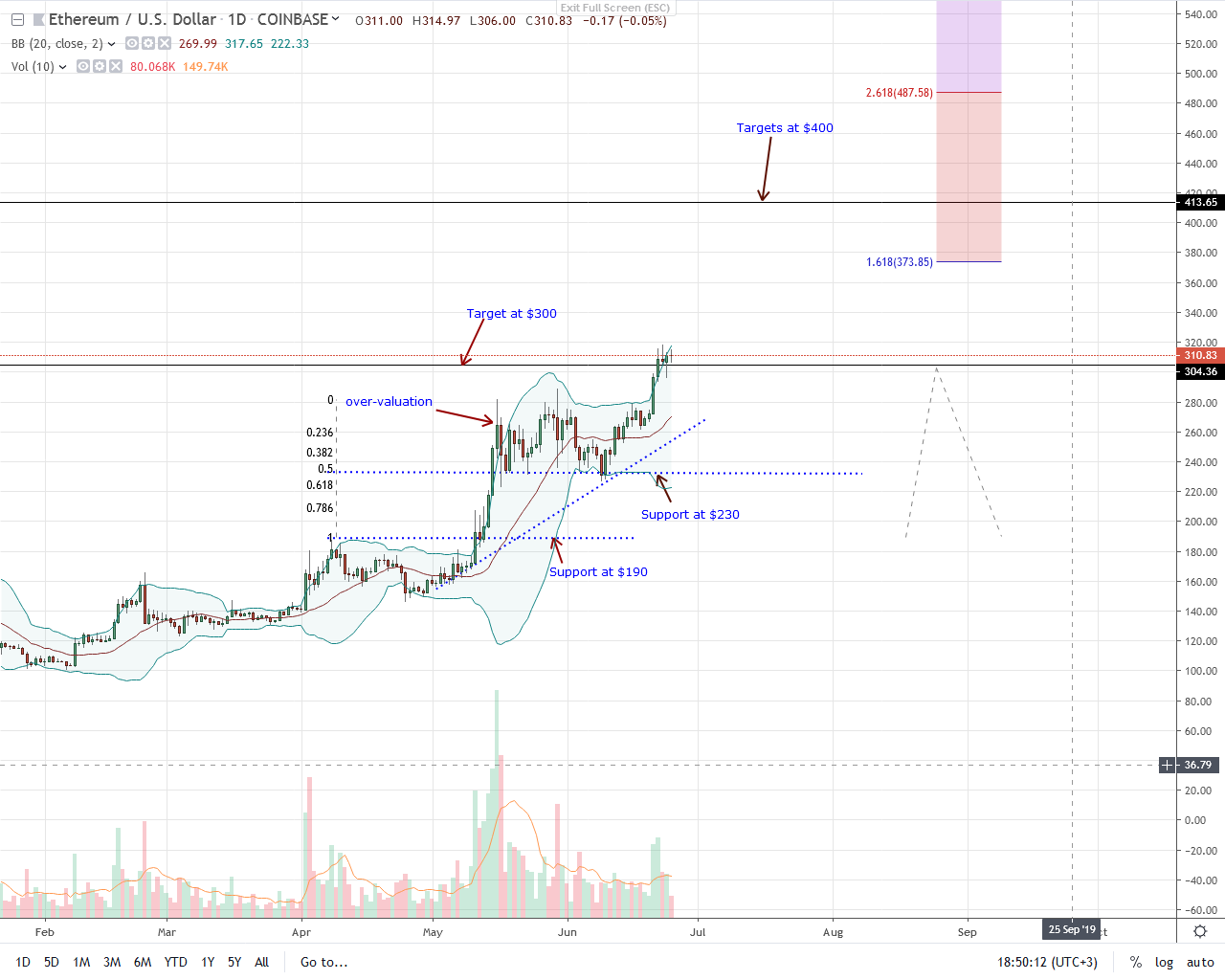 Like BTC, ETH bulls are in control. However, volatility is not as pronounced as it is with the former. To quantify, in the last week, ETH is up a mere 14.3 percent even after clearing the $300 mark.
By doing so, the conditions laid out in previous ETH/USD trade plans are now valid. As a result, there is an opportunity for aggressive traders to add to their long positions.
On the other hand, conservative traders can buy the dips in smaller time frames while aiming at $400 or higher.
However, damping expectations are low trading volumes accompanying this break out above $290 and $300. That is despite the remarkable June 21 bull candlestick and bars banding along the upper Bollinger Bands (BB).
Technical Indicators
Nonetheless, as momentum increase, ETH bulls will likely flow back. In that case, participation will continue to pick up as average trading volumes consistently exceeds 152k of June 24.
Chart courtesy of Trading View. Image Courtesy of Shutterstock