Ethereum, despite what you may think, did not see a positive 2019. The second-largest cryptocurrency by market capitalization registered a slightly negative performance in 2019, which was starkly contrasted by Bitcoin's yearly gain of over 90%.
This meant that the market for ETH/BTC fell off a cliff, with the price of one Ether falling as low as 0.016 BTC — the lowest the pair had been in years and around 90% below the all-time high well above 0.1 BTC.
Though, over the past two months, Ethereum has shot higher against the U.S. dollar and against BTC, buoyed by the sentiment that there is an impending altseason, coupled with positive fundamental developments for the project.
Unfortunately, a prominent analyst does not expect this strength to last, recently suggesting that ETH/BTC is likely to underperform as we move into March.
Could Ethereum Start Underperforming Bitcoin?
Luke Martin, a CNN-featured cryptocurrency analyst and industry podcaster, recently explained that he is "expecting ETH underperformance" as the crypto market moves into March.
As to why Martin thinks this is the case, he shared the below chart, accentuating that Ethereum's momentum has cleared started to turn bearish after last week's price action.
This trend reversal, his chart depicted, is likely to bring the ETH/BTC pair down 10% lower in the coming weeks to 0.0218 to 0.0223, a historical zone of crucial resistance that should theoretically act as support in the coming weeks.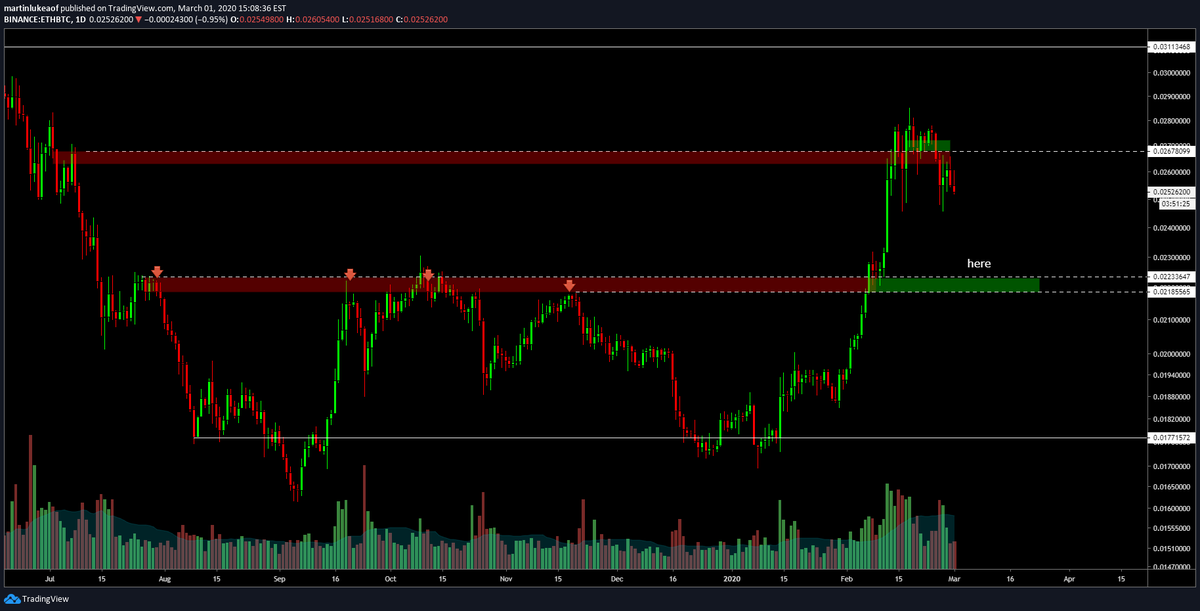 DeFi Issues Could Add to ETH Risk
It isn't only the technical analysis outlook that suggests Ethereum bulls may be in for a tough time, it's the fundamentals too.
While the blockchain's decentralized finance (DeFi) ecosystem has seen immense growth over the past few months, with companies releasing innovative projects and attracting thousands of users, DeFi has experienced some issues.
As explained in a previous NewsBTC report, two manipulative exploits of a DeFi platform, bZx, saw participants lose $300,000 and $650,000, respectively, for a total of nearly $1 million. More recently, a crafty Ethereum user managed to take $140,000 worth of ETH from a contract, while a human error glitch with a Chainlink data feed allowed users to incorrectly earn around $30,000.
Some commentators across the cryptocurrency field have said that these debacles in DeFi prove that Ethereum's "killer use case," as some have dubbed on-blockchain finance, is not killer just yet, potentially hampering adoption.
Featured Image from Shutterstock