Crypto is a speculative asset class, driven by the emotional state of the investors that make up the market.
Could the sentiment across this subset of investors actually be a lucrative buy and sell signal that can lead to incredible profits?
Warren Buffett: Be Fearful When Others Are Greedy
The Oracle of Omaha himself, legendary investor Warren Buffett, coined the popular quote and investment advice to be "fearful when others are greedy and greedy when others are fearful."
Buffett is known for his portfolio currently valued at over $242 billion and for residing among the world's rich list with a net worth of over $81 billion.
Related Reading | Move Over Bitcoin: Pro-Gold Peter Schiff Blasts the Stock Market Bubble
Recently, Buffett took his own advice and bought the stock market dip, ignoring the potential recession on the horizon.
Taking a contrarian position can be frightening, but often lead to the largest financial opportunity possible.
And while this is true for all forms of investing, playing against the fear of the crowd can be extremely profitable in crypto markets.
Is Crypto Investor Sentiment a Lucrative Buy or Sell Signal?
According to data, each time the crypto market fear and greed index fell below 20 or lower, indicating extreme fear, the market experienced a powerful reversal.
https://twitter.com/h0dl2100k/status/1237212250051620865
There appears to be a strong, yet unsurprising correlation between the crypto market sentiment levels reaching extreme fear before reversing.
A fall to 20 on the index happens right ahead of the historic "China pump" that took Bitcoin from $7,200 to $10,500 in two days, breaking records for the third-largest single-day rise ever recorded.
The inverse is true for when sentiment across the market reaches high levels of greed.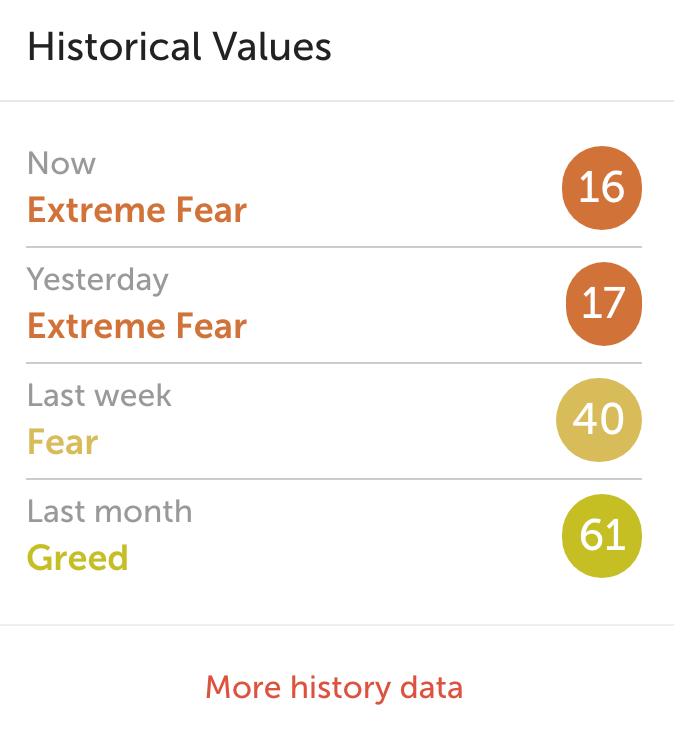 Just a month ago, when Bitcoin was trading above $10,000, the fear and greed index had peaked at over 60. Back when Bitcoin had reached $14,000 in mid-2019, the index once again reached extreme greed.
Crypto is a speculative asset class, and the value of each asset is lacking the base fundamentals such as financial statements and more that stocks and other assets provide. Due to the state of speculation driving prices, crypto is especially susceptible to extreme emotional states such as fear and greed.
Related Reading | Is the Coronavirus The Black Swan Event That Crushes Cryptocurrency?
It's not just the fear and greed index that can provide clues to the overall sentiment across the market. Logging onto crypto Twitter or perusing crypto-related subreddits will show a lack of talk about Lambos and riches when the market is in fear, but an abundance of the language when the market is in full-greed mode.
While it's certainly not a science, the correlation is enough to suggest that paying attention to the fear and greed index, and doing as Mr. Buffett says and taking a contrarian position can be extremely profitable.