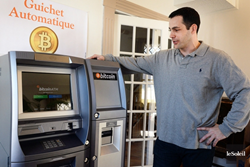 There's been quite a bit of buzz surrounding the Genesis1 bitcoin ATM (which incidentally also serves as a litecoin, dogecoin ATM). Since being deployed recently in Tijuana, they've been met with great interest, to say the least.
And now, the company behind these machines, Genesis Coin, has announced the arrival of the next Genesis1 machine.
It's making it's debut in the Capital of the Quebec Province in Canada, Quebec City. Located at the Auberge Amerik Hotel (adjacent to the Baguette et Cie coffee shop), the Genesis1 is being operated by a company called Bit2Bloc.
"Canada has proven itself to be a leader in bringing tangibility to the otherwise digital world of Bitcoin," said Genesis Coin CEO Evan Rose. "We want individuals to experience Bitcoin in its most elegant form: swift, simple, secure."
With a prime location, a good machine, and an enthusiastic bitcoin community, it looks like Bit2Bloc has some good opportunities here to get the bitcoin digital currency into the hands of more people.
The unveiling of this Genesis1 marks the third by our count. The first two (as noted previously) were launched at a business center in Tijuana — one which handled USD transactions, the other Pesos.
When I spoke to Genesis Coin CEO Evan Rose recently, he told me the company had received over ten orders for Genesis1 machines to be launched not only in North America, but abroad in Australia and South America.