The number two cryptocurrency by market cap, Ethereum, has been rallying alongside the rest of the crypto and altcoin market and has recently even outperformed Bitcoin by a significant margin.
Surging Ethereum prices have also coincided with growing volume, which is an extremely bullish sign that the asset is in good health and the crypto market may be ready to rally even higher in the coming days.
Ethereum Volume Surging Alongside Price is Bullish Signal
Ethereum is up nearly 75% since the start of 2020 and has grown over 92% from the low of $116 it set in December 2019 before the year came to an end.
Following two years of a downtrend in the number two cryptocurrency by market cap, investors who may be reluctant to buy in at current levels fearing more downside may now have reason to take the risk.
Related Reading | Alt Season Cancelled? XRP, Ethereum, and Litecoin All Trigger Sell Signal 
According to new data from Skew crypto market analytics, Ethereum volumes are back and growing, reaching as much as over $600 million in yesterday's trading session on Bitcoin-based margin trading platform BitMEX.
Increasing volume + increasing price = bullish$ETH https://t.co/RI1yqdrHrs

— Josh Rager ? (@Josh_Rager) February 7, 2020
After a strong spike around mid-January, volume fell back to stable levels, but have been rising steadily since. Crypto analysts conclude that the increase in volume along with an increase in price in Ethereum is extremely bullish and could signal far more upside in the days ahead.
Can the Crypto Asset Reclaim Its All-Time High?
During the crypto bubble of 2017, Ethereum prices ballooned to as high as $1,400 per ETH, but following the bubble popping, prices fell over 94% to lows of around $80.
In 2019, Etheruem recaptured much-lost ground, gaining over 330% and reaching a yearly high of $365, before the number two cryptocurrency crashed again to the recent local low of $116.
In just over a month, Ethereum has nearly doubled in price, reaching $220 and preparing to rip higher if the resistance level above can be taken out.
The growth in volume supports further expansion, which could propel Etheruem to as much as $300.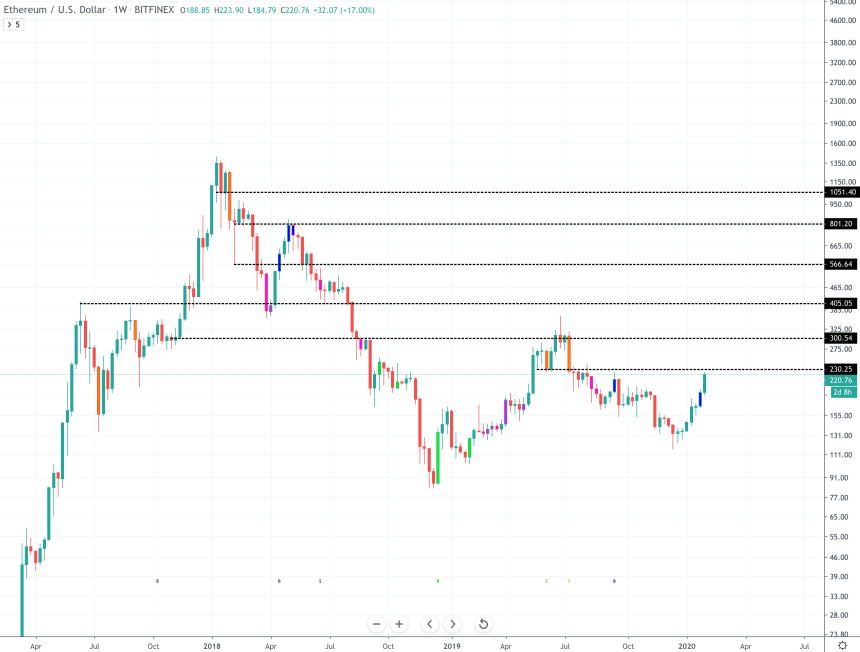 Above $300 would let Ethereum rise toward a retest of the 2019 high, and a break could take it to $400. Beyond $400, former support turned resistance lies at $560, $800, and $1,050.
Etheruem taking out all of the higher levels would likely lead to a new all-time high.
Related Reading | 10 Factors Confirm a New Crypto Bull Market Has Officially Begun 
Many crypto analysts had claimed that the altcoin market would never reclaim highs set back during the crypto bubble, but given the strength brewing in Etheruem markets, the cryptocurrency could end up proving them wrong.
Numerous bullish factors suggest a new bull market is close, but a breakout fo current local resistance levels are the main major hurdle between here and new all-time highs.
Featured image from Shutterstock