Despite a slight pullback in Bitcoin and Ethereum prices, Chainlink remains strong. With a 22% rally in the last week and 4.1% on the daily chart, LINK stands as one of the biggest gainers in the top 10, trading at $33.07, at the time of writing.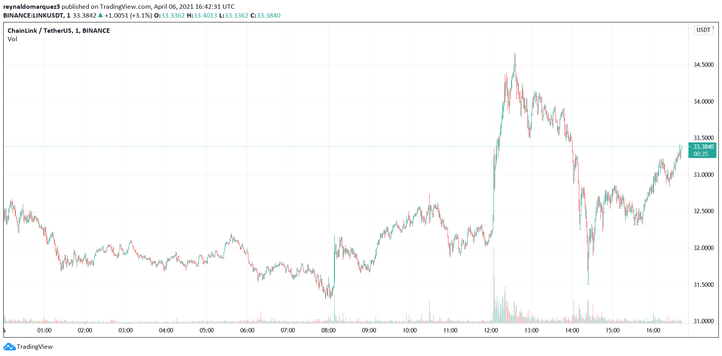 From the traders' perspective, LINK's price structure is highly bullish. After a sideways movement over the past few weeks, the cryptocurrency has managed to break a major resistance barrier at $32.
Trader Michaël van de Poppe stated that LINK has bottomed out in the LINK/BTC trading pair. Strengthening the thesis that LINK's gains will extend further, the trader set support at 0.0004 sats and a possible 253% increase to 0.0017 sats if LINK breaks through its higher resistance levels.
On the LINK/BTC pair, trader "Jon" said:
Officially broke out from the massive downtrend line dating back to August. Lines from the previous uptrend corridor may provide key levels on this leg up. 5 part Elliot impulse wave to ATH would be fun scenario.
Chainlink's potential to extend its rally
It seems that the beginning of LINK's bullish momentum stems from its inclusion in Grayscale's product suite. A few hours ago, the firm announced LINK's inclusion in the Digital Large Cap Fund.
Of the recently added cryptocurrencies (MANA, LIV, BAT, FIL), Grayscale said LINK is the only one qualified to be part of this product. Its role is to give investors a strategy to earn passive rewards by gaining exposure to 70% of its cryptocurrencies basket.
As a result of being part of Grayscale's products, demand for LINK has increased. This trend might continue due to the expansion of Chainlink's partnerships.
Over the last month, Chainlink's oracle services have been integrated into Polkadot's parachain ecosystem operable with Substrate's network. Chainlink has also being integrated by some of the most prominent DeFi protocols on Ethereum.
The most recent partnership was cemented with decentralized trading platform dYdx, backed by a16z and Three Arrows Capital. Even in the NFTs sector, Chainlink has been leveraged to enable the tokenization of "Ether Cards" minted after certain events occur in the "real world":
.@dydxprotocol is now using #Chainlink Price Feeds on the layer 2 @StarkWareLtd ZK-Rollup. Using STARK-compatible signatures, Chainlink's low costs & subsecond oracle update latency enable secure and scalable decentralized perpetual trading markets on dYdX.

— Chainlink – Official Channel (@chainlink) April 6, 2021
Chainlink's multiple oracle use cases and interoperability seem poised to continue to increase LINK buying pressure.
RookieXBT recommended keeping an eye on other oracle services based on BAND and TRB. With a growing DeFi sector, its total value locked exceeding $50 billion, these services could see significant growth in adoption.
.@dydxprotocol is now using #Chainlink Price Feeds on the layer 2 @StarkWareLtd ZK-Rollup. Using STARK-compatible signatures, Chainlink's low costs & subsecond oracle update latency enable secure and scalable decentralized perpetual trading markets on dYdX.

— Chainlink – Official Channel (@chainlink) April 6, 2021