The Federal Reserve (Fed) had its January Federal Open Market Committee (FOMC) meeting on Wednesday and the crypto market tumbled afterward. The Fed's move, although hawkish, wasn't a complete surprise.
As the Fed promises to modulate interest rates in order to achieve its goals of raising employment and getting price stability, investors responded with fear. Bond yields are climbing above pre-pandemic levels, thus affecting the traditional and crypto markets.
Investors fear the Fed's focus on getting inflation under control because the markets' reaction is not a priority amongst the entity's task.
If the Fed moves on to more hawkish reports, markets are likely to keep reacting in a downward motion.
How Hawkish Is The Fed?
The central bank had already reported that "With inflation well above 2 percent and a strong labor market, the Committee expects it will soon be appropriate to raise the target range for the federal funds rate."
Now, the Fed announced interest rates will remain unchanged. However, a quarter-point rate hike is expected to happen in March, which would be the first rate hike since 2018. Afterward, they will start shrinking the balance sheet, which has swelled to nearly $9 trillion in response to bond holdings.
The FOMC released a statement that explained: "The Committee expects that reducing the size of the Federal Reserve's balance sheet will commence after the process of increasing the target range for the federal funds rate has begun."
"The economy no longer needs sustained high levels of monetary policy support," Powell stated yesterday.
"The balance sheet is substantially larger than it needs to be. There's a substantial amount of shrinkage in the balance sheet to be done. That's going to take some time. We want that process to be orderly and predictable."
Chris Zaccarelli, chief investment officer for Independent Advisor Alliance, told Bloomberg that "Chairman Powell has to walk a tightrope – he needs to communicate that the Fed is 100% committed to bringing inflation back down to 2%, while not causing a recession or stock market crash by tightening monetary policy too quickly."
"The stock market is especially vulnerable… We believe the economy will stay out of recession and the bull market in stocks will continue this year, but we are concerned that the volatility we have already witnessed this month will increase in the months ahead and would exercises caution in the near term."
Opposite to the general fear about the FED being too hawkish, Gerber Kawasaki Co-founder & CEO Ross Gerber told CoinDesk that Powell is aiming for a less aggressive tightening cycle than it was perceived and he might represent a great opportunity for long-term investors since his ultimate goal is to have "another long expansion with lower inflation like what we had under Obama for a very long time."
Gerber foresees a difficult year where investors might face the harsh reality of the markets but thinks of short-term losses as "part of the process" because "markets don't go straight up". However, that short-term forecast still paints a bad picture.
Related Reading | IRS Called Cryptos And NFTs A Mountain Of Fraud
Traditional And Crypto Markets React
"Clarity on the timing and extent of rate hikes, as well as the degree of balance sheet reduction, should help calm markets," Comerica Wealth Management CIO John Lynch said. "We believe left unto normal market forces, the U.S. Treasury yield curve will gradually steepen given global cyclical recovery and less severe pricing pressures."
However, the Nasdaq stock index was down by 3.34% and the S&P 500 index decreased 2.1% after the Fed released the statement. Both Bitcoin (BTC) and Ethereum (ETH) prices decreased as well. Bitcoin, commonly perceived as an inflation hedge, showed signs of trading like a stock once more by reversing as the central bank tightens.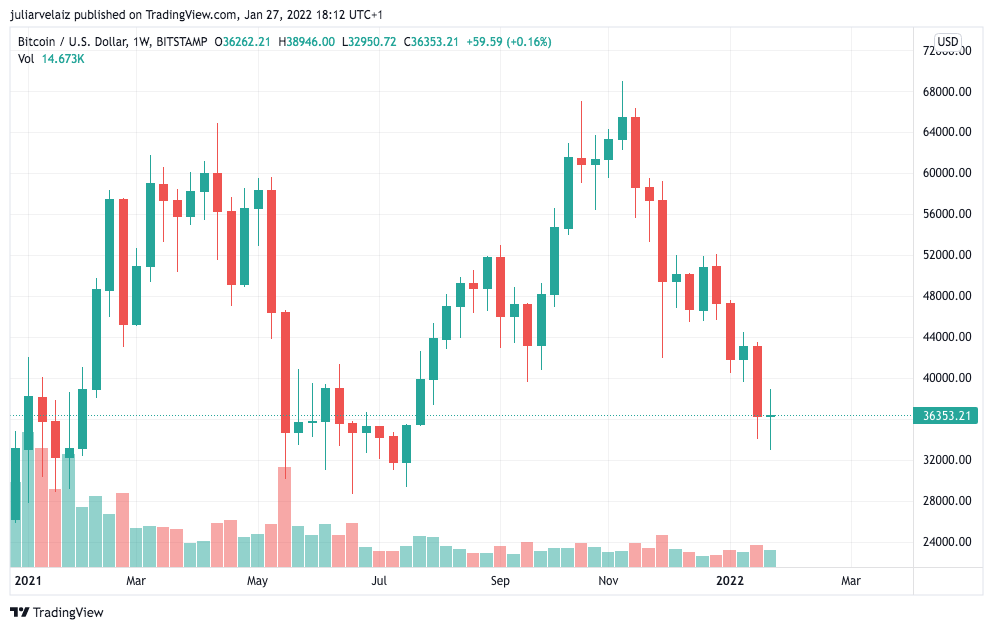 Galaxy Investment Partners CEO Mike Novogratz told CNBC that "We're going through a big re-rating" in global markets, this includes crypto. He added "It's going to be a tough year for assets. … We're going through a paradigm shift," but at the same time he thinks that "A lot of the beatdown has happened."
Volatility is expected to increase in the following months, expecting major changes in the macroeconomic landscape. Investors' positions are likely to turn more conservative, away from more speculative assets like crypto. When interest rates are high, savers and investors turn to safer returns in government bonds.
Related Reading | 'Bitcoin Rush': Small-Time Solo Miners Strike Gold With Full BTC Blocks