The Board of Directors of leading Bitcoin mining firm, Bitmain today threatened ousted co-founder, Micree Zhan with legal action if he continues meddling with the company's affairs.
In what has been a long-running saga between the two co-founders jostling for control of the business, the latest announcement goes some way in determining Jihan Wu's dominance on the matter.
However, as evidenced by numerous occasions in the past, it's unlikely that Zhan will take this lying down.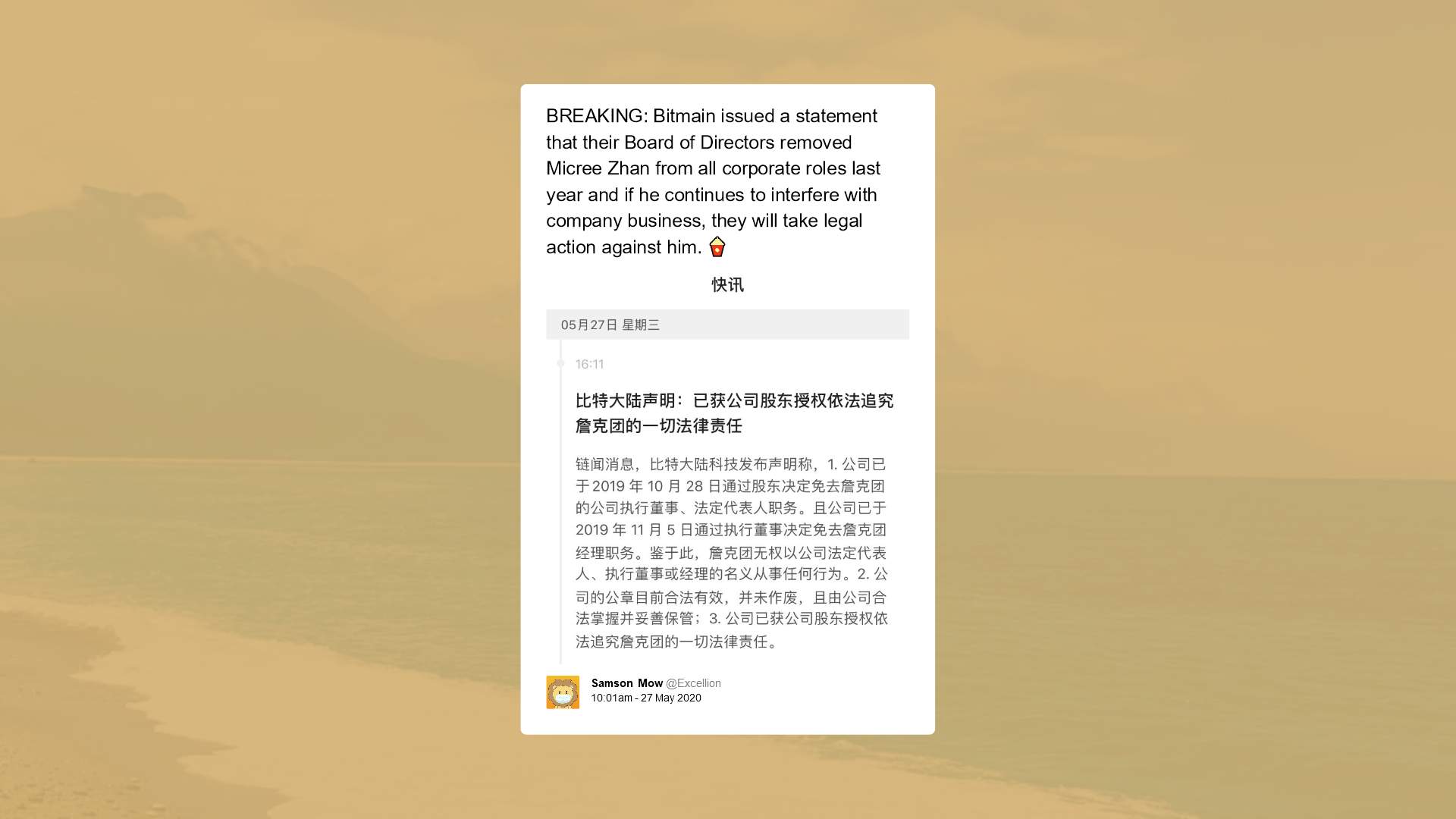 Crypto Winter Stops Bitcoin ASICs Manufacturer in its Tracks
Bitmain was founded in 2013 when Micree Zhan and Jihan Wu went into business together. Wu has a background in finance, while Zhan brought technical know-how to the partnership.
By 2018, Bitmain had become the world's largest manufacturer of application-specific integrated circuit (ASIC) chips for Bitcoin mining.
The company also controls BTC.com and Antpool mining pools. However, the majority of Bitmain's income, 94% at the time, came from the design and manufacturer and ASIC equipment.
Nonetheless, during this peak period, revenue was healthy at $2.8 billion for the first six months of 2018, earning the firm $743 million in net profit. This was quite the jump from the same period in the previous year, where profit was less than $100 million.
However, crypto winter and the subsequent decline in Bitcoin price really hit hard during the second half of 2018. Not only was this a factor in the firm's failed public offering on the Hong Kong Stock Exchange, but it also led to a scaling back of operations, including the firing of 3000 staff members and closure of offices in Isreal and the Netherlands.
Rumors that they lost $500 million during this downturn period were denied by the firm. A Bitmain spokesperson said:
"The rumors are not true. We will strictly follow the requirements of the relevant laws and regulations of the listing and make announcements in due course."
#Bitmain lost about $500 million in the third quarter of 2018. Bitmain was mismanaged for a long time, and they were bailed out by the bull market. Now, that the tide has gone out, we can see who's not wearing a swimsuit. #BTC #BCH #crypto #cryptocurrency

— Weiss Crypto Ratings (@WeissCrypto) February 19, 2019
The Wheels Begin to Fall Off
It was around this time that the relationship between Wu and Zhan began to sour, which resulted in Zhan being ejected from the firm.
Zhan hit back by filing multiple lawsuits to regain control of the firm. This also included an asset protection petition, in which the court sided with Zhan to freeze $1 million of Bitmain assets, including a stake in its chip subsidiary Fujian Zhanhua Intelligent Technology.
The constant back and forth between the two came to a head recently when Luyao Liu, a Jihan Wu loyalist, robbed Zhan of a business license in a government office building.
? this is insane .. the Bitmain shitshow is far beyond my imagination

Today China time ~3:30PM, Jihan's good buddy, former legal representative of Bitmain Luyao LIU was arrested by Beijing police …

— Dovey 以德服人 Wan ?? (@DoveyWan) May 8, 2020
Despite Zhan's ousting, he is still the official legal representation of Bitmain, at least by name in terms of company registration. But Liu, who is Zhan's replacement, snatched the license in the Industry and Commerce Bureau of Beijing building after Zhan had renewed the paperwork.
A statement from Bitmain claims that Zhan had been removed from his duties, and therefore had no right to renew the license. That being so, Liu was justified in his actions.
Rival, MicroBT Gets One Up Over Bitmain
With so much animosity between Zhan and Wu, rivals MicroBT have taken the opportunity to swoop in on the Bitcoin mining market.
Based in China's tech-hub, Shenzhen, close to the Hong Kong border, MicroBT COO, Jianbing Chen recently stated that Bitcoin mining hardware is entering the "3X era." That is:
"low power consumption ratio, high stability, and one-year long warranty service."
And with the recent launch of their flagship model, the 112TH/s rated Whatsminer M30S++, Bitmain's S19 Pro, with a hash rate of 110TH/s, looks like second choice in the competitive world of Bitcoin mining.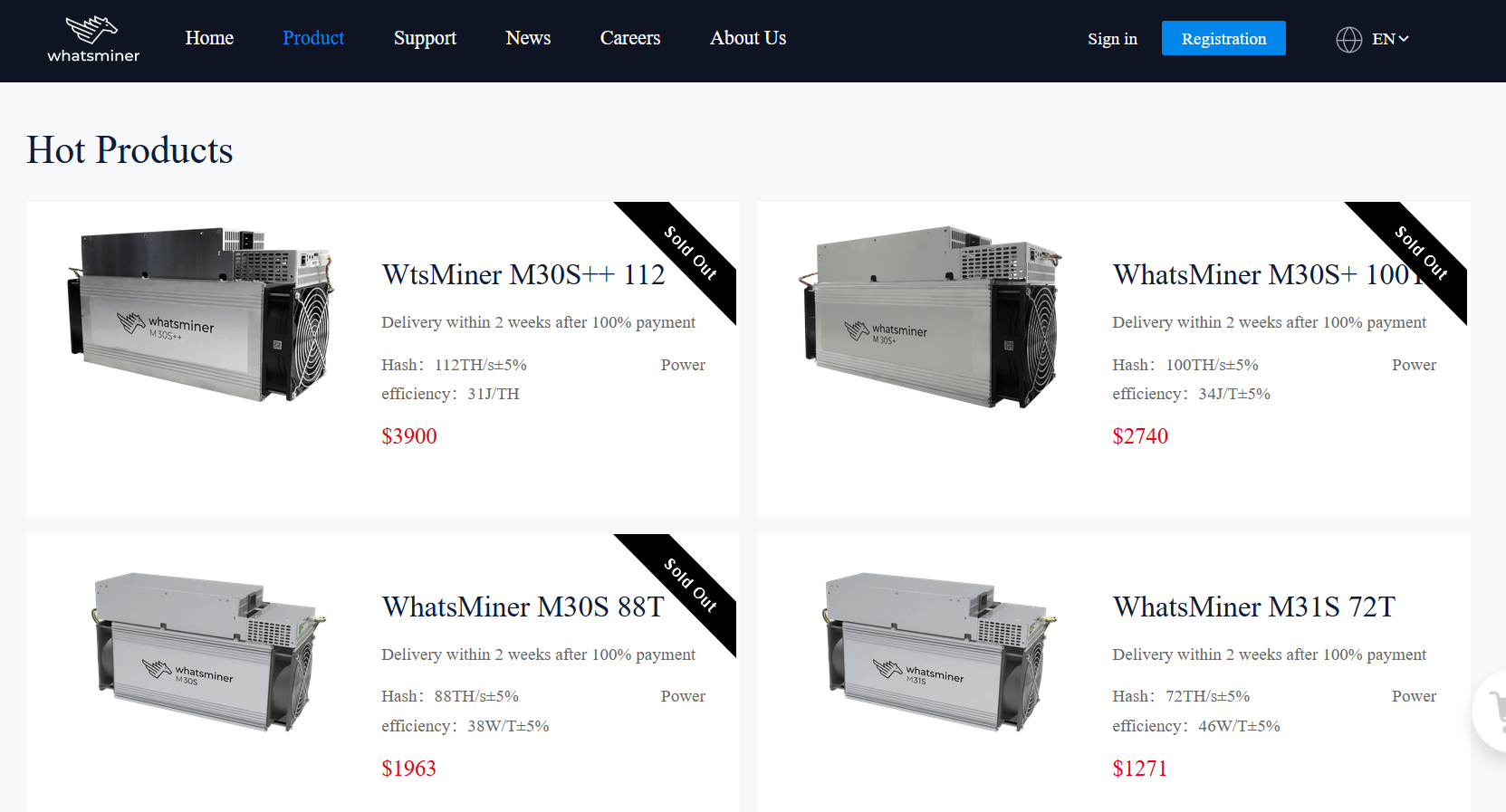 While it's impossible to say whether bad blood between Wu and Zhan is the reason for Bitmain losing their technological edge, it's obvious that their public spats have not helped.