Weekends are usually pretty quiet for crypto markets. Unlike forex, digital assets can be traded around the clock and at weekends but old habits appear to die hard for traders. As we enter a new week there are big expectations for Bitcoin which could well make a move.
Mixed Outlook from Analysts
There has been virtually no movement on crypto markets for the past three days. Total market capitalization has hovered just above $170 billion which is $15 billion down from its 2019 highs last week. A push back to those highs could see markets reaching $200 billion again before the month is over however if Bitcoin fails to break key resistance levels, the consolidation could continue.
Analysts are generally mixed on short term price direction and some foresee a movement this week as technical indicators align again;
Not much difference from previous posts. Would not be surprised to see some action tomorrow, as weekends often are quiet.

Do expect this RSI support to be broken this week pic.twitter.com/DkyczKKBZt

— The Cryptomist (@TheCryptomist) April 14, 2019
Others are not so optimistic and expect another big dump, as 'The Crypto Dog' tweeted yesterday;
"I could be completely wrong and get stuck sitting by myself on the sidelines, but it's my opinion we see another wipe out on $ALTS and $BTC before we start trending onto new highs. Sitting mostly in fiat going into this week, waiting for opportunities to present themselves."
A 'broken price floor' is what one trader described Bitcoin as having reached with heavy resistance at $5,800. There is expectation here for BTC to consolidate between $4,700 and $5,500 for a several weeks or even months before a larger breakout occurs.
Daily RSI is sitting right on 70 which is just on the edge of overbought territory. The 'golden cross' could also come into play as the two daily moving averages converge and are still on a path to intersect later this month.
Bitcoin prices had started to wake up again at the time of writing with a move from yesterday's low of $5,060 up to touch $5,200 again for the first time since Thursday. Volume, which had dropped to single figures, is now back over $10 billion as Asian traders kick start the markets this Monday morning.
On the week BTC has fallen back almost 2 percent but since last week's big dump back below $5,000 it has recovered around 4.5% to current levels indicating that the bulls are still in control for the time being.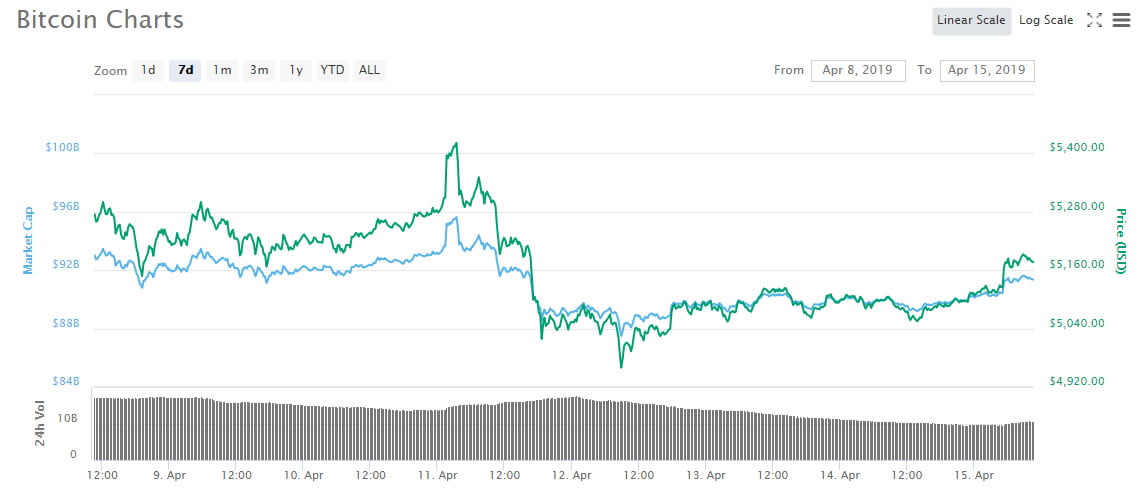 The crypto twitter sphere has been preoccupied with the 'guess who Satoshi is' saga that has unfolded in recent days which has served as a temporary distraction for lack of market movement. This week has started with positive momentum but the leading assets at the moment are altcoins, primarily Bitcoin Cash and Litecoin. Each has added 8 to 9 percent on the day and are the top performing high cap coins at the time of writing.
Image from Shutterstock