In a poll conducted via Real Vision's Twitter handle, an overwhelming majority has voted that VeChain (VET) is the most undervalued cryptocurrency on the market. With 140,000 users participating and 65.8% of the votes in favor, VET prevailed over Hedera Hashgraph (HBAR) and Ravencoin (RVN).
An analyst called "VeChain Justin" added the poll results to his bullish case on this cryptocurrency. VeChain's community is in the process of voting to modify or maintain transaction fees on the blockchain VeChainThor.
The analyst believes that the results of this vote will favor fee reduction, cost optimization for corporations operating on the blockchain and consequently, there will be an increase in VET adoption during 2021. VeChain Justin said:
I am extremely bullish on VeChain. More than ever before because of the vote to reduce base gas price. Understand or get left behind. Because the bulls are repeating on deaf ears. All paths point to mass adoption. We moon in 2021. 100%. Zero doubt.
VeChain Foundation has made an update on the voting process that will conclude in a few days. So far, more than 800 nodes have voted on the VeVote platform. With 525 votes and 73.39%, the majority favoring the reduction of fees to 1% of the current price, 1e13 wei.
Almost 800 nodes have casted their votes regarding the reduction in VeChainThor's Base Gas Price!

This VeVote is a very important process that will determine the future of VeChain for all stakeholders.

Let's build this future together & vote now! $VTHOhttps://t.co/hXEhuGyAGM pic.twitter.com/V8TMOCLMfs

— VeChain Foundation (@vechainofficial) April 1, 2021
VeChain tracking Cardano's (ADA) price?
VET is currently trading at $0.09 with gains of 3.9% on the weekly chart. In the last week, VET's price has seen a 15% increase and an impressive 112% on the monthly chart. Over the year, the cryptocurrency is up over 2,800%.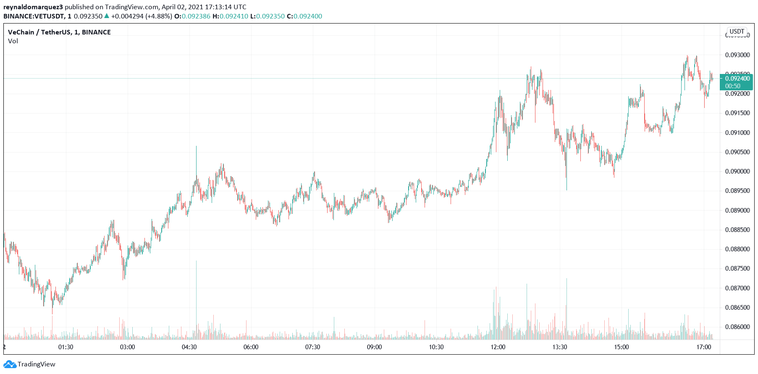 Looking at VET's price action, VeChain Justin stated that the intraday chart has created a bull flag formation. Therefore, the trader expects:
Price action on the cusp of breaking and going parabolic. Circled area of importance (…). Looking for a bounce on line or flag breakout to go parabolic. 2.618 Fib @ 24 cents. Bless us crypto gods.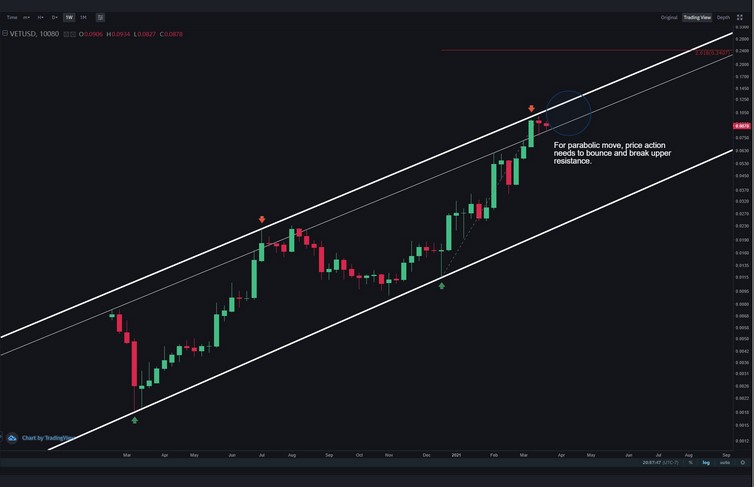 Comparing VET's chart to Cardano's native token, ADA, the trader stated that they are "too similar to ignore." A year ago, ADA's price was trading below $0.10 and, since then, it has had a bull-run with 3,804% gains reaching $1.21, at the time of publication. The analyst stated:
The resemblance to ADA chart is too close to ignore. Imagine it follows through and we do go parabolic. Extrapolated measurements show a price target of $0.77 around first week of July! Can you imagine? #VeFam deserves it. Please make them all rich.
In its most recent report, VeChain Justin stated that the weekly time frames are approaching his target. The analyst is looking at a breakout for VET to reach $0,10 and then continue pushing into unknown territory. He added: "Moon is around the corner".