The crypto market is booming again, with each passing day a new token is doing another '10x' and making early investors rich. The latest coins in the limelight, all happen to be Binance IEOs: Kava (KAVA), Elrond (ERD), and Band Protocol (BAND).
Why are Binance IEOs suddenly outperforming the rest of the market? Also, will this craze continue, and if so, which token will rally next?
Binance IEOs Stagnant Since Launch Are Suddenly Soaring, But Why?
During the 2017 crypto bubble, alongside Bitcoin's meteoric rise, the ICO boom helped Ethereum explode and created an industry filled with altcoins.
Most of the altcoins created during this clear cash grab ended up nearly worthless after the bubble burst. The fundraising method went from being championed across crypto to being demonized by the finance world and by chief regulators.
Negative sentiment and a slew of lawsuits stopped that trend in its tracks. Since then the market has been searching for a suitable replacement for launching new projects through crowdfunding.
Related Reading | The Great Ethereum Debate: DeFi Versus ICOs
IEOs, or initial exchange offerings were born, helping to launch new tokens with the added backing and support of a cryptocurrency exchange. Binance kicked off the trend, but several other platforms followed the industry leader.
Like ICOs, IEOs were also haunted by negativity, with a former SEC chief referring to the new class of assets as "unregulated crypto-casino fundraising mutations."
That negative stigma, however, has since been shed alongside the market turning bullish again, and it has helped propel a handful of Binance IEOs to superstardom.
We've seen some amazing runs on the IEO's of @binance.

Strongest movers are; $KAVA, $ERD and $BAND as they all pulled a move of more than 10x.

Recently, $PERL also joined the party with a big breakout.

I think $CELR, $ONE and $BRD can still join.

— Crypto Michaël (@CryptoMichNL) July 26, 2020
Rolling The Dice On KAVA, ERD, and BAND Led To 800% Returns
The crypto community is on the hunt for the next major trend to take advantage of. Now that DeFi has begun to fizzle out slightly and majors are stealing the limelight, its allowed another subset of altcoins to run: IEOs.
Several of the tokens launched on Binance as IEOs have gone on over 800% rallies since March. The top-performing trio of tokens includes Chainlink competitor Band Protocol (BAND), the DeFi lending platform Kava (KAVA), and Elrond – a project with internet-scale blockchain ambitions.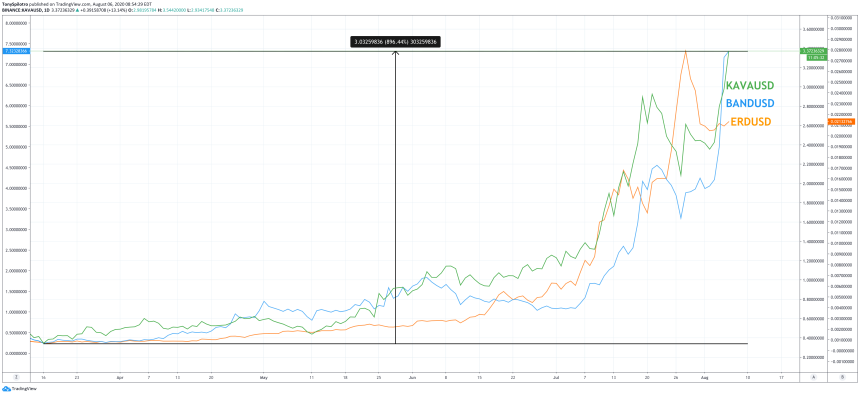 BANDUSD - KAVAUSD - ERDUSD Chart Comparison | Source: TradingView
Each of the three assets has followed a similar path and price increase since Black Thursday. And it is prompting market participants to look toward other Binance IEOs for additional breakout performance.
Perlin (PERL), according to traders, has begun to join the party, and other possible invitees include Celer Network (CELR), Harmony One (ONE), and BRD. All of these Binance IEOs may show similar performance if the same sort of bandwagon effect happens in this category of coins as it has done so with DeFi and oracles.
Related Reading | Crypto Is Up Over 80% in 2020—and Google Users Are Taking Notice
As for why these assets are suddenly outperforming the market. These rather illiquid altcoins have more to climb from less capital, and with profits from Bitcoin and majors aplenty, there's less risk involved in rolling the dice in the "crypto-casino."