A stunning recreation of Leonardo da Vinci's The Last Supper painting with a focus on bitcoin sold for big bucks on auction website eBay this weekend.
Dubbed The Last Bitcoin Supper (above), the painting — which measures 140cm x 70cm — was created by French artist Youl, and has previously received a less-than-impressive reaction from the community.
But now, well, fifty-eight bids brought the final price of the auction to a whopping $2,900 [see the auction here], payable in bitcoin, of course.
The painting is complete with a number of interesting representations, namely in the center. What was originally depicted as Jesus in the original painting is a human depiction of the bitcoin block chain with a QR code front and center.
Another thing that stands out: the depiction of a banker as Judas (one of the twelve original apostles who ended up betraying Jesus, according to the New Testament, if you're not familiar).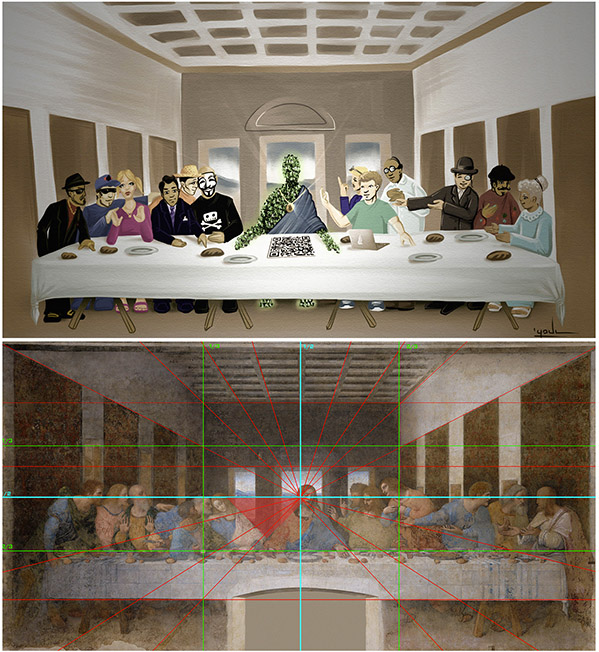 The seller writes that he acquired the painting from Youl for the sum of one bitcoin, back when the value of the digital currency was nearly double than one it is today.
Assuming he received his payout in the digital currency or fiat, he's seen a decent return, and someone is about to be very pleased with their new painting (which the seller has stated he can ship internationally).
This isn't the first time a bitcoin-related painting has sold for big bucks. Recently, German artist Kuno Goda attempted to sell his painting of 200 bitcoin logos for 199 bitcoins. He did manage to sell it to a Seattle businessman, but the sum of the transaction was not disclosed (though it was extremely likely it went for much more than the painting above).
[textmarker color="C24000″]Images[/textmarker] eBay user 'project bitcoin', Youl