Findings from Alameda Research show fake crypto exchange volume is not as prevalent as previously thought. In a study released yesterday, findings show 68% of reported exchange volume is fake. This compares to a report from Bitwise Asset Management, released three months ago, that puts the figure between 80% – 90%.
Alameda Research Uses Different Methodologies For A More Accurate View of Crypto Volume
While neither scenario is particularly palatable, fake volume is still a reality that plagues the crypto industry. Although there has been a counter response since Bitwise released their findings, for example in CoinMarketCap developing more transparent tools and metrics, Alameda Research believes using different methodologies can give a more accurate view of the problem.
Researchers developed six criteria to apply to a sample of 48 crypto exchanges. This list includes big exchanges like Gemini and Binance, right the way through to lesser-known organizations such as Exmo and FCoin. Each criterion, when applied to a given exchange, resulted in either pass, fail, or undetermined. In the end, a weighted score, to take into account the higher significance of particular tests, between 0 and 5 was assigned. With 5 being the mark of an exchange that reports real volume.
Full details of the tests and the methodologies applied are available in the report. They include manual investigation of trading patterns, that is, observing whether trades correspond with an order previously seen on the order book. And, comparing the hourly volume to that of an index of well-established and legitimate exchanges.
Alamada Research's Findings
A score of fake volume, which takes into account live data, can be found at ftx.com. It shows, of the exchanges investigated, fake crypto volume comes to 68%. A value significantly less than research from Bitwise, which puts fake volume as high as 90%. As such, under these alterntaive methodologies, the findings made by Bitwise exaggerated the problem of fake volume.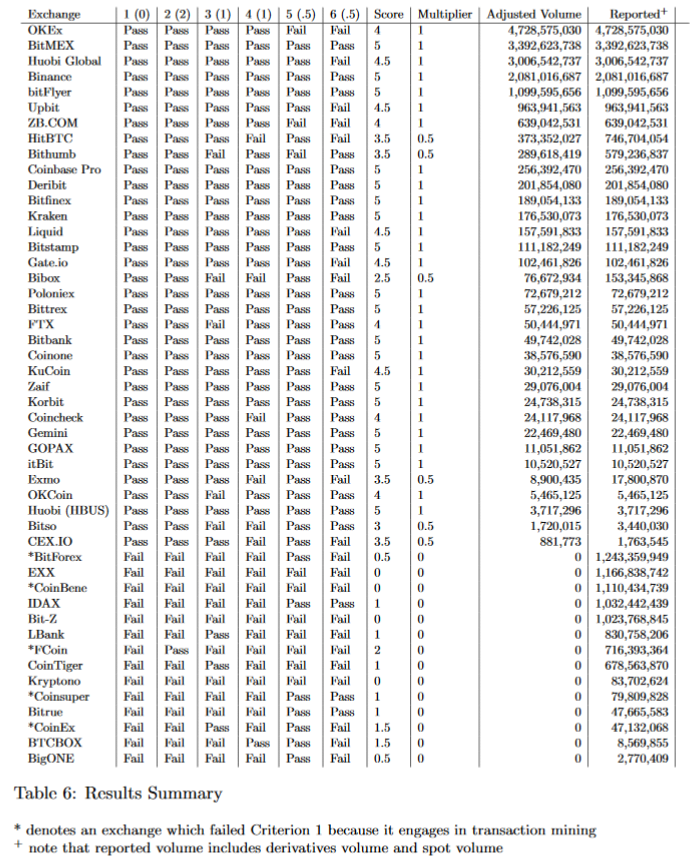 Bitwise concluded that only ten exchanges have real volume. Those being: Binance, Bitfinex, bitFlyer, Bitstamp, Bittrex, Coinbase Pro, Gemini, itBit, Kraken, and Poloniex. Whereas the findings above concur but also show several other exchanges that deserve recognition, including Huobi, Korbit, and Zaif.
Boycott The Bad Actors
On that note, it's fair to say that the practice of faking crypto volume will not go away until legislated against. At present, in a largely unregulated global trading environment, the temptation to inflate activity is a strong one. Especially so, given the financial rewards for climbing up exchange rankings.
But Analyst, Sylvain Ribes describes a situation where the greed of bad actors tarnishes us all. As such, until such time as global exchange regulation happens, if at all, we each have a responsibility to shun the bad actors. He said:
""Crypto doesn't need regulation!", we all claim. It is high time we proved it. Because as it stands the state of crypto is arguablly a testament to the failure of the free market."
In short, fake volume is yet another reason why outsiders deny the legitimacy of crypto assets. And so, regardless of where we stand on a particular matter, or whatever it is that divides the community, one thing we can all agree on is the need to boycott fake volume exchanges.
Featured Image From Unsplash