Litecoin awoke from a month-long slumber to follow the general sentiment in the market. The price of LTC broke above the $200 resistance, only to drop with the crypto market flash crash.
At the time of writing, Litecoin trades at $181 with a 17.31% loss in the daily chart.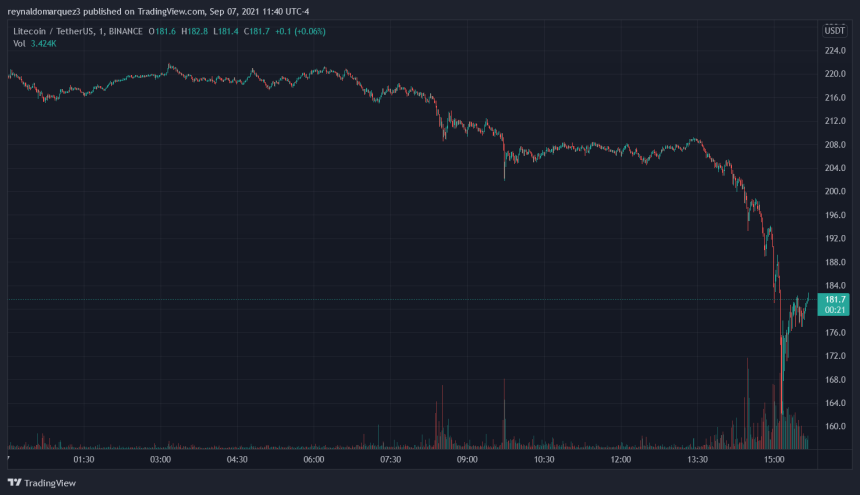 The market seems to be reacting to the events triggered by El Salvador making Bitcoin legal tender. Whales could have used the bullish sentiment to push down the prices, triggered liquidations, and entered new positions.
Despite the crash, Analyst Ali Martinez believes Litecoin could reclaim its bullish momentum. Since the beginning of August, the number of unique addresses that joined the network reached a higher high, the analyst said.
As seen below, this metric stood at 220,000 new addresses created on September 6th alone. The Number of New Addresses from Glassnode is useful to measure the number of users with fresh capital coming into LTC and "could be interpreted as a sign of optimism", Martinez said.
In addition, large investors went on a "buying spree" with the number of addresses holding 10,000 to 100,000 adding over 720,000 LTC in the past 30-months. This coincides with the increase in the price of Litecoin, as seen below.
Further data provided by IntoTheBlock records around 170,000 addresses that bought 3 million Litecoin when the price was at $222. Martinez believes this is the next major resistance, LTC's price must recover and rise above it to push into previous highs.
Support is bigger than resistance in terms of volume. Still, prices must slice through $222 to advance further.
Litecoin, Solana, Polkadot, Follow The Bearish Trend
Almost no altcoin in the top 20 by market cap has been able to hold its gains. Litecoin is one of the worst-performing in the past day, followed by Internet Computer (ICP) with a 23% loss, Polkadot (DOT) with a 17.3% loss, Cardano (ADA) with a 16.6% loss.
Related Reading | New To Bitcoin? Learn To Trade Crypto With The NewsBTC Trading Course
These altcoins have shown resilience to previous downside trends. Only Solana (SOL) records a 10.7% profit in the daily chart on the back of the growth of its ecosystem.
In the short term, Bitcoin could determine the fate of the entire market. Litecoin displays solid fundamentals for a recovery, but BTC losing key support at $43,000, could potentially trigger another leg down to its previous range around the high levels of $30,000.