Solana, with its fast-growing ecosystem, has found a position at the forefront within the crypto space. By hitting $314 million in its private token sales, Solana crept the headlines in early June. Polychain and Andreessen Horowitz pioneered the Solana token sales.
This funding impacted greatly in developing the fast-growing ecosystem of Solana. This pushes it as one of the top competitors to Ethereum, the blockchain with the widest usage.
Before now, the Ethereum blockchain has high demand from crypto users and investors. Unfortunately, this results in network congestion and exorbitant transaction fees.
The congestion propelled the great opportunities for sidechains and Layer 2 solutions. Also, Layer 1 networks can take from the loopholes and create scalable decentralized apps beyond Ethereum. Solana falls under such Layer 1 networks.
Related Reading | Coinbase States Infrastructure Bill Could Impact 60 Million American Crypto Owners
Founded in 2017, the project team realized over $25 million through its private and public ICO token sales. March 2020 brought the release of the main net beta.
The project is reputable for its 400ms block time and 50,000 throughput for transactions per second. This performance is higher than Bitcoin and Ethereum's current version by several thousands of times. Though both of these formers platforms rely on Proof-of-Work consensus.
Solana has a theoretical capacity of 700,000 transactions per second through its focus on scale for more adoption, as contained in its whitepaper.
The technological design of Solana accounts for its high performance in scalability. The blockchain can process transactions horizontally in parallel using its sea-level runtime. Thus, the blockchain has continuous scalability with validator GPU improvements, thereby maintaining low fees.
The CEO of Solana Labs, Anatoly Yakovenko, reveals that the network's scalability level is proportionally linked to hardware computation. This accounts for its execution of tens of thousands of transactions of smart contracts in parallel.
Also, the network uses several GPU cores to validators. The major network down part is that running a specialized hardware validator can cost thousands of dollars.
Solana Performance Trend
Solana satisfies its aim of having a distributed system for transaction scalability in proportion to its bandwidth.
The network achieves its aim through the use of some features like the consensus algorithm Tower BFT. Other outstanding enabling features are the Proof-of-History and Proof-of-History-Optimized versions of BFT.
The network currently boasts over 900 validators. Though Ethereum remains the most Defi smart contract blockchain, Solana has made a name than other Layer 1 chains. It's more decentralized than Binance Smart Chain, Polkadot, Fantom, and Cosmos.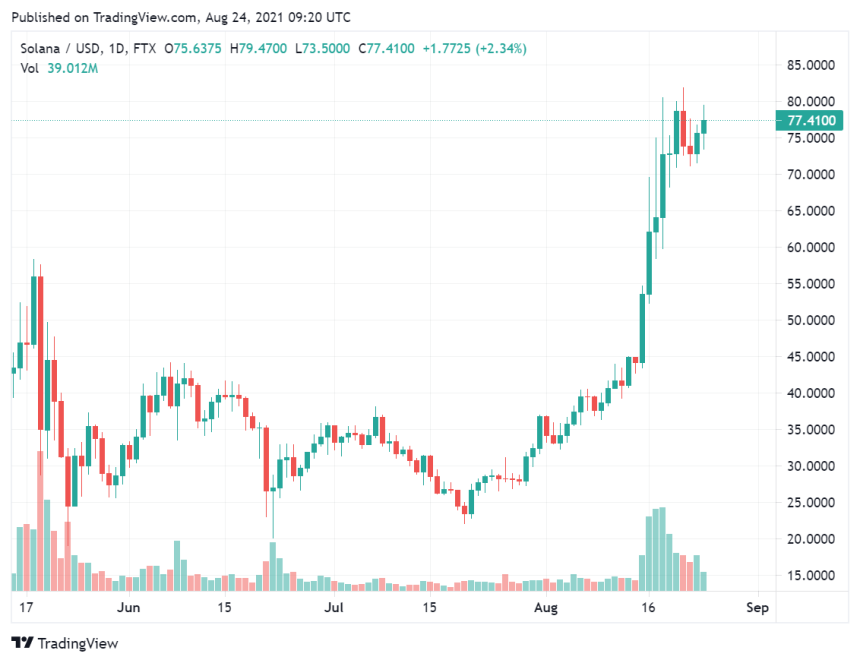 Solana has maintained a bullish momentum and it seems to be on an upward direction | Source: SOLUSD on TradingView.com
Several new protocols are building on the Solana blockchain to leverage its fast and low transaction fees. This has propelled more rise of more dApps in the Defi ecosystem.
The ecosystem now has more decentralized exchanges, yield aggregators, automated market makers, and stablecoin swap platforms.
Related Reading | SushiSwap Narrowly Escaped A $350 Million DeFi Hack, Here's How
Others include NFT marketplaces: wallets, gaming platforms, and derivatives. The Chain also has projects based on infrastructures such as block explorers, oracles, launchpads, and data analytics tools.
When it comes to its operability, unlike Ethereum, SOL has no support for Solidity programming language. So, it's not EVM compatible, and this puts a gap in its competition with Ethereum.
However, the Solana network utilizes Rust as its programming language. Fortunately, Rust is becoming one of the preferred languages in the most developing communities in the Defi ecosystem.
Furthermore, Neon Labs plans on providing SOL with EVM compatibility by porting Solidity smart contracts on the network.
Featured image from Pixabay, chart from TradingView.com