Users of LEOcoin wallet will now be able to hold private communications with each other after the integration of a new chat functionality.
The desktop wallet, according to the LEOcoin Foundation, has been introduced under their 'The Upgrade' launch. The said category is about reclaiming privacy in a world that seems to be going in an opposite direction. The Upgrade hopes to be a viable tool — or an engine behind a series of tools — that can help people exercise their right to privacy.
The LEOcoin Chat, as the new feature is titled, follows the footsteps of Telegram in offering the facilities to make untraceable communication. It is specifically designed for users who wish to stay updated with price behaviours, trading strategies and LEOcoin development news by interacting with other members of the LEOcoin community.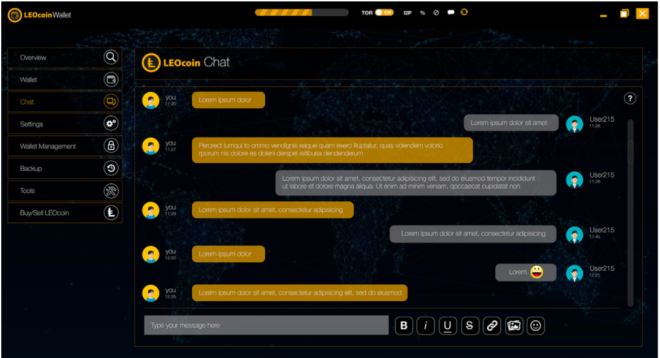 However, the thing that separates LEOcoin Chat from its counterparts is the blockchain technology.  The LEOcoin Foundation ensures encrypted and secure desktop-to-desktop communications using a decentralised blockchain. It, as the foundation quotes, is a never-seen-before feature that makes LEOcoin Wallet a distinctive purse in its own way.
"This feature returns privacy to conversations. Nobody is reading these messages and using your information make money from advertising to you. Your private data is very safe with this system as well. The encryption, combined with the decentralised approach, fundamentally changes the way that private messages are sent. The Upgrade is focused on giving people the tools to exercise their rights to privacy, in the same way that digital currency is starting to change the financial industry, we believe that with our approach to private communications, LEOcoin can play a role in fundamentally changing the communications industry and restoring the right to private communications." — states Dan Andersson, Chairman of the LEOcoin Foundation.
Private Transaction Feature
In the same upgrade, LEOcoin wallet has come up with a transaction anonymity feature; it provides LEOcoin token users with a private wallet address. Choosing to send tokens using the Private feature enables users to hide their wallet addresses from third parties, including the LEOcoin Foundation. This feature is based on one 'Ring of Trust technology', which essentially creates and confirms the transaction on the blockchain without publishing the original sending address.
"Essentially, the coins are destroyed after they are sent from the original wallet and created anew before they arrive with the recipient," added Anderson.