Crypto markets have spent most of the weekend in consolidation as Bitcoin takes a breather. Eyes are starting to turn to Litecoin once again as the halving clock ticks down with less than a month to go.
Litecoin Halving in 28 Days
The clock is ticking. According to Litecoinblockhalf there is 28 days to go before the event next month. According to an official post on the LTC website the previous halving took place on August 25, 2015 at block 840,000. This time it is expected 20 days earlier on August 5th at block 1,680,000 due to increased network hash rate that has slowly sped up the clock between difficulty readjustments.
If history is going to repeat there should be a big spike in Litecoin prices over the coming four weeks. In 2015 LTC surged 400 percent in the month leading up to the halving. The silver to bitcoin's gold cranked from $1.70 to $8.50 as a massive wave of fomo seized the markets.
"Comparatively speaking, if history is anything to go by, we should have already seen an unhealthy vertical spike in price as people FOMO in to capitalise on the event, yet this hasn't happened."
Litecoin's recent action has been tied to that of its big brother. Its performance this year alone however has outpaced BTC. Trading at just over $30 on January first, Litecoin has surged a monumental 300 percent to current prices. By comparison, BTC has managed just over 200 percent in the same period.
At the time of writing Litecoin was trading at $120, having been range bound for the past week. Since its 2019 peak of $145 LTC has pulled back 17 percent which is virtually identical to Bitcoin's correction from $13,800 to current levels.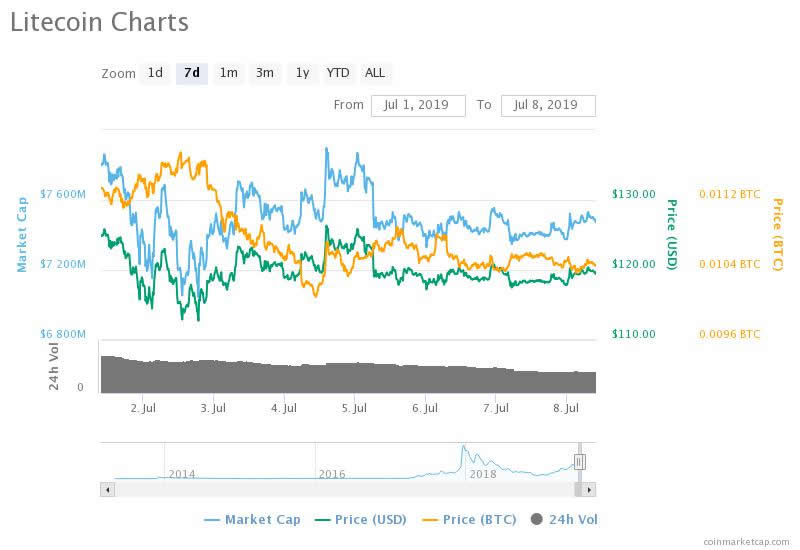 Daily volume has retreated from the peaks last month down to $3.3 billion and market capitalization is at $7.5 billion which has kept LTC above BCH in forth for the time being. The chart does indicate some cooling off for the crypto asset but the fomo could easily ramp up in the next couple of weeks as it did previously.
During the epic bull run of 2017 Litecoin fomo resulted in a surge from $100 to $340 in just five days. We may not see a repeat of this vertical price action but a move higher is expected over the coming days. Litecoin.com added:
"Positive CMF, MACD, RSI and the weekly moving averages (3,7,30) now all trending back up and in the right order, the overall case looks bullish going forward with any short term pullback being temporary."
On the daily chart LTC is sitting on and holding support at the 50 day moving average and the uptrend is still very much intact.
Image from Shutterstock