Since Facebook announced its new cryptocurrency "Libra," it has faced resistance from global regulators and financial sectors. The People's Bank of China, which in 2017 banned the use and trading of cryptocurrencies, has also expressed skepticism, believing that the US-controlled digital currency would circumvent its financial sovereignty.
But that is not stopping consumers in China from exploring Libra's potential against leading regional payment services like WeChat and Alipay. Crypto news portal cnLedger reports that the keyword 'Libra will compete with Alipay and WeChat' is trending on the number 2 position on Weibo, China's equivalent to Google.
China is paying attention – "Libra will compete with Alipay and WeChat" is now the 2nd hottest search on Weibo (Chinese Twitter). pic.twitter.com/nsMJ4kvHvC

— cnLedger (@cnLedger) July 18, 2019
Libra against Capital Control
The trend emerges as China continues to clamp down on funds leaving the country. According to EUSME, the Chinese government has imposed a string of measures to curb capital outflow, which includes higher scrutiny over Merge & Acquisition transactions, limitations on forex transfers, buying limits, and reporting of overseas transactions that exceed 200,000 RMB.
Facebook's Libra, on the other hand, proposes to offer a global payment network pegged to a pool of convertible fiat currencies. The project has received backing from leading payment processing firms like Visa and MasterCard, meaning it could practically become a de facto online currency in the future.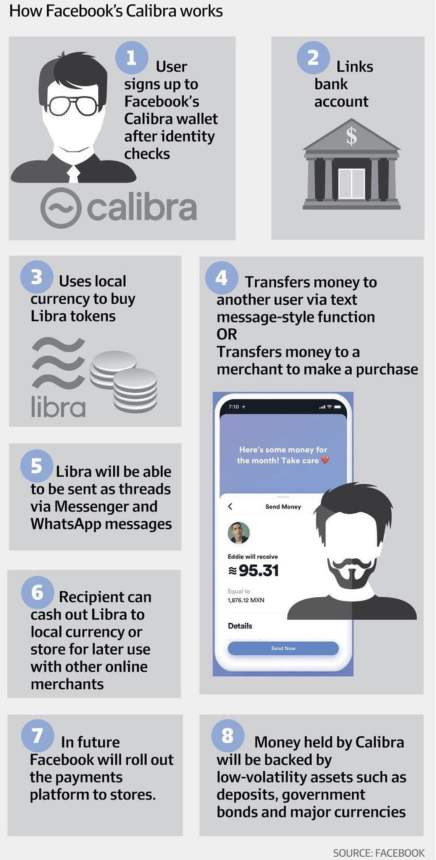 Libra aims to make cross-border payments more comfortable, which could subvert Beijing's efforts to enforce capital controls. The people in the country, meanwhile, have already discovered bitcoin, a decentralized cryptocurrency that became the inspiration for Facebook to launch Libra. Despite an ongoing ban, investors continue to use bitcoin as a tool against capital controls via peer-to-peer methods.
Up until May, both WeChat and AliPay had become an alternative payment system to settle cryptocurrency-related trades. The state-regulated apps, in response, updated their payment policies that now prevent merchants from trading/dealing in bitcoin-related activities.
The surge in Libra's trend in China appears to come partially from people looking for non-Chinese payment alternatives. On Monday this week, US Treasury Secretary Steven Mnuchin said the Facebook cryptocurrency is open to get misused by money launderers and terrorist financiers. That further applies to people looking to bypass capital restrictions.
Libra is Important in China
Wei-Tek Tsai, the chief scientist at Chinese blockchain firm, Tiande Technologies, believes Libra is essential in China despite the political and regulatory hurdles it might face. The expert said stablecoins represent a new financial frontier in the new currency competition. Excerpts:
"Some people may think it's just a US company launching a stablecoin, not a fiat currency, and this company cannot operate in China, so Libra is not important. Is it? Now that the government and central banks from the US and Europe are all in on this, even though they may disagree on their positions. It has become a national-level public debate. How could it not be significant?"