Throughout most of 2019, Litecoin – the cryptocurrency forked from Bitcoin's codebase by former Google programmer Charlie Lee – has led the entire crypto space out of the depths of the longest bear market on record. Much of the bullish sentiment surrounding Litecoin price is being driven by pre-halving speculation. Profit-hungry crypto investors have been buying up Litecoin ahead of a potential price increase.
But with Litecoin's halving less than 60 days away, and with the asset nearing 600% returns for investors who boldly took a risk and bought the bottom back in December in anticipation of the pre-halving pump, the rally may soon be running out of steam. One crypto analyst believes that Litecoin price still has room to climb, but has issued an ominous warning that a potential 73% drop could be ahead in the coming days.
Crypto Trader Expects LTC/BTC Ratio to Hit 0.034 In Pre-Halving Spike
Litecoin often leads the crypto market. And ahead of its halving, most of the crypto community has considered the silver to Bitcoin's digital gold to be a "no brainer" of an investment.
Related Reading | Can Litecoin Halving Spark Crypto Alt Season and Boost Bitcoin Price Higher? 
Each halving reduces the block reward miners receive for validating the blockchain. Come this August, the amount of LTC miners receive will be reduced from 25 LTC – approximately $3,475 at current prices – to 12.5 LTC, also reducing the USD equivalent value miners receive for the same amount of effort.
The abrupt shift in the balance of supply and demand, investors believe, creates an increase in price that often gets front run.
That front-running has helped take the price of Litecoin from a bear market low of near $20 to a 600% return as the price nears $140 in the LTC/USD trading pair.
— Master⚡️250k/6.25k BTC/LTC 2021 (@MASTERBTCLTC) June 12, 2019
In the LTC/BTC pair, one prominent crypto analyst believes a massive, multi-month cup and handle formation will take the ratio to a target of 0.34 once the formation confirms. If Bitcoin price stays around $8,000, this would bring Litecoin price to roughly $270. If Bitcoin is to climb higher alongside Litecoin while it surges even higher on the ratio, Litecoin could potentially paint new all-time highs in USD value.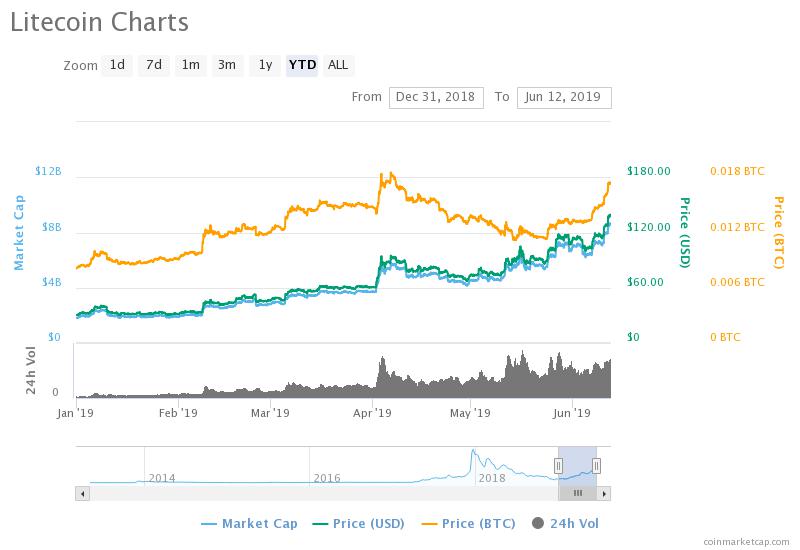 10 Days Left of Litecoin Price Pump, Secure Profits Ahead of 73% Drop
If the halving truly was already front run as many crypto investors believe, risk increases by the day that the earliest buyers will begin securing profits, which will stop the rally dead in its tracks and cause a powerful correction.
Related Reading | Crypto Analyst: Litecoin is a "No Brainer" 
The same crypto analyst that has lofty price targets for LTC/USD and LTC/BTC and has been accurate in his predictions thus far, believes there are only 10 days left in the rally before the tides sharply turn.
I think we have about 10 more days of litecoin pumping…

I've started to move some out of litecoin into bitcoin

If you look at 2015 45 days before they halving the price peaked and drop 73% be aware

45 days will be June 22

Protect some of your profits especially if your new

— Master⚡️250k/6.25k BTC/LTC 2021 (@MASTERBTCLTC) June 11, 2019
According to the last Litecoin halving back in 2015, the final days leading up to the halving caused Litecoin to absolutely moon, doubling in value relative to Bitcoin. Immediately after buyers began taking profits, Litecoin price fell 73%, as early investors dumped on those FOMOing in too late.
That dump occurred 45 days ahead of Litecoin's last halving. The next halving is in less than 55 days. When will you secure Litecoin pre-halving profits? Or will you be left holding a bag?
Featured image by Shutterstock