The mighty bulls are back! After taking adequate rest and catching enough breath, they have made a powerful comeback and exposed the frailty of the short-sellers. Backed by strong sentiments, Litecoin is now challenging a crucial resistance level.
Litecoin is currently trading up 2.8% at $1.865.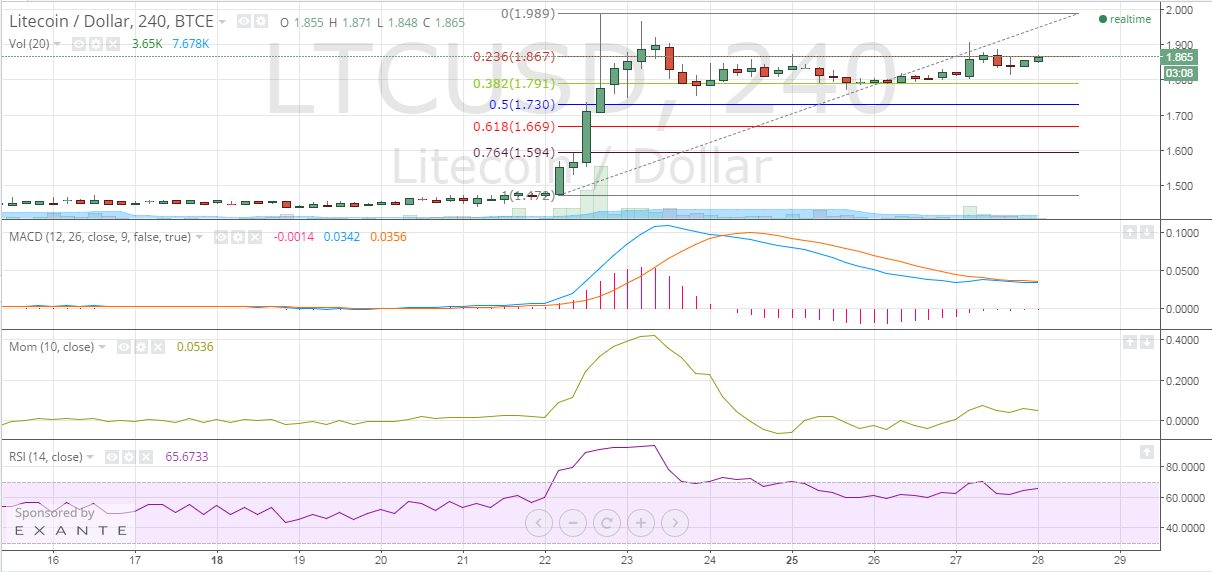 Image: https://www.tradingview.com/x/TNje1xzx/
From a technical perspective, things look very positive for the virtual currency. An analysis of the 240-minute LTC-USD price chart tells that Litecoin should threaten previous tops unless bulls lose complete control of the situation.
Litecoin Chart Structure – A closer look at the chart reveals that post hitting the recent high of $1.989, Litecoin struggled to sustain above $1.865 on numerous occasions. The virtual currency is yet again attempting to break above this level and start a fresh leg of the rally.
Fibonacci Retracements – The cryptocurrency had been respecting the 38.2% Fibonacci retracement level of $1.791 as a support level while the 23.6% Fibonacci retracement level of $1.867 proved to be a tough hurdle to cross. If bulls manage to overcome the selling pressure at this juncture, upside targets of above $2.000 open up.
Momentum – The Momentum indicator has also given a positive confirmation to the price surge; the reading has advanced from -0.0003 to 0.0536.
Moving Average Convergence Divergence – The MACD indicator has drastically reduced the gap with the Signal Line, bringing the Histogram value even closer to the 0-mark. The current MACD and Signal Line readings are 0.0342 and 0.0356 respectively.
Relative Strength Index – The RSI reading has risen to 65.6733, but what's highly remarkable is that it is going to be almost a week that Litecoin has sustained 60-plus values.
Conclusion
Riding high on optimism, Litecoin should aim for valuations up to $2.000. Employ a buy on dips strategy by placing a stop-loss just below the support level. Volatility is expected to remain muted as price rises. Expect a breakout by the end of this week!