Following their dip of the week yesterday, crypto markets are back up today and Litecoin is leading the pack. The possibility of a favorable outcome for crypto from yesterday's US Congress hearing may have lifted Bitcoin and its brethren today.
Bitcoin Back at $10,000, Litecoin Approaching $100
Bitcoin made it back to five figures a few hours ago as it touched $10k once again after failing to do so the previous day. There was no candle closure above it on the hourly chart however as BTC retreated back to $9,800 where it has consolidated since. For the first time in a long while several of the altcoins are making bigger gains than their big brother today.
Litecoin is currently the top performing altcoin in the crypto top twenty five. From a low of just below $78, LTC surged over 20 percent to reach a high of $94 an hour or so ago. Daily volume has pumped to almost $5 billion which has shifted Litecoin market capitalization to $5.7 billion. This has enabled LTC to flip Bitcoin Cash and retake fourth spot on the market cap charts.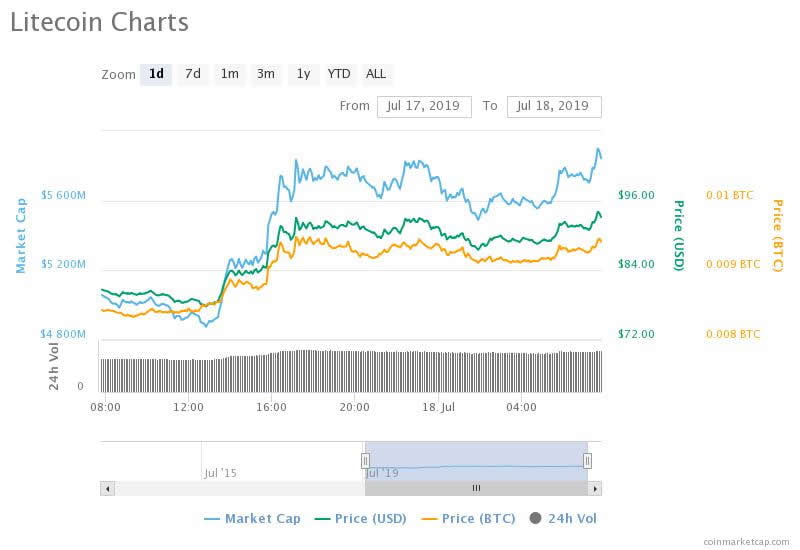 The bullish engulfing candle on the daily chart is a good sign but Litecoin really needs to cross the 50 day moving average at just below $120 for the bulls to get back into action.
Litecoin Halving Just 17 Days Away
The move could be a precursor to Litecoin halving which is now only 17 days away. There has already been one pump for LTC when it reached a 2019 high of $145, but many have been expecting a larger one before the block reward splitting event early next month.
Litecoin is often the bellwether for the rest of the altcoins, rallying well before they do in previous instances. So far in 2019 LTC made an epic 380 percent from low to high. Even including the recent dump back to double digits, Litecoin is still up over 200 percent since the beginning of the year.
Litecoin is facing a lot of resistance though but a cross over the psychological $100 barrier could lead to further gains in a short space of time. During the 2017 bull run, LTC surged from similar prices all the way up to $340 in less than a week.
There is a lot more green across the board during Asian trading today as altcoins make a recovery from their previous punishment. Quite a few are getting double digit goodness this Thursday and the include Bitcoin SV and Chainlink adding 13 percent, NEO and Tezos up over ten, and Ontology cranking 15 percent at the moment.
Not quite 'altseason' but the start of a recovery would be a good precursor.
Image from Shutterstock