2020 has been a particularly rough year for Litecoin, with the crypto closely tracking Bitcoin's price action and trading right around where it started the year at.
Although LTC has been able to avoid declining over a year-to-date period, it has severely underperformed Bitcoin in the time following its capitulatory decline from its mid-February highs.
Over a macro time frame one trader is now noting that he believes Litecoin is particularly weak and could be well positioned to set fresh lows in 2020.
Litecoin Sees Intense Macro Weakness as Analyst Foresees "More Tears" in the Future
At the time of writing, Litecoin is trading down just under 2% at its current price of $42.19, which marks a slight decline from daily highs of $44.30 that were set yesterday.
LTC is still trading up from weekly lows of $39 and has formed a tight correlation to Bitcoin that has led the crypto to see short-term price action similar to that seen by most of its peers.
The cryptocurrency's macro trend appears to greatly favor bears, however, as analysts are noting that LTC's reaction to its major demand level appears to be a grim sign for what's to come next.
One pseudonymous crypto trader spoke about this in a recent tweet, explaining that that the weakness of Litecoin's recent bounces indicates that there are "more tears to come" in the coming months.
"LTC / USD 1M TF – Look at Price action reaction to this demand level, 'V reversal' I personally don't think so, each bounce is getting weaker and weaker, more tears to come over the coming months."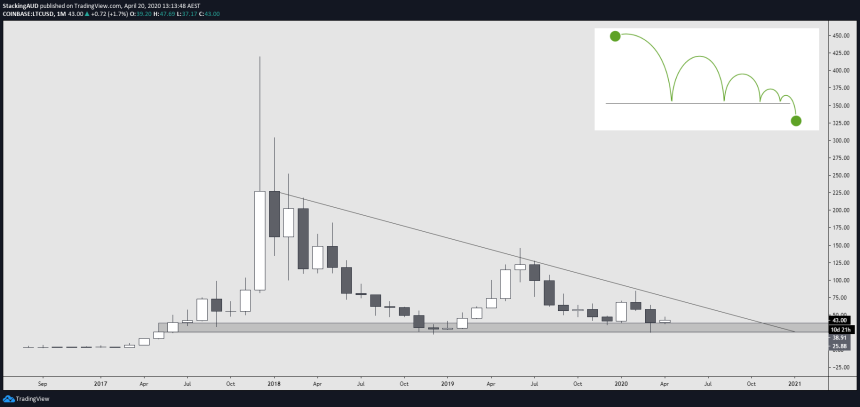 Low-Time-Frame Analysis Signals the Crypto May Set New Lows in 2020
This bearishness isn't unique to just Litecoin's macro time frame, as the seventh largest cryptocurrency by market capitalization is also showing immense signs of weakness in the short-term as well.
The same crypto trader also spoke about this in a later post, explaining that although it could bounce slightly higher in the near-term, it is likely that Litecoin sets fresh lows in the coming months.
"LTC / USD H12 TF – Looking at the LTF, there is money to be made as a trader in both directions. The idea of the 1M analysis is to show you my HTF views to Litecoin, new lows look inevitable in 2020," he said while pointing to the below chart.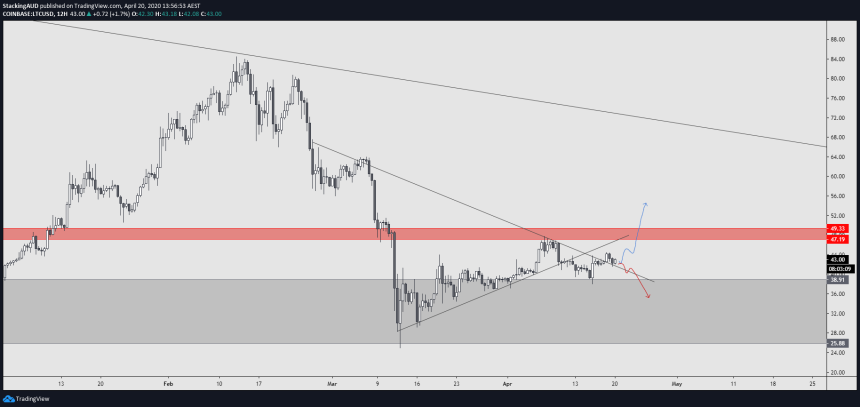 Featured image from Unsplash.