American comedian and producer Louis C.K has released his new show "Horace and Pete," offering bitcoin as a payment option.
The show, which is available for download on the official website of Louis CK, is sold at US$5, through financial platforms including Paypal, Dwolla, Amazon and BitPay. Fans of Louis CK can simply visit the page, type in an email, settle transaction using BitPay and purchase the show.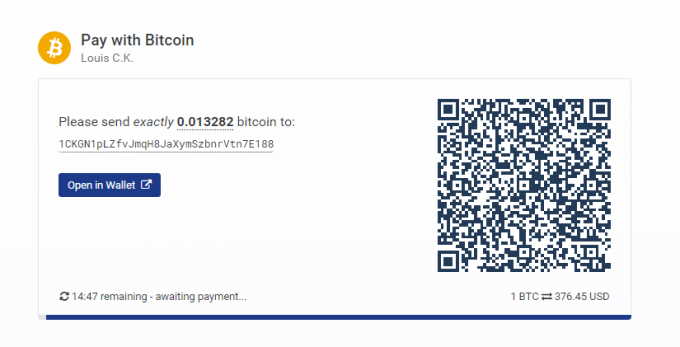 C.K officially began to accept bitcoin payments since August of last year, after C.K and his team filmed his comedy show performed at Madison Square Garden. The team of C.K integrated BitPay onto their online shop, where they sold audio-only show with a unique marketing strategy. Instead of selling the show with a fixed price range, Louis C.K allowed his fans purchase the video at any price they want, with the minimum payment being US$1.
"We have the price set to 5 dollars but you can lower it to 1 dollar or raise it to 85. that's the maximum, because beyond that, I don't want your crazy money," said C.K in August.
The team of Louis CK began to see a rapid increase in their revenue, earning over US$250,000 just 12 hours after the show went sale at noon. Over the next few weeks, the sale generated over US$1 million, allowing CK to cover all expenses including production costs, staff salaries, and website development and financial application integration.
"it's been amazing to conduct this experiment with you. The experiment was: if I put out a brand new standup special at a drastically low price ($5) and make it as easy as possible to buy, download and enjoy, free of any restrictions, will everyone just go and steal it? Will they pay for it? And how much money can be made by an individual in this manner?," said CK.
"The show went on sale at noon on Saturday, December 10th. 12 hours later, we had over 50,000 purchases and had earned $250,000, breaking even on the cost of production and website. As of Today, we've sold over 110,000 copies for a total of over $500,000. Minus some money for PayPal charges etc, I have a profit around $200,000 (after taxes $75.58). This is less than I would have been paid by a large company to simply perform the show and let them sell it to you, but they would have charged you about $20 for the video," he added, with gratitude.
Louis CK once again attempts to recreate the success of his previous projects, by offering efficient and secure payment methods like bitcoin. Although CK and his team converts the majority of the bitcoin payments into fiat once received, which is understandable due to the volatility of the digital currency, bitcoin allows CK to eliminate high transaction fees demanded by conventional financial applications like Paypal. In the long-term, CK plans to continue using bitcoin to provide his fans a wider range of payment solutions to purchase his shows.