Remember that post we had at the beginning of June that related to a man who mistakenly sent 800 bitcoins to the wrong address? If you haven't, check it out here.
In brief though, we had happened was a user by the handle of 'TheDJFC' has created a post on social sharing website Reddit.com explaining his epic failure. Not only did he send his bitcoins to the wrong address, he sent them to an address belonging to defunct bitcoin exchange Mt. Gox.
Interestingly enough, however, the story has an update — and it's a good one.
'TheDJFC' took to Reddit on the 4th of July to update the community, and he's said that he's managed to recover his 800 BTC.
(Read the thread on Reddit here.)
According to the comments he made, it all came together with the help of a fellow Redditor, BTC China CEO Bobby Lee, the Bitcoin Foundation, a Law Firm in Tokyo, and would you believe it, even former Mt. Gox CEO Mark Karpeles.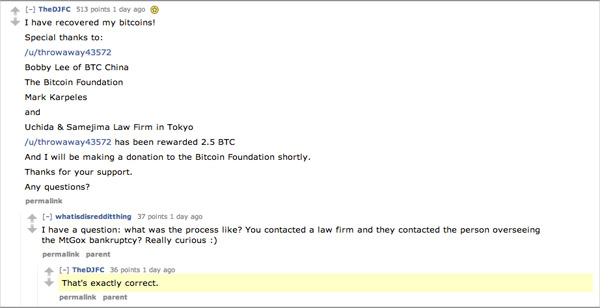 As a thank you, TheDJFC has noted that he has donated 2.5 bitcoins to the aforementioned Redditor that helped him out, and adds that he will in the near future be making a donation to the Bitcoin Foundation.
When the story first broke last month, many in the community didn't picture this type of ending. Sending money to Mt. Gox — after it collapsed no less — was thought to be like throwing money into the fire.
But thankfully for the TheDJFC, over $500,000 USD in the digital currency is in his possession again, and we're willing to bet he'll be triple-checking where he's sending money to next time!
[textmarker color="C24000″]Image[/textmarker] Alex Proimos