As Bitcoin & company continues to feel the gravity below its feet, there is an altcoin that is hovering high above all. Meet Darkcoin, the star of the last 24-hours.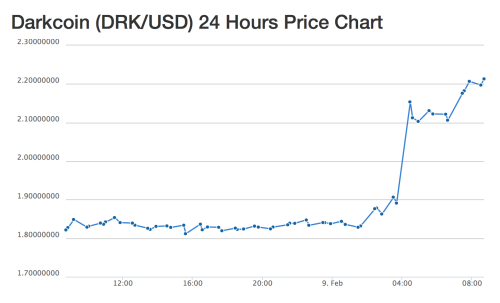 According to the latest figures, Darkcoin value has surged by more than 20% over the last 24 hours [Source: Coingecko]. The spike has indeed come as a surprise, as almost every other altcoin — including Litecoin and Dogecoin — out there seems to be in sync with Bitcoin's bearish price movements.
Is Darkcoin Value Being Manipulated?
Over the last few weeks, Darkcoin value has displayed near-term bull runs. For instance, during the January 30th trading session, the coin's value jumped from $1.62 to $1.92 without any reason. It however fell back a little towards 1.77, probably due to selling pressure at peak, but yet never drifted from its long-term uptrend. Have a look at this DRK/USD chart from last 30 days. [Source: Coingecko]
If we focus only on small time developments, the spikes will scream "pump" for obvious reasons. However, a bigger picture shows a steady rise in Darkcoin value. Many believe it is due to the increasing usage of online gambling sites, a notable cluster of which have started to accept Darkcoin recently. A conspiracy theory, but it is still possible that these websites are playing an important role in increasing Darkcoin's demand, and eventually the value.
But overall, it is the trader sentiment that drives the value to its bullish/bearish conclusions. We thus can expect a little sell-off in next few hours; a dump perhaps in a worst case scenario. I personally wish that this is a genuine spike. Darkcoin deserves to be among the top three, indeed.
Images from Darkcoin and Coingecko.com.