The dismissal market performance of so-called stablecoin Tether should not be the reason to spread FUD against it, clarified Mike Novogratz in his tweet.
The billionaire Bitcoin bull, who recently criticized USDT for misbalancing its dollar-peg, later said that he believes Tether has every dollar for every USDT. However, he retained his criticism over Tether not being transparent to the community, in the absence of which it is losing grounds in the cryptocurrency market.
"Id like to put context to these quotes as the last thing I want to do is spread FUD. I said I thought tether has a dollar for every tether and that we actively traded it. The fact that almost $700mm has been redeemed in an orderly fashion is important."
This Week in Tether
Once the leading stablecoin, Tether got reduced to one of the most criticized coins in crypto industry. On Monday, the USDT lost its peg to the dollar, soon after the news of the insolvency of BitFinex – Tether's partner exchange – went public (the Exchange refuted the reports later).
Reports claiming that Tether LLC did not have adequate fiat dollars to back its USDT token supply also fueled negative trading sentiment in the market, pushing the value to as low as 85 cents against the dollar. In the meantime, other stablecoins that are supposedly regulated and backed by real fiat capital, took a competitive advantage, with each of them recording higher trading volume against the USDT.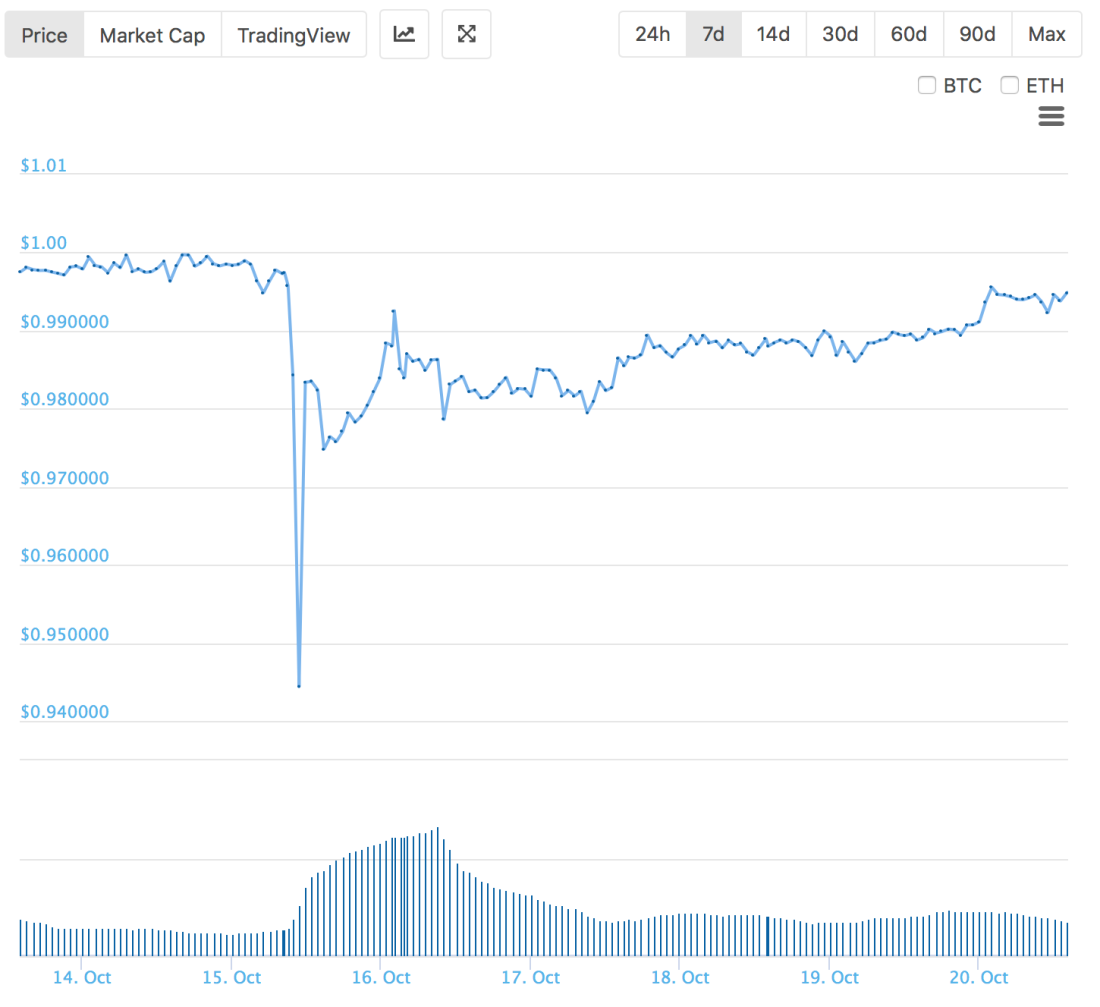 Since forming lower lows towards $0.85, Tether has now recovered most of its losses but now is trading circa 0.5 cents below its one dollar peg.
Transparency Could Stop FUD
While the market was swapping USDT for other stablecoins, Tether didn't publish a single statement that could hold the fort. Novogratz recognized that it is not the question of insolvency but the Tether's inability to communicate that is invoking a negative sentiment in the USDT market. He said Tether must work hard to regain its users' trust.
The last and the only relevant communication that came from Tether was on October 18. Tether retweeted Cameron Winklevoss, whose Gemini exchange also issues stablecoins, explaining why companies like themselves couldn't perform an audit.
Traditional systems take time to adapt to the pioneering work taking place in this space. https://t.co/ykapXrhEqJ

— Tether (@Tether_to) October 17, 2018
Gemini, however, has its assets stored in a US-regulated bank named State Street. The exchange has also received approval from the New York Department of Financial Services (NYFDS) to issue stablecoins. On the auditing front, Gemini has hired an independent accounting firm BPM LLP to conduct monthly inspections of its balance sheets. Other stablecoins are also taking the auditing process by third-party experts seriously.
Why don't You just get an real official audit and state a Guarantee that all USDT is backed up with USD at ALL TIMES (not just a date from June 2018)?
Quit the drama, people are loosing trust and customers are leaving the CC space…. This can't be very profitable for You guys.

— BAT (@BjTjensvoll) October 17, 2018
In the case of Tether, the company has not been able to rope in any credible financial auditor yet to have its balance sheets inspected, fairly and openly. So, even despite the best of intentions, traders are not willing to ignore the USDT red flags and are, instead, choosing other stablecoin alternatives.
Only Tether can stop the FUD, so it may seem.