Very few crypto assets have made any major moves in 2019. One that has, and continues to do so, is Binance Coin which has cranked a further 11 percent today as the exchange announces a raft of investment incentives.
BNB Surges 11 Percent
One of the day's top performing cryptocurrencies is Binance Coin. The exchange based asset has surged from $27.5 this time yesterday to $30.5 at the moment in an 11 percent pump. Daily volume has rocketed from under $200 million to over $350 million as the fomo amplifies on the world's largest crypto exchange.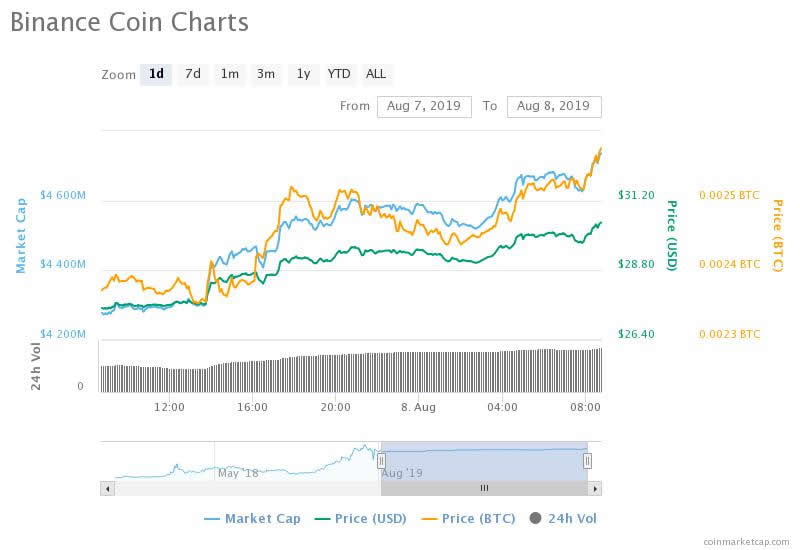 This year's progress has lifted the altcoin up the market capitalization charts to sixth place blitzing EOS and trumping Tether, which has also increased its supply to $4 billion. BNB could soon be bigger than Litecoin which is less than a billion away in terms of market cap. It did not even blip after the company brushed aside a 300 BTC attempt at extortion yesterday.
So far this year Binance Coin has been one of the top, if not the best performing altcoins with a surge of over 400 percent since January first. Litecoin comparatively has made half of that and has started to collapse following its halving earlier this week.
Big Updates From Binance
Binance boss Changpeng Zhao has been described as an ambassador for the crypto industry. With over 400,000 followers, he virtually lives on twitter and never misses an opportunity to shill the coin and his exchange. This week the feed has been a flurry of activity as a raft of announcements has flowed.
A couple of days ago there was an announcement about a partnership with Crypto.com and their integration into Binance Chain, an Ethereum rivaling token platform. According to CZ holders of BNB can earn up to 8% interest by using the crypto credit card.
In addition to #useBNB buy swiping an awesome looking credit card, you can now earn interest on #hodling BNB there too. Thanks to @cryptocom! https://t.co/OLmOwQUMoC

— CZ Binance ??? (@cz_binance) August 6, 2019
Another new initial exchange offering has also just been announced on Binance Launchpad as it gears up to pump Perlin. The Singapore based startup behind a new blockchain protocol project is the eighth token Binance has promoted since the initiative started. According to the blurb, Perlin is developing a new high speed 'Wavelet distributed ledger, built on a new and pioneering 'leaderless proof of stake' consensus mechanism'
#Binance Launchpad announces @PerlinNetwork token sale.

Perlin has secured major partnerships with organizations including the Singapore government & recently raised investments from Kakao Investments, @arringtonXRPcapl, & @BITMAINtech , among others.https://t.co/DkkfIQLQpi pic.twitter.com/OloHNymiO9

— Binance (@binance) August 7, 2019
Other developments from the world's dominant crypto exchange include the enabling of margin trading for Canadians, and the addition of new native stablecoins for the Binance DEX. USD, GBP, AUD, CAD, and HKD stablecoins from TrustToken will be added to the DEX. Binance also just listed the BEP2 TrueUSD (TUSDB) token according to the official announcement.
"The launch of these currencies on Binance Chain will enable new fiat onramps to Binance DEX, greatly expanding the options for users to move between cryptocurrencies and bank accounts around the world."
It is clear that CZ aims to turn Binance into the Facebook of crypto with world domination; this latest tweet confirms those ambitions;
"You can bet on @Binance if you focus on market share of exchanges today, or you can bet on @Binance_DEX if you think DEX will rule the land of the future. Or you can bet on $BNB, which will do fine if either of the above (plus many more eco-system projects) do well,"
Crypto traders are definitely betting on BNB today as the token continues to surge.
Image from Shutterstock