Major electronics e-retailer Newegg is now accepting bitcoin for their inventory of over ten million products that include consumer electronics, computer systems, video games, and even household utilities in a move that will rattle how bitcoin enthusiasts shop for electronics on the internet.
Any one of the California-based company's 25 million registered customers can now take advantage of paying for their goods in the emerging digital currency that has grown tremendously in the past two years thanks to a partnership with Atlanta, Georgia-based BitPay.
"Newegg's customers are among some of the earliest bitcoin miners and are enthusiastic proponents of the crypto-currency. Adopting bitcoin as a payment method is another way we're responding to our customers' diverse needs," said Newegg's Soren Mills, who serves as Chief Marketing Officer for the company's operations in North America. "Working with BitPay to implement a bitcoin payment option at Newegg was a seamless process and our partnership gives us the capabilities we require for high-volume e-commerce."
Newegg's decision to partner with BitPay came as a direct result "of the company's industry-leading reliability and scalability," which will effectively allow Newegg to handle refunds and payment exceptions with the processor's advanced payment API.
"Our mission is to make bitcoin every merchant's favorite form of payment. Forward-thinking merchants like Newegg allow bitcoin enthusiasts from around the world to shop with ease," said BitPay Co-founder and Executive Chairman Tony Gallippi. "Newegg has been the most requested retailer from the bitcoin community and our collaboration will serve this pent-up demand."
With over 35,000 merchants on board and over $30 million in venture capitalist funding, BitPay is now processing over one million dollars in bitcoin payments every day.
BitPay is also processing payments for Newegg competitor TigerDirect.
How bitcoin payments work
Upon attempting to check out on the Newegg website, customers will now see the 'bitcoin' option in addition to traditional means of payment.
If the customer already has a digital wallet, they can click the 'Pay with Bitcoin' button — which will auto-populate the necessary fields to quickly send payment.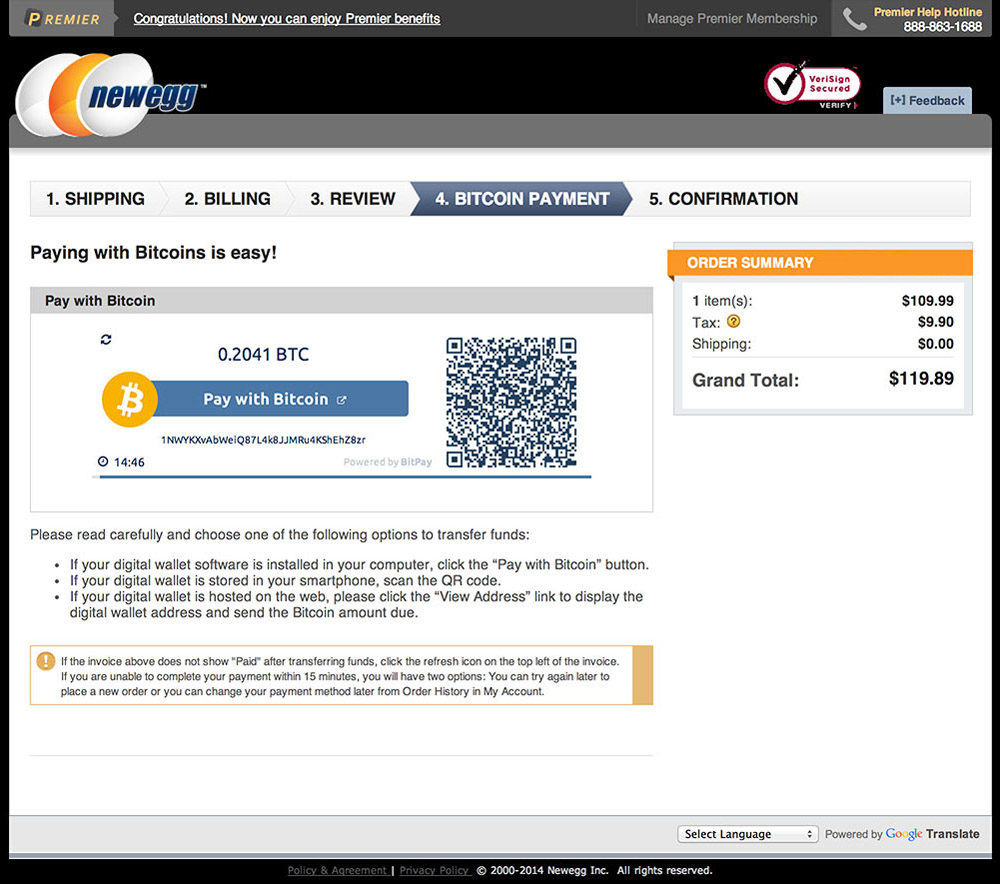 Alternatively, customer can scan the presented QR code with their mobile device if applicable, or they can simply view the address and copy it to the wallet of their choice (assuming they are using a web wallet service like Blockchain.info, for example).
Major companies and bitcoin
Newegg joins an ever-increasing list of major companies that have decided to take advantage of the distinct features that make bitcoin appealing to merchants.
Overstock.com became the first major company in the world to adopt the digital currency late last year when CEO Patrick Byrne announced to NEWSBTC last year that the plan was to start acceptance by the second half of 2014. Overwhelming press attention made the integration happen much quicker, and the company flipped the 'on' switch in January.
Richard Branson's Virgin Galactic venture also announced last year they would be accepting bitcoin for flights into space — a whopping $250,000 per person.
This year we've seen TigerDirect join the bitcoin train (as noted above), and even DISH Network announced plans to start accepting bitcoin later this year.
Travel powerhouse Expedia also began accepting bitcoin payments this year for hotel bookings, adding they would be interested in expanding acceptance to other services like car rentals and flights if this trial [of sorts] goes well.
Demands met
Members of the bitcoin community have long wondered when Newegg would finally give in with regard to accepting digital currency as a means of payment, and no doubt this integration comes due to customer demand.
It will certainly be interesting to see how the sales pan out, but if Overstock and TigerDirect serve as examples, Newegg should be on track to making their first million in bitcoin fairly quickly.
---
Join us on social media for the fastest bitcoin news! [social link="https://twitter.com/newsBTCdotcom" icon="62217″] [social link="https://www.facebook.com/newsbtc" icon="62220″]