Biggest losers in crypto for the month; Ethereum, Bitcoin Cash, EOS, Cardano, only XRP and NEM lost less than 20%.
November has without a doubt been the worst month of the year for crypto markets. It marks the ninth month this year that markets have fallen and the sharpest single month decline for around four years. Over $70 billion, or one third of the market, was wiped out in November plunging all altcoins to their lowest levels for well over a year.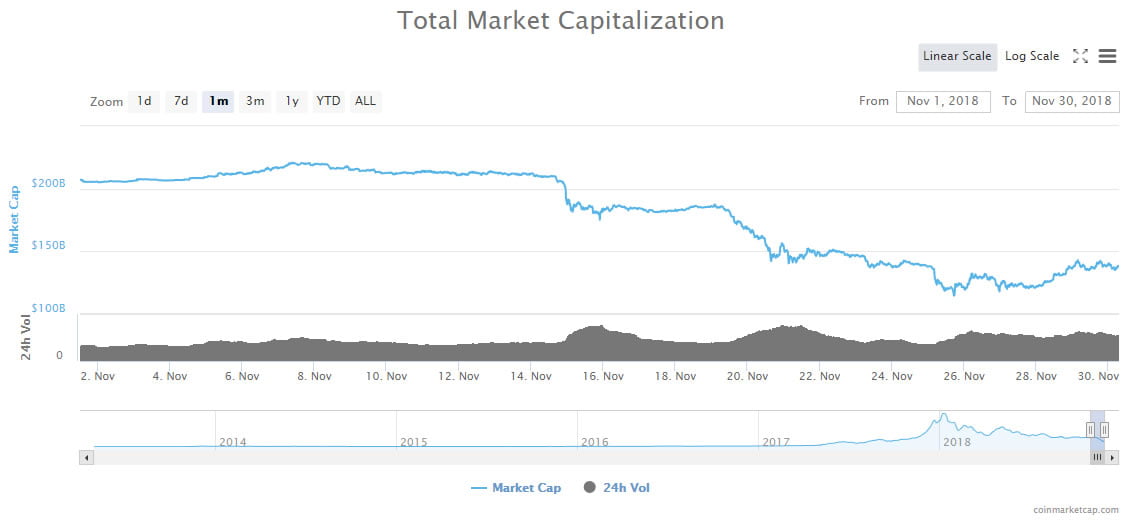 Bitcoin had its worst month for seven years dumping around 35% over the thirty day period. Starting out at over $6,500 on November 1st, Bitcoin plummeted to around $4,280 by the end of it. BTC hit a low point for the year just below $3,600 on the 25th marking a record dump of 45% in less than a fortnight.
Ethereum's pain was even greater as it hit a low of around $100 which it has not been near for 18 months. ETH fell over 50% from monthly high to low and over the course of the whole month the loss was around 42% as it crashed from $200 to $115.
XRP could be considered as one of the survivors of the month from hell as it actually took and held second spot from Ethereum. Compared to its siblings XRP came out relatively well with a loss of only 15% over the course of November. Stellar has also been more resilient that the rest by usurping Bitcoin Cash in fourth spot. XLM lost just under 30% during November which beats Bitcoin and Ethereum.
Bitcoin Cash was not so fortunate getting hammered a whopping 60% during November. BCH started at over $420 and ended close to $170. The big fracas with the hard fork and hash war did this crypto no favors whatsoever.
EOS was also a big loser during November with a 45% dump from $5.20 to $2.87. Likewise with Litecoin getting blitzed around 36% during the month as it fell from $50 to $32. Even stablecoins such as Tether were not immune as USDT lost its peg and hit a low of $0.951 early on in November and then dropping below $0.975 six more times during the month.
Cardano is rapidly falling down the chart and has dropped a place every month or so, last being the hardest with a 45% dump. Monero dropped a similar percentage also losing it places in the market cap chart.
One of October's survivors, Tron fell around 36% in November, Iota lost 38% and Dash dumped almost 40%. Nem did not fare too badly as it only fell by 18%, but Binance Coin got hurt with 46% declines likewise with Ethereum Classic dumping 47%. Neo took a huge hit losing 49%, Zcash slashed 30%, and rounding out the top twenty Bitcoin Gold also losing 30%.
Most cryptocurrencies were left in pain at their lowest levels for on average 15 months by the end of November. Only a few of the top altcoins managed to limit losses to under 30% and those were XRP, XLM and NEM. The biggest losers in the top ten were Ethereum, Bitcoin Cash, EOS, and Cardano.
All figures from Coinmarketcap.com
Previous months: February | March | April | May | June | July | August | September | October