Polygon (MATIC) has seen an explosion on the daily chart with a 40.4% rally trading at $0,74. In the weekly and monthly chart, MATIC's numbers are equally impressive with a 118% and 114% bull-run. Most of the profits seem to have been recording over the past three months.
Previously knows as Matic Network, the project was rebranded Polygon at the end of February. A second-layer solution for Ethereum. The project seeks to be a version of Polkadot on this blockchain and create an interoperable sidechains ecosystem with high scalability.
In parallel with its price rally, Polygon has seen a major explosion in its total value locked (TVL). Data from DeFi Pulse records a $1.12 billion with a 32.6% increase in 24-hours. The protocol has 126.400 ETH locked with 19.600 added in the past day.
As the chart below shows, MATIC went parabolic in TVL by mid-April 2021. Although it had a setback during the subsequent days, the protocol's TVL has picked up a bullish momentum and keeps aiming for all-time highs.
Additional data from The Block Research shared via their Twitter handle indicates that Polygon's PoS has seen more increase in value locked than Binance Smart Chain, xDAI, Avalanche, NEAR, and others. The report attributes Polygon's rise to an "incentive program effort".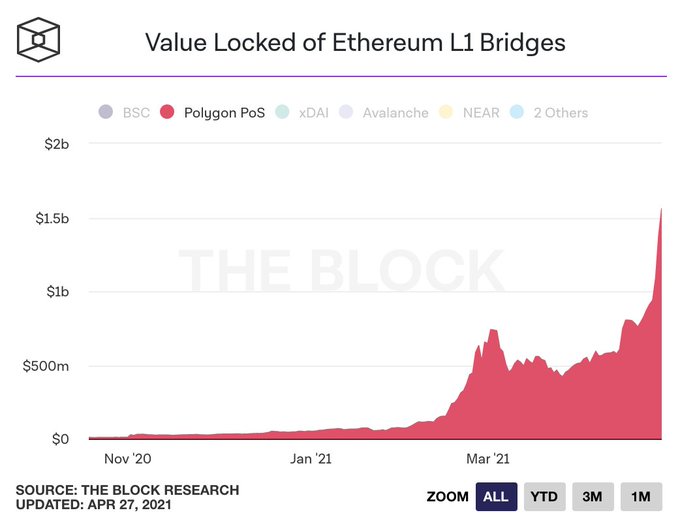 Polygon's team revealed at the beginning of last week a continuation of their "DeFi Summer". Therefore, users were offered over $5 million in liquidity mining rewards for the Curve Polygon markets.
Polygon's ecosystem appears to be growing with over 100 DeFi projects building on the solution. Its cooperation with Curve protocol is to "meet" the demand for "deep liquidity" stablecoins trading pairs. The team said:
This 5mn$ liquidity rewards program is part of the #DeFiForAll campaign on Polygon! We look forward to growing and expanding the DeFi ecosystem on Polygon along with Ethereum's top DeFi protocols.
MATIC's Support And Possible Price Targe
According to data from Cryptoyieldinfo, Polygon's native token could "do a BNB", in reference to this other token recent rally. With $1.1 billion in Aave and $100 million in Curve locked in over a week, MATIC could reach a $2 to $8 target if demand for the token continues to rise.
Anonymous trader Hsaka is more conservative when predicting a possible price target for MATIC, but still sees a long of upside potential for the token. The trader said the following:
Sidechain debate is trivial. As of now, $MATIC is the most accessible liquid puntable token that represents the $ETH scaling narrative. With Curve and Aave already rolling out support, that mindshare is only going to increase. $1.