The crypto market, including both Bitcoin and the entire slate of various altcoins, has been in a bear market for two full years now. After a brief rally in mid-2019, cryptocurrencies fell back into a downtrend that they've been stuck in for the last six months at a minimum.
But with the recent rallies taking place across the market, the total altcoin market cap sans Bitcoin has broken out from recent downtrend lines along with many of the market's top assets. Could this be the all-clear signal that crypto is once again ready for liftoff?
Altcoin Market Cap Breaks Out of Downtrend, Fueled By Alt Rally
2017 was a perfect storm. Bitcoin's meteoric rise took the world by storm, the ICO boom fueled Ethereum's rise, and altcoins took off like a rocket ship destined for outer space. The combination of assets reaching all-time highs left and right, caused extreme FOMO, and asset prices to go parabolic.
As the saying goes, though, what comes up must go down, and that's exactly what happened to the crypto industry once the new year turned to 2018.
Related Reading | Poll Shows Crypto Investors Expect ChainLink To Be Top Performing Altcoin in 2020
After that, crypto prices fell by as much as 99%, and the entire market has spent two years battling a bearish cycle. The market took a quick break for a bear market rally in mid-2019 but quickly fell back into a downtrend – a downtrend the total altcoin market has broken out of.
The total altcoin market cap is an aggregate of all altcoins in the crypto space, sans Bitcoin. Because Bitcoin is such a dominant force in the market, removing it can help provide a clearer analysis for altcoins. In this case, Bitcoin is also breaking out of its downtrend, but a closer look at the altcoin market cap chart shows that the breakout is a lot more significant.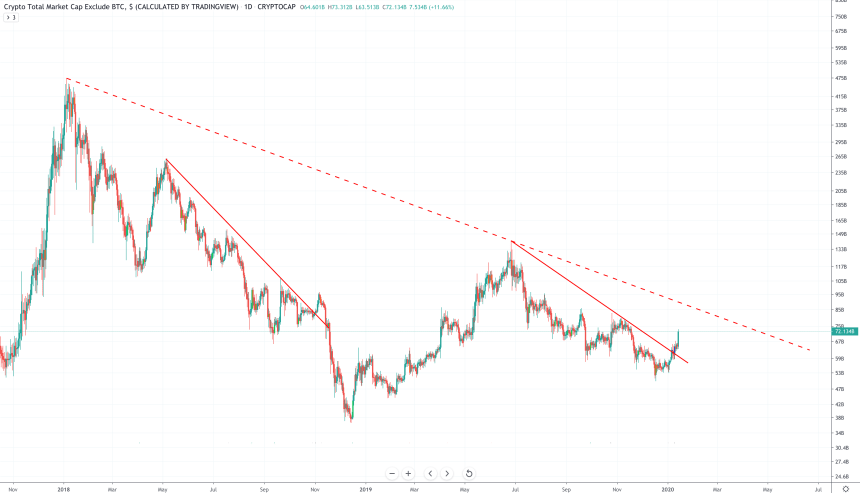 Top Ten Cryptos Shine, But XRP and Binance Coin Lag Behind
The breakout can also be seen across a number of crypto assets, including Litecoin, Ethereum, Bitcoin SV, and more. In fact, all crypto assets across the top ten by market cap have broken through downtrend resistance aside from XRP and Binance Coin.
XRP has been a poor performer throughout the last two years, but Binance Coin had a strong year last year. However, the former strength could cause more aggressive selling from investors who are still in profit, resulting in the anomaly.
It's worth pointing out, though, that the altcoin market cap isn't entirely out of the woods. In the first above chart, the altcoin market cap can be seen breaking out of downtrend resistance during a prior downtrend, only to later fall back below resistance, leading to a massive drop.
Related Reading | XRP To Moon? Critical Buy Signal Flips For Only Third Time During Bear Market 
If history repeats, the selloff may not actually be concluded, and there is still resistance dating back from all-time high that must be broken through for a new uptrend to truly begin.