As expected when a two day rally occurs on crypto markets there is the inevitable correction. Total market capitalization and daily volume has fallen back as day traders take profits and top performing crypto assets start to cool off and fall back. There are a couple however that are defying this much repeated market movement and continuing to climb at the moment.
Binance Coin Crushing the Competition
The crypto asset holding above the rest and continuing to surge at the time of writing is Binance Coin. In less than a week BNB has made and held an epic 30% climbing from less than $8.50 last week to $11 before dropping a little to today's price just below it. On the day BNB is up 13.5% as it outshines every other altcoin in the top fifty.
Binance Coin: Which bear market?

New ATH while everybody else is scraping the bottom. Have to say I missed on this one, mostly because I was listening too much FUD. $BNB pic.twitter.com/eG5rEGzEWF

— Jonny (@Jonny_Qi) February 19, 2019
Daily volume has surged from $80 million to over $134 million, most of that over the past 12 hours. With Binance being the top exchange it stands to reason that BNB would possibly act like a stablecoin when traders are taking profits. If their trades are taken in BNB pairs, its volume and price will increase when they're pulling out of other coins, which is what has been happening over the past few hours. Some have tried to decipher the controversy surrounding BNB with lengthy tweets;
0/ There has been a lot of controversy and confusion around $BNB (Binance Coin) recently. This isn't unwarranted considering it doesn't look like traditional tokens/financial instruments. In this thread, I will attempt to elucidate ?

— Andrew Kang (@Rewkang) February 17, 2019
Not all are convinced about Binance Coin though with some observers calling it a 'manipulated Ponzi scheme controlled by one man' on twitter. Others are equally critical of BNB labeling it as a centralized security token;
Reminder that BNB is a centralized security token for an exchange that is actively breaking US laws. You also have to trust that binance is reporting their financials accurately.

BNB could become worthless without warning due to gov action, exit scam, fraud, or theft.

— Matt Odell (@matt_odell) February 13, 2019
Either way Binance Coin is one of today's top performers and since the beginning of the year has made a staggering 83% gain.
Stellar Flips Tron Showing Small Gains
Stellar has been losing momentum for quite a while now as it slipped down the market cap charts. Today however it has regained a place, flipping Tron for eighth spot at the time of writing.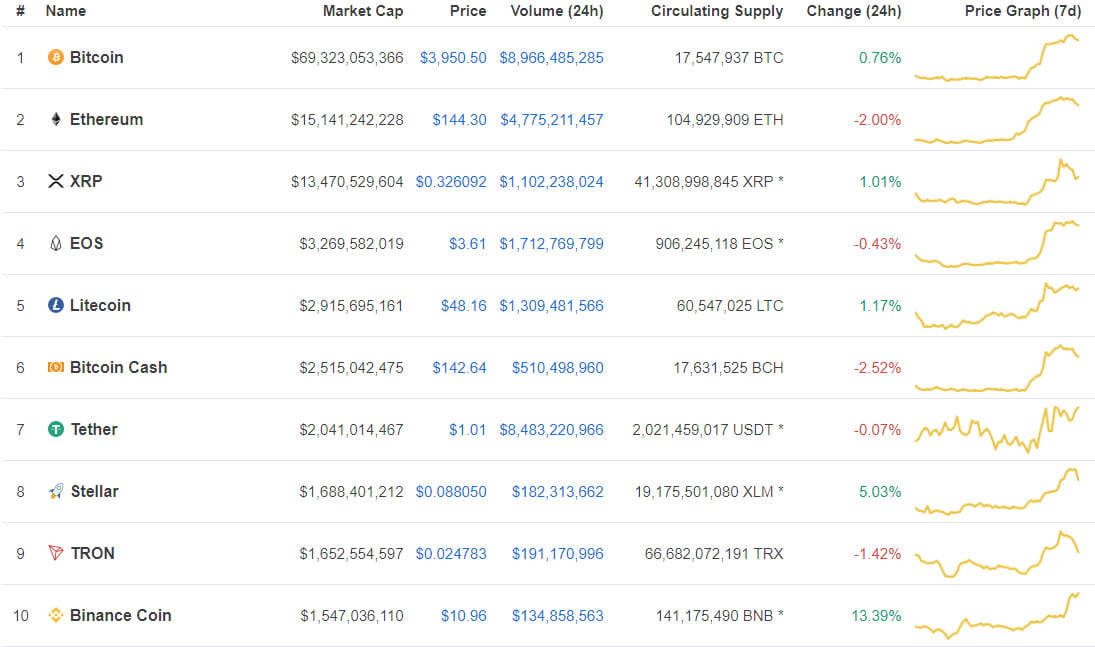 With a further 5% gained on the day XLM has reached $0.088 with a market cap of around $1.68 billion, enough to pass TRX which is currently on $1.65 billion as it loses 1.5% in the correction. Tron has enjoyed a lot of momentum recently and has been one of the top performing altcoins this year with a gain of over 30% since January first. Stellar on the other had has been in decline, losing 22% in the same period. Stellar has a strong dev team with a lot of project updates so the lack of momentum recently is a little perplexing.
Maker is the other crypto asset that has shown impressive gains in recent weeks, climbing a further 10% on the day and 23% since the same time last week.
Image from Shutterstock