Ripple (XRP) up 27.3 percent
Brad Garlinghouse says Ripple ready to work with banks and regulators
In an interview with Recode Decode podcast, Brad Garlinghouse once again reiterated their will of working with regulators and not against them. Meanwhile, prices are stable with XRP trading below Q1 2019 lows.
Ripple Price Analysis
Fundamentals
By design, Ripple Inc solutions are meant to meet the demands of Banks and financial institutions. That is a goal Brad Garlinghouse is working towards achieving. Although there are regulatory challenges, especially on the interpretation of whether Ripple (XRP) is a security or a utility, supporters are of the view that the asset is a utility.
However, the silence of the US SEC is deafening despite other jurisdictions allowing firms to roll out XRP derivatives. In an interview with Recode Decode podcast with Kara Swisher, Brad Garlinghouse expressed his deep desire of working with regulators and banks.
"I don't think banks […] governments will go away. Banks are applying a very important regulatory framework that I actually think is important for society. I personally believe that banks will continue to serve that role; they're good at it […] I think this is a new set of technologies that they can benefit from to grow their business."
Adding that,
"99 percent of banks love what we're doing because we're democratizing something that's controlled by a small number of banks, their competitors."
Candlestick Arrangement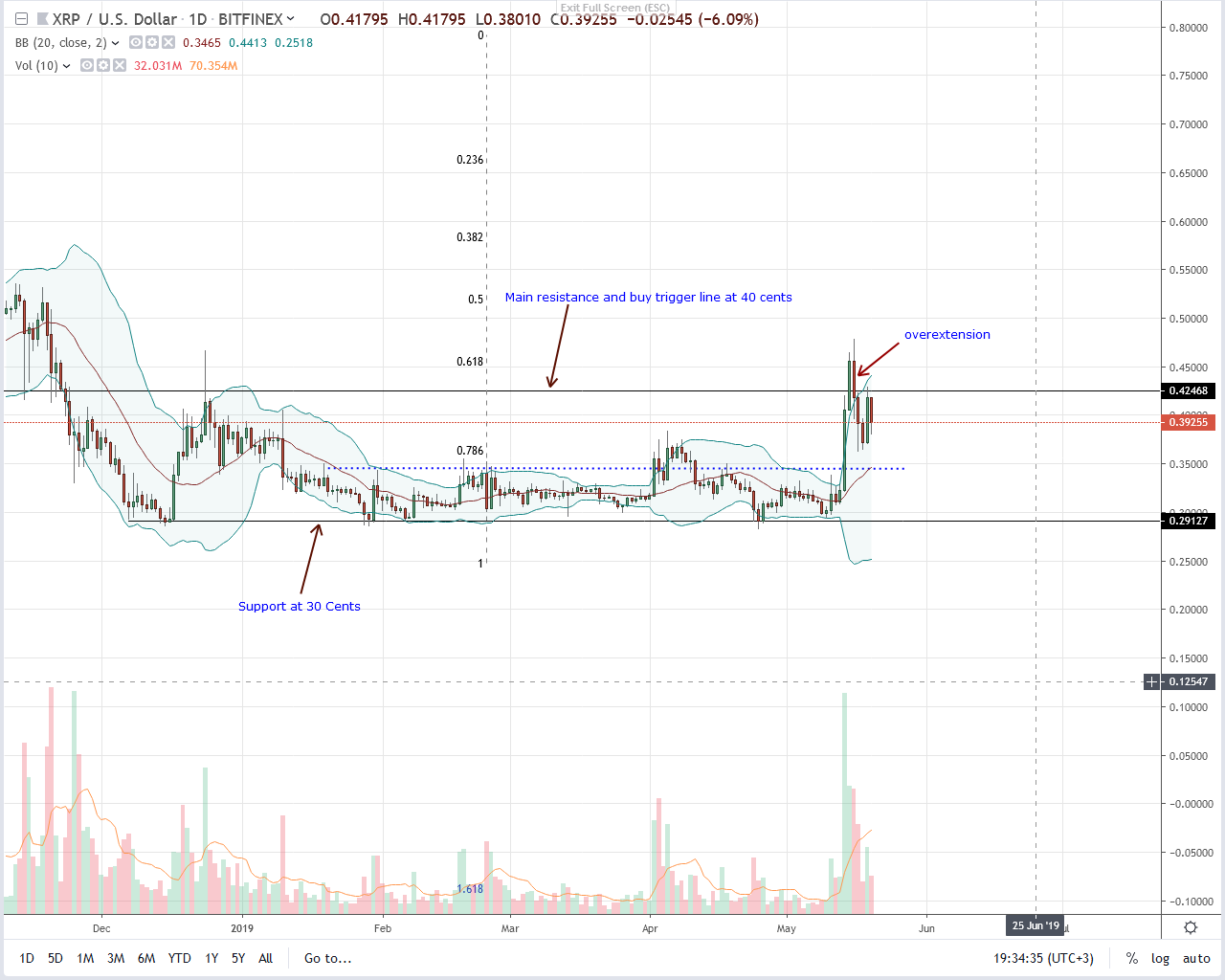 At the time of press, Ripple (XRP) is up 27.3 percent from last week's close but down 2.7 percent in the previous day. All the same, the trend is up and at a vantage point are bulls aiming for 40 cents and higher in days ahead.
Guiding our stance are fundamentals in the last few weeks. Aside from Garlinghouse comments, adoption is picking up, and it's only a matter of time before banks connected with the RippleNet upgrade to xCurrent version 4. That will push demand.
Once prices break above Q1 2019 highs, as bulls snap back to trend after late last week's correction of May 15th and 16th overvaluation, odds are XRP will rally to our first targets of 60 cents in a trend continuation phase confirming demand of Sep 2018. Meanwhile, risk-off, aggressive traders can load up on dips with tight stops at around 34-36 cents.
Technical Indicator
Momentum is building up, and our reference bar is May 14th bull bar. It is wide-ranging with high volumes of 187 million. Any break above May 15th high ought to be with high transaction volumes above recent averages of 68 million and ideally, above 187 million.
Chart courtesy of Trading View. Image Courtesy of Shutterstock