Ripple (XRP) up 6.7 percent from last week's close
MoneyGram partnership is bullish for XRP
Not to be overshadowed and confirming previous rumors, Ripple's injection of $50 million in MoneyGram is strategic. With xRapid, XRP will find use meaning transaction settlement will be faster and cheaper. Even with this, prices in the last 24 hours are repressed and ranging.
Ripple Price Analysis
Fundamentals
Western Union may have called it quits, ceasing their pilot program with Ripple's xRapid. But that didn't dent Ripple's ambitions. Less than a year later, Ripple now has a strategic partnership with MoneyGram, Western Union's competitor.
With a presence in over 200 countries and territories, the addition of MoneyGram is a move in the right direction. Although the provider is in red following US Government's intervention, preventing China's Ant Financial acquisition, the injection of $50 million from Ripple is timely.
In response, MoneyGram's stock soared, but not XRP. Oddly, XRP prices are ranging despite MoneyGram incorporating xRapid which uses XRP in their services. In acknowledging this partnership, Brad Garlinghouse, the CEO of Ripple, said:
"This is a huge milestone in helping to transform cross-border payments. MoneyGram is one of the largest money transfer companies in the world, and the partnership will continue to further the reach of Ripple's network. I look forward to a long-term, very strategic partnership between our companies."
Expressing his excitement, Alex Holmes, MoneyGram Chairman, and CEO, echoed Garlinghouse's excitement:
"Through our partnership with Ripple, we will also have the opportunity to enhance our operations further and streamline our global liquidity management. Since our initial partnership announced in January 2018, we have gotten to know Ripple and are looking forward to further leveraging the strengths of both of our businesses."
Candlestick Arrangement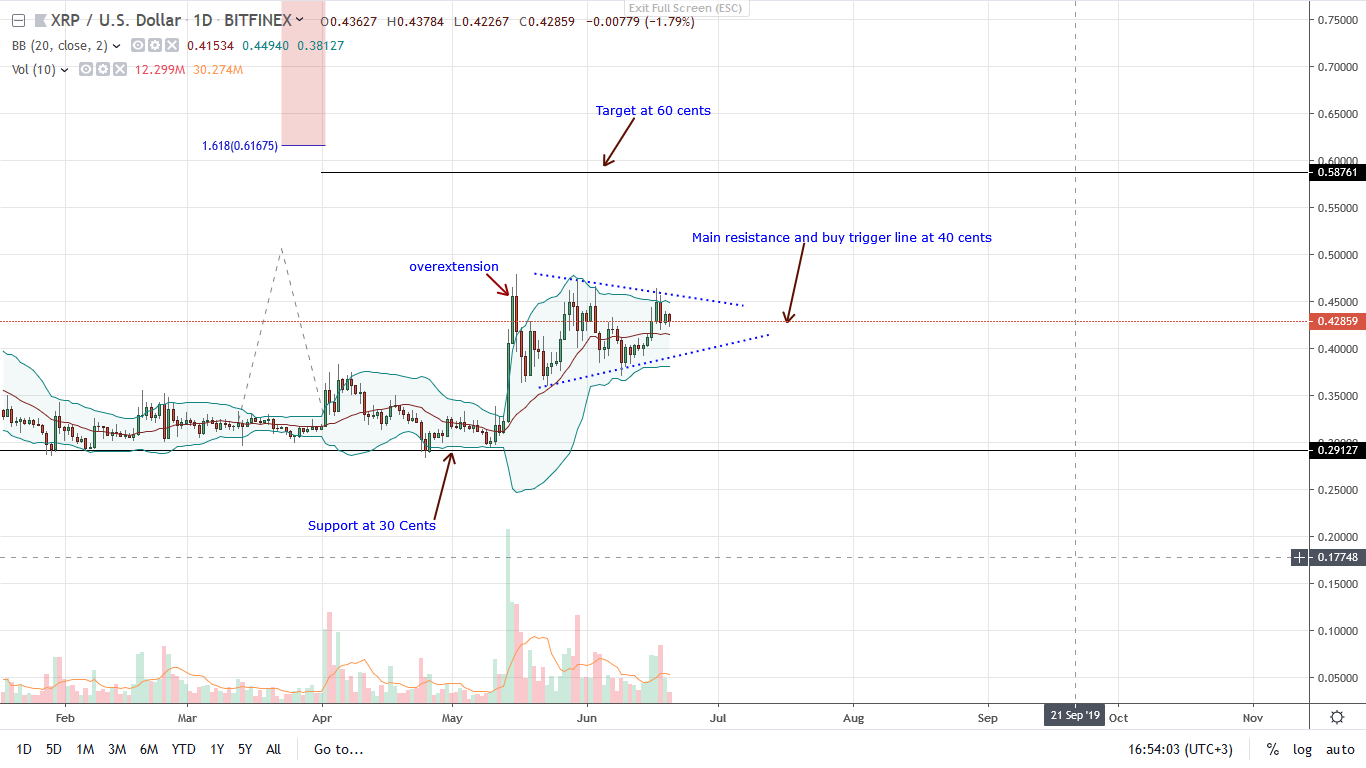 Meanwhile, XRP is under pressure but static. Soaking in pressure in the last day, XRP is range bound below 50 cents within a bull flag. In line with previous XRP/USD trade plans, bulls are in control as long as prices are above 34 cents.
Meanwhile, any surge above 50 cents will trigger participation. In confirmation of May upsurges, that will see XRP rally to 60 cents or better still, 80 cents. Note that XRP is oscillating inside Sep 2018 bull bar.
As per effort versus result analysis, XRP is bullish. Even though traders can buy the corrections, breaks above 50 cents is a safe trade strategy. It could be the base of the next wave of a price rally as bulls take charge, reversing deep retracements from 80 cents.
Technical Indicator
In a bull flag, the breakout from this 10 cents range as XRP prices surge past 50 cents ought to be with high trading volumes exceeding 94 million or better in a trend continuation phase.
Chart courtesy of Trading View. Image Courtesy of Shutterstock