Ripple CEO Brad Garlinghouse predicts that 2020 will see more cryptocurrency projects culled, as utility becomes a stronger driver of success in the coming year.
Sees Deadcoins Rising In 2020 Through Over saturation
Solving Real-World Problems Is The Key To Survival According To Ripple CEO
In the latest episode of The Ripple Drop, Ripple executives shared their thoughts on 2019, coupled with predictions for next year.
As expected, the sentiment regarding cryptocurrency, in general, is bullish. But CEO Brad Garlinghouse anticipates that 2020 will see a situation where only the cream will rise to the top. Thus the demise of the majority of projects out there.
"I think you're going to continue to see consolidation. The world doesn't need 3000+ cryptocurrencies out there, and I think the utility will bear out that there will be a migration to quality if you will."
And when quizzed on the scale of the cull, Garlinghouse believes the market is oversaturated, meaning, he believes, as few as 30 or so projects will make it in the long-term.
"And I think you'll see consolidation, where there'll be fewer than 3,000 for sure. We can argue how low that number can go. I've said publically that I thought 99% would go away."
Moreover, the key differentiators here will be the ability to scale, and most of all, having a use case that solves real-world problems. A tagline synonymous with Ripple and its endeavor to capture the institutional cross border payments market.
"Technologies and cryptocurrencies that can scale with market demand, with real use cases."

Deadcoins Continue To Mount
During the summer of last year, it was well-publicized that the number of deadcoins had reached 800.
"Over 800 cryptocurrencies are now dead and worth less than one cent." CNBC report. Why am I not surprised. There is only one #Bitcoin

— Bitcoin $1M [#HODL] (@Bitcoinlife2012) July 4, 2018
And for a good reason too, as back then, the ICO boom, which saw many scam projects scrambling to cash in on the cryptocurrency craze, was still in force.
But for many of these projects, as time went on, social media activity dried up, programming updates ceased, and prices soon followed. This left behind a wake of disgruntled investors. But more than that, a tarnished reputation for cryptocurrency as a whole.
Indeed, research conducted by Statis Group showed that 80% of ICOs done in 2017 were scams. And this situation was perpetuated by regulatory bodies not knowing how to deal with cryptocurrencies, let alone ICOs.
Aspiring venture capitalist, Ethan Sidelsky hit home the scale of laxity within the ICO space when he said:
"The problem with ICOs is that anyone can create them, and it is hard to tell if they are real of not… The creators of these ICOs created worthless tokens and sold them to investors as if they had real value. They then took the money they made and ran of with it."
More Cryptocurrency Culls In 2020 But For Different Reasons
Since the ICO craze, figures from coinopsy.com show the number of Deadcoins to have reached just over 1,400. A rise of 600 following the mania of ICOs.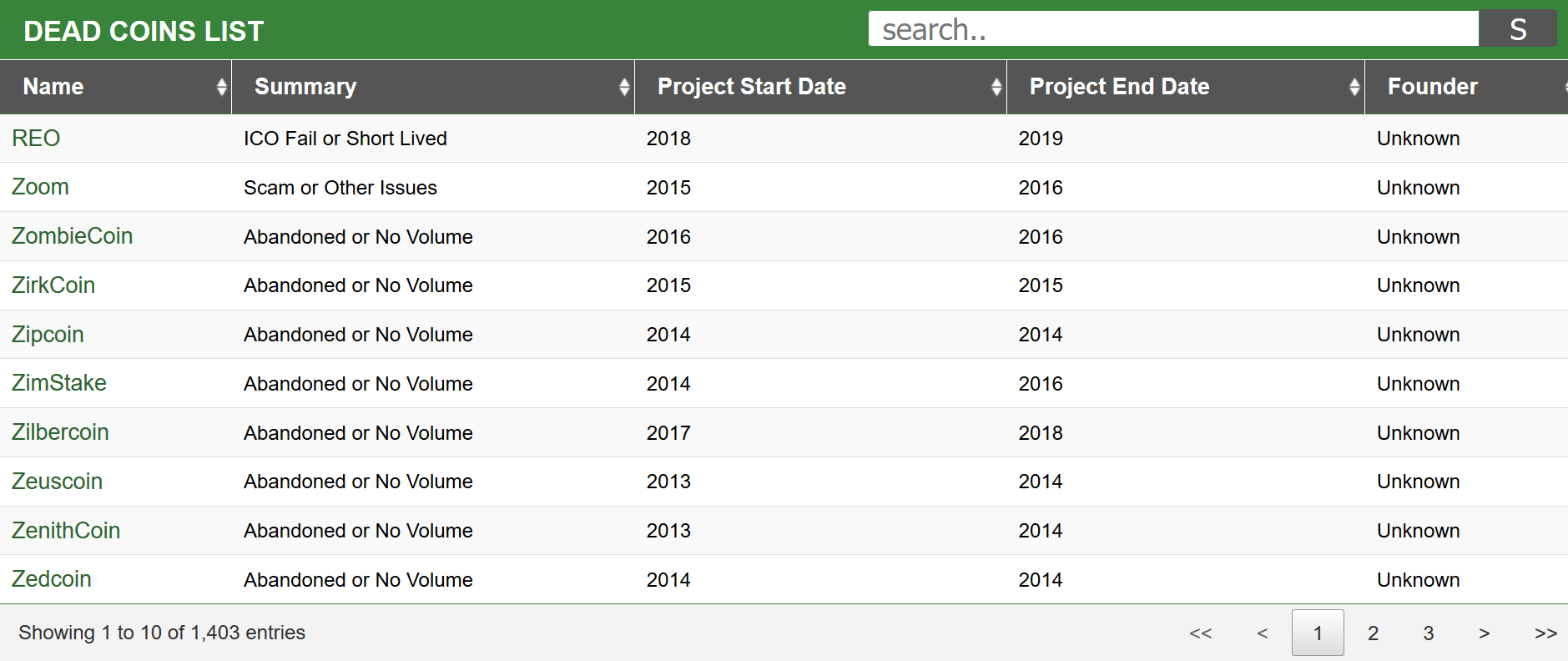 And while more project deaths are predicted for the coming year, they will be for reasons different to exit scams.
Already, many once prominent and well-respected projects have indicated troubling times ahead. The list is innumerous, but notable mention goes to Lisk, who recently announced the layoff of 40% of its workforce.
Lisk CEO, Max Kordek tried to spin the situation by saying improving efficiency was the reason behind the layoffs. But all the same, most observers would agree with Garlinghouse, when he said the crypto space is oversaturated.