Ripple (XRP) up 25.6 percent
Ripple Labs exposed by Coin Metrics as David Schwartz says it is a "timeline issue."
Coin Metrics now reports that Ripple Labs did under-reported the number of XRP released from escrow by a total of 200 million XRP while implementing the "escrow queue" differently than announced. The reaction could be heaping pressure on XRP which is fast dropping, clawing back this week's gains.
Ripple Price Analysis
Fundamentals
According to a Coin Metrics report, Ripple Labs is allegedly misrepresenting the actual amount of XRP in their escrow accounts.
In two different occasions, the blockchain analytics firm said the XRP issuer "under-reported the number of XRP released from escrow by a total of 200 million XRP ($84 million at current prices)" further adding "other party/parties, potentially associated with Ripple, have released 55 million XRP from an unknown escrow address not connected to the main Ripple escrow account."
However, it was the revelation that "the "escrow queue" is implemented differently than announced, leading to a faster future release of escrowed funds compared to the announced schedule," that is drawing criticism to Ripple Labs and Ripple Inc, the majority holders of XRP.
"A scam is a scam. Tokens made out of thin air are not true crypto in any shape or form. Just a nice way to print free money got to give it to ripple though. They have created a new central bank by selling their shitcoins to fools who keep buying it up thinking they gonna rich."
In an attempt to pour cold water on the finding, David Schwartz, the CTO of Ripple Inc, took to Twitter saying "regarding the chatter about reporting methodology around XRP escrow in Ripple's quarterly XRP Markets Reports: this is simply a timeline issue."
Candlestick Arrangement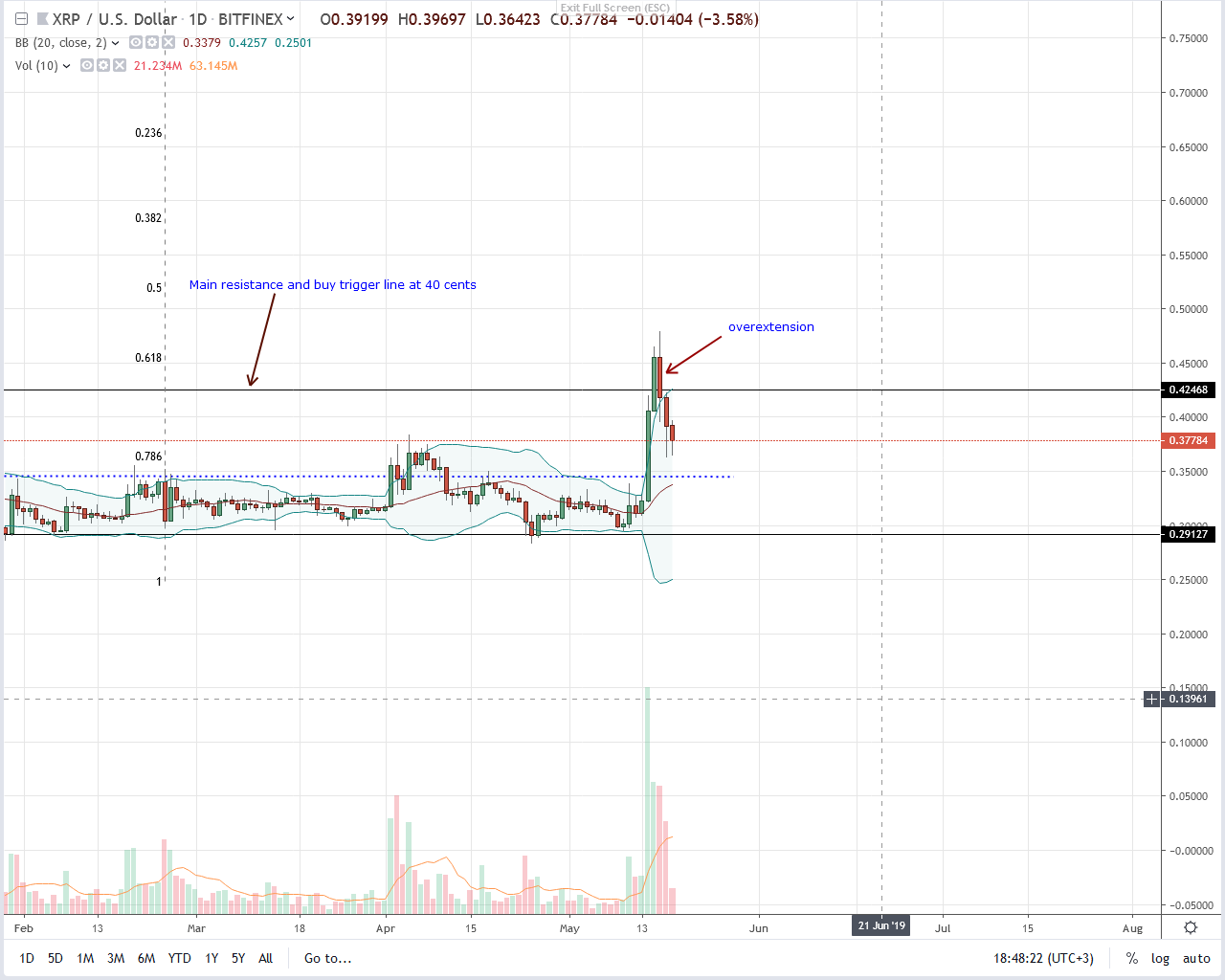 Like other crypto assets, Ripple (XRP) is under pressure. Even so, thanks to sharp upswings mid this week, the asset is up 25.6 percent in the last week. All the same, candlestick arrangement point to bulls but bears are temporarily in charge.
Note that although sellers are pressing lower, they are yet to reverse gains of May 14th, the breakout bar and the trigger of the first wave of higher highs targeting Q1 2019 highs. Therefore, it is imperative that buyers build enough momentum to drive prices above May 15th highs since bulls are in control from an effort versus result point of view—prices are oscillating within May 14th high low.
Once that prints out, then we shall trade in line with our previous XRP/USD trade plan with targets at 60 cents.
Technical Indicators
As aforementioned, May 14th bar is our anchor bar. Holding price action of the last two days, buyers are therefore in charge. However, it is after prices close above 40 cents complete with high transaction volumes, preferably above 108 million that risk-averse traders can buy on dips with targets at 60 cents.
Chart courtesy of Trading View. Image Courtesy of Shutterstock