In the middle of February, when the cryptocurrency market (XRP included) was pumping to multi-month highs, emotions were running high; there was a class of Bitcoin investors who expected their favorite orange coin to rocket past its $20,000 all-time high by the time of the halving, as irrational as that may now sound.
So, when a prominent crypto trader shared the below chart, depicting that XRP, then at $0.27, was on the verge of falling by 50% towards a "potential long-term bottom" between $0.13 and $0.15, many shunned the sentiment.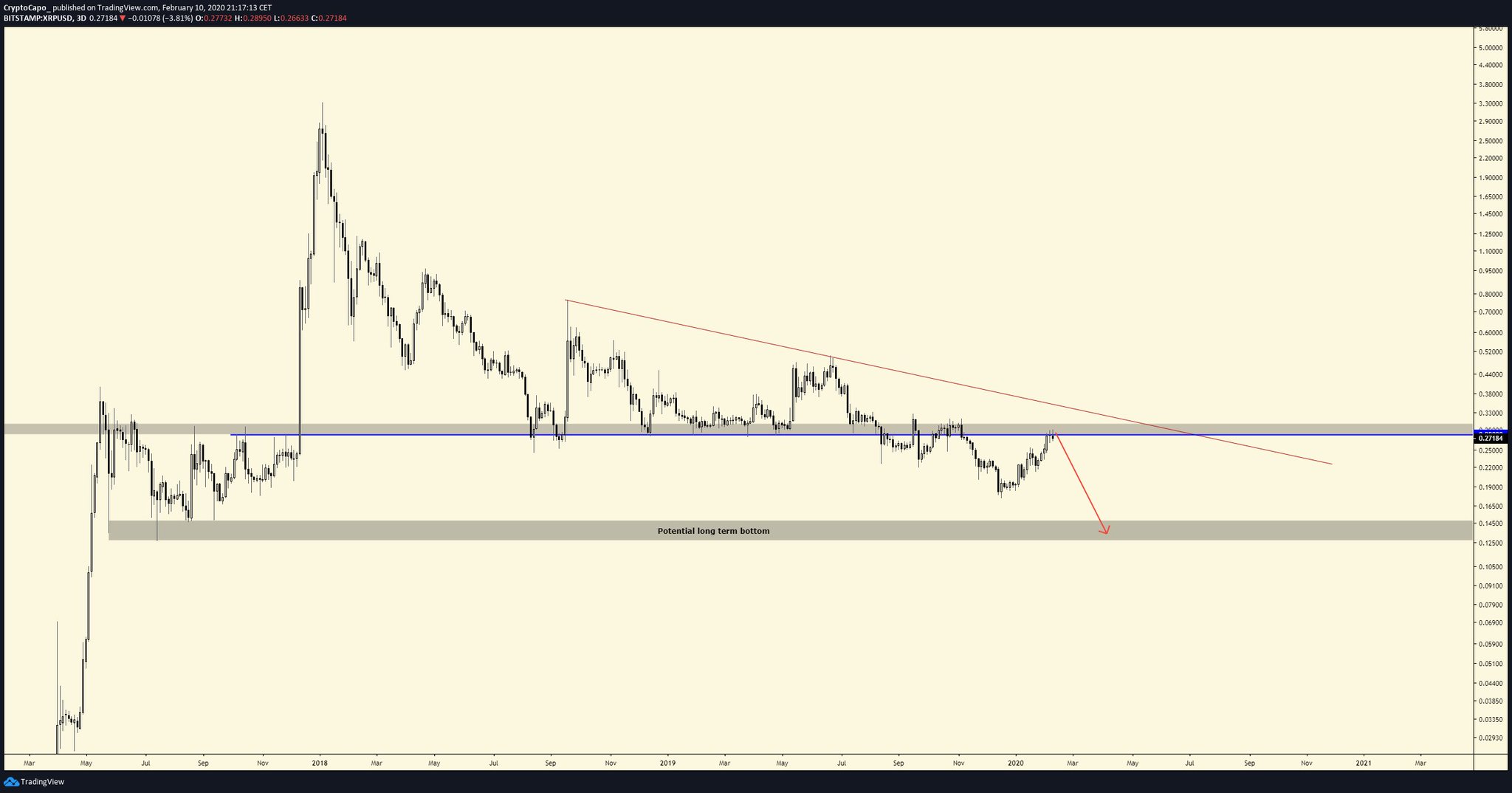 But, just a month later, his prediction was proven to be correct when XRP hit $0.13 (and wicked as low as $0.115) in the now-infamous Black Thursday crash, during which all global markets saw a massive hemorrhaging of wealth due to fears about the economic impact of the coronavirus.
Here's what he expects to come next.
XRP Could Continue Lower, Accurate Analyst FOrsees
According to the same trader who nailed the $0.13 call, XRP is currently in the midst of an Elliot Wave correction, which will likely see the cryptocurrency fall towards $0.08-0.09, then continue lower to $0.05-0.06 to establish a long-term bottom in the middle of 2020.
The latter range acted as resistance for the cryptocurrency during 2017's rally, making it a likely place at which XRP will bottom if it falls to the single-digit cents.
$XRP – Primary EW count

First target: $0.08-0.09
Second target (potential long term bottom): $0.05-0.06 pic.twitter.com/2SsdKebT6T

— il Capo Of Crypto (@CryptoCapo_) March 31, 2020
All Eyes On Bitcoin
Although the historical precedent of the trader's calls would suggest XRP is on its way to test that level, a rally in the price of Bitcoin could change that. After all, BTC leads the rest of the cryptocurrency market.
And currently, there purportedly are many reasons to be bullish on the flagship cryptocurrency at the moment.
As reported by NewsBTC previously, Qiao Wang of Messari, a former institutional trader, recently shared the below image, which shows the Bitcoin order book for Coinbase Pro.
BTC order book… While I'm short-term cautious due to macro conditions, it can't get any more long-term bullish than this: pic.twitter.com/snq8ISFMCF

— Qiao Wang (@QWQiao) April 2, 2020
Although not representative of other exchanges, it is clear that there are more traders bidding Bitcoin than selling it, with there existing nearly 24,000 BTC worth of orders down to an order price of $2,000 and a mere 4,000 BTC worth of orders up to $12,000. Wang wrote that "it can't get any more long-term bullish than this," referencing the data.
Furthermore, Peter Brandt, a veteran trader and highly respected analyst, explained that the recent rally in the value of cryptocurrencies has allowed Bitcoin to register a breakout pattern, suggesting more upside is on its way.
Featured Image from Shutterstock