XRP is down 9.9 percent
Recent findings could embolden the "XRP Army's" repeated calls for the adoption of their crypto.
CoinGate is confirming that XRP is suitable for micropayments. Their latest research reveals that more people are procuring services and settling using XRP. However, that did not spur demand, as XRP is struggling against unyielding sell-side pressure.
Ripple Price Analysis
Fundamentals
Seven years later and Ripple is much more than a platform. From what information is publicly available, XRP is increasingly serving the crypto economy as a medium of exchange. According to CoinGate, month over month, more people are paying for merchandise using XRP. They wrote:
"We've been processing XRP payments for merchants since February. As you can see in the infographics below, the number of people buying stuff with XRP is increasing every month!"
Their finding is a resounding win for the XRP Army, which is eager to see corporations accept the coin for micropayments. The drive for mainstream adoption by the way of XRP seems to stem from its advantages over BTC and ETH. That's because it is easy to make payments on-chain with the asset. A Skype employee fronted the proposal for Ripple's incorporation in Skype's messaging system. In one of the many votes and responses via Skype's UseVoice, a supporter said:
"The age of Micropayments has come, and we need your support. The era of the Internet of Value is knocking at the door. My idea is to implement micropayments on Skype. Allow us to buy Skype Credits with XRPTipBot, allow us to send micropayments on Skype chat as well."
Candlestick Arrangement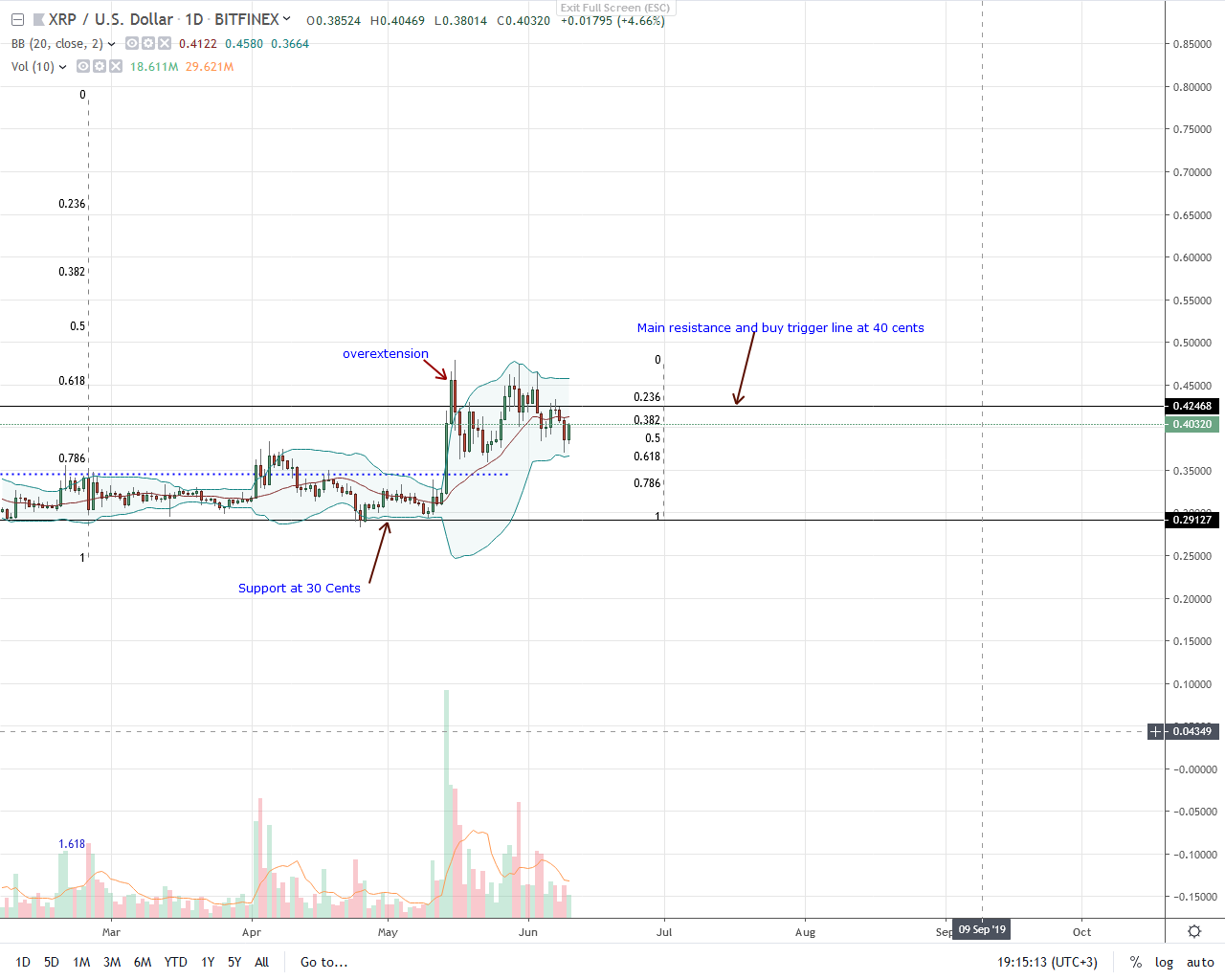 Like most crypto assets, Ripple (XRP) prices are improving and stabilizing. Even though bears are in charge, dropping 9.9 percent week-to-date, buyers are technically in charge. However, that largely depends on whether bulls can shore prices above 34 cents. The level did successful cap bulls in Q1 2019, and the resulting breakout in mid-May was enough to open the buy sluice gates.
Nonetheless, XRP is in a consolidation. From the daily chart, the zone between 34 cents and 40 cents is strong support. Besides, it is the 50 to 61.8 percent Fibonacci retracement levels of May trade range. Therefore, if bulls build up on today's reaction, XRP could as well surge above 50 cents as traders load up with targets at 60 cents and later 80 cents.
Technical Indicator
Confirming the uptrend of mid-May will be a wide-ranging bull bar closing above 50 cents. Propelling buyers and setting in motion the next wave of higher highs to 80 cents is that the breakout candlestick must be with high trading volumes exceeding 184 million of May 14.
Chart courtesy of Trading View. Image Courtesy of Shutterstock