XLM has been following the general sentiment in the crypto market and records bullish momentum in lower timeframes. The cryptocurrency records high volatility in the past day, as the U.S. published its latest Consumer Price Index (CPI) which continues to trend higher.
Related Reading | Stellar To Deploy Smart Contracts By End Of 2022? XLM Reacts To The Upside
As of press time, XLM is trading at $0.23 with a 1.7% loss in the last 24 hours, a 3.2% and 22.6% profit in the last hour and 30 days, respectively.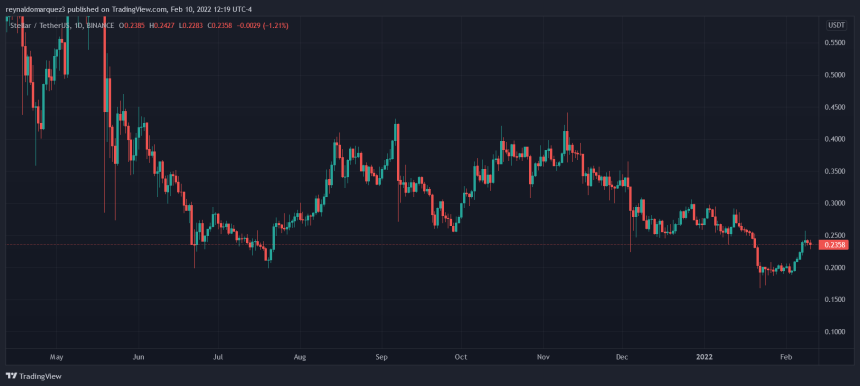 Although XLM has been following the general market trend, it has been lagging when compared to Bitcoin, Ethereum, and other largest cryptocurrencies. Data from Material Indicators suggest the recent upside move to the upside was sold off by small investors.
As the market approached the CPI print, investors with ask orders of up to $10,000 drove the price down, but bulls were quick at reverting the downside trend. This positive reaction suggests investors have already price-in inflation impact on the market, at least, for the short term.
Bullish intraday reversal on the open. Market saying inflation doesn't matter for now any longer.

— Alex Krüger (@krugermacro) February 10, 2022
Thus, XLM's price and the crypto market could see an extended bullish trend. Additional data provided by Material Indicators shows that Stellar bounced back on critical support, as there was a cluster of bidding orders around today's lows near $0.22.
To the upside, $0.240 could operate as the next major resistance area, but bulls could breach through these levels if they managed to sustain momentum. The CPI print was higher than expected with a 7.5% and will continue to be a macro-economic risk for XLM bulls and crypto bulls.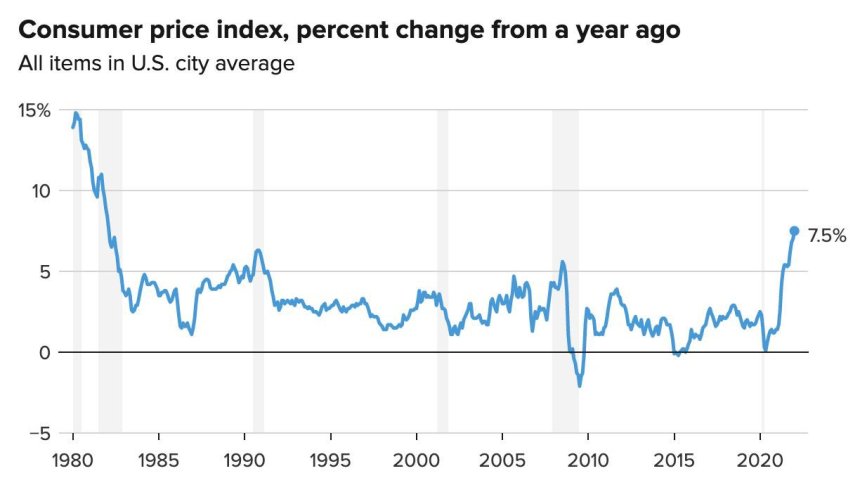 However, the short term seems poised for more gains. At least until mid-March when the U.S. Federal Reserve should announce a decision on their monetary policy.
The Bullish Case For XLM And The Stellar Ecosystem
XLM's price recent price action could be supported by several bullish developments on the Stellar ecosystem. Denelle Dixon CEO at the Stellar Development Foundation (SDF) summarized some of the use cases hosted on this ecosystem and impacting the real world.
First, Dixon mentioned the partnership with MoneyGram which has allowed the payment company to provide its users with a "way to seamlessly convert USDC to cash, or cash to USDC". Thus, creating a gateway from fiat to crypto and vice-versa with its low costs and fast settlement improvements.
In addition, Dixon highlighted the Stellar-based use case developed with Tribal Credit which enables merchants in Mexico to send local currency payments to the United States. These payments are received by U.S.-based businesses in dollars which removes trading friction for small and medium-sized operations.
Related Reading | Stellar Development Foundation Launches New Account Model, How Users Will Benefit
Thus, potentially onboarding more companies onto the Stellar ecosystem. In addition, Leaf Global Fintech has developed a solution with a UNICEF-backed digital wallet that lets people save money in multiple currencies, Dixon said, to help refugees to protect themselves against inflation, move money across borders, and protect themselves against theft. Dixon concluded with the following:
Blockchain is real, it's here, and it's solving real problems. It's time we start talking about how it's already unlocking new opportunities for migrant workers, refugees, the unbanked, and small and medium businesses all over the globe.